How to make a website without any previous experience
How to make a website – your own website quickly and easily.
Xara Web Designer is the perfect solution for users who want to make a website but don't know anything about HTML or how to structure web content. With this program, you can quickly create websites that are not only inspiring, but easy to design and maintain – even without any previous experience. Choose from a vast selection of professional templates to create your own unique design. 100% design freedom. None of the limitations of normal website building block programs.
Interactive and animated features make every visit to your website an experience. Photos can be arranged, displayed individually and made into presentations. Make your website more dynamic with mouseover effects. For example, you can make objects increase in size, change color or turn when visitors mouse over them. Create unique icons that are embedded automatically in your website. By intregating GIF files, you can also embed fun mini-animations or videos on your site.
There's also a range of exotic fonts for customizing your website further. Of course, websites shouldn't just be full of animations. Using Xara Web Designer, it's easy to integrate text to your site. It doesn't take long to make quality Flash websites decked out with easy to design, interactive buttons, YouTube, Facebook, Twitter and Google Maps widgets. Content and navigation elements can easily be moved using drag & drop – your creativity knows no bounds. You don't need to know how to make a website.
The program creates the HTML code automatically so that you don't have to deal with complicated programming languages. It won't take you long to make a website that will impress any visitor. The user interface is intuitive and will help you achieve your goals quickly and easily. Optimize your website's look on smartphones and tablets. Easily create versions of your website which fit various devices. All of these amazing features enable you to make a professional website without any previous experience while having lots of fun at the same time.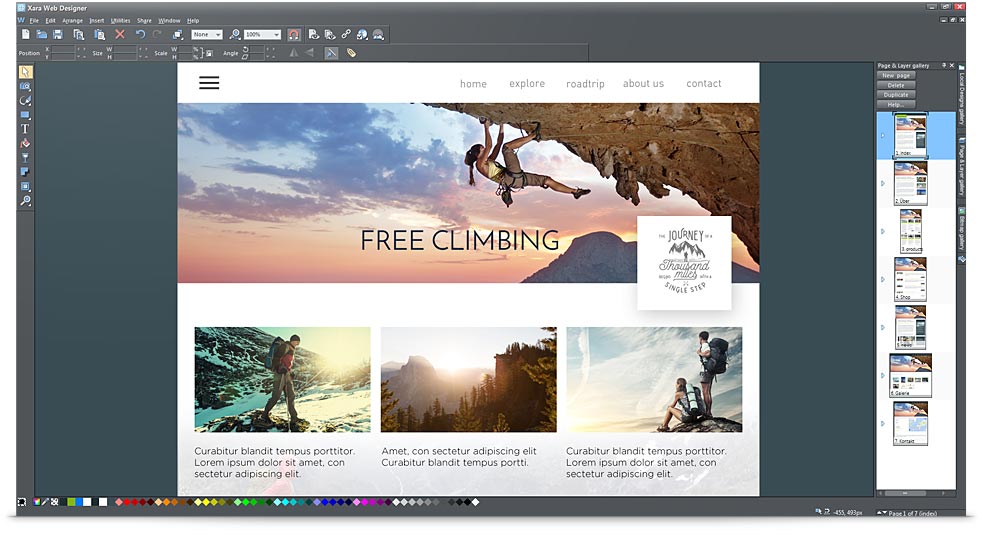 What are you waiting for? Make your own website in no time.
Users who spend hours at their PC doing photo editing to transform their images into works of art, those who enjoy making movies of their last vacation with a video editing program and others who compose their own hit tracks using music software but don't have much time to create website can now share their creations online from directly within the program. Its sheer versatility means Web Designer is the everyday solution for anyone who wants to make a website and asks how to make a website, no matter whether public or private, for work, home, family, friends or even clubs. It provides professional results and offers maximum flexibility to fit the needs of every user.
* With the update service you will receive a full year of free new features and updates, which can be used indefinitely. If you reinstall the program after one year, you will have access to the basic version. After the one-year update service has expired, you can extend it for a discounted price.