Classic.
Yet anything but conventional.
The success of classical productions depends on each and every detail and nuance.
With this premise in mind, we've developed features for source destination cut and multi-synchronous cut. This allows you to combine different concert recordings into a single whole in the blink of an eye. Sequoia: Perfection on principle.
Source Destination Cut
Sequoia offers a professional source destination cut feature, which is frequently used for classical productions when combining multiple recordings into a final composition. This method is especially effective and intuitive.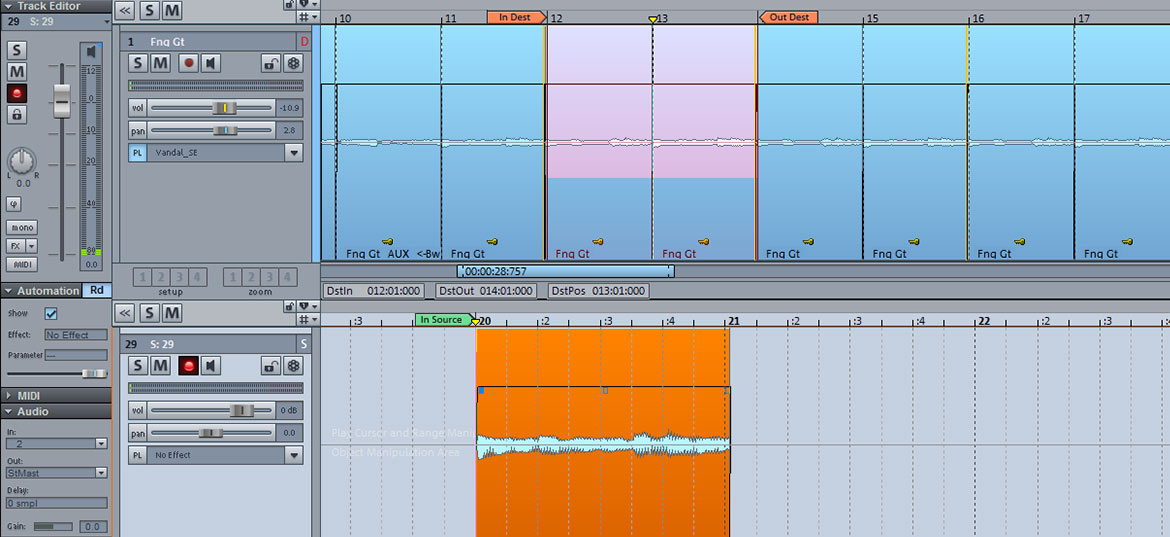 Two display areas let you view and play back source and destination tracks simultaneously and independently of each other. Both areas can be navigated, zoomed and played independently. You can navigate to the source material while playback is running in the destination area in order to get the next cut set up. The actual editing takes place via markers.
In and out markers in the source material are used to indicate that the material following the edit command at a marker position should be pasted into the destination track. You can apply 2, 3 or 4-point cuts. Depending on the use, cuts located after the pasted marker are shifted accordingly or (when working with images) are kept where they are. Selecting the source is very easy using the keyboard shortcut for the source list. This method can be used to quickly perform editing processes that would otherwise be very time-consuming.
Multi-synchronous cut (MuSyC)
Multi-synchronous cut makes it possible to minimize the search for similar audio material and accelerated the editing process.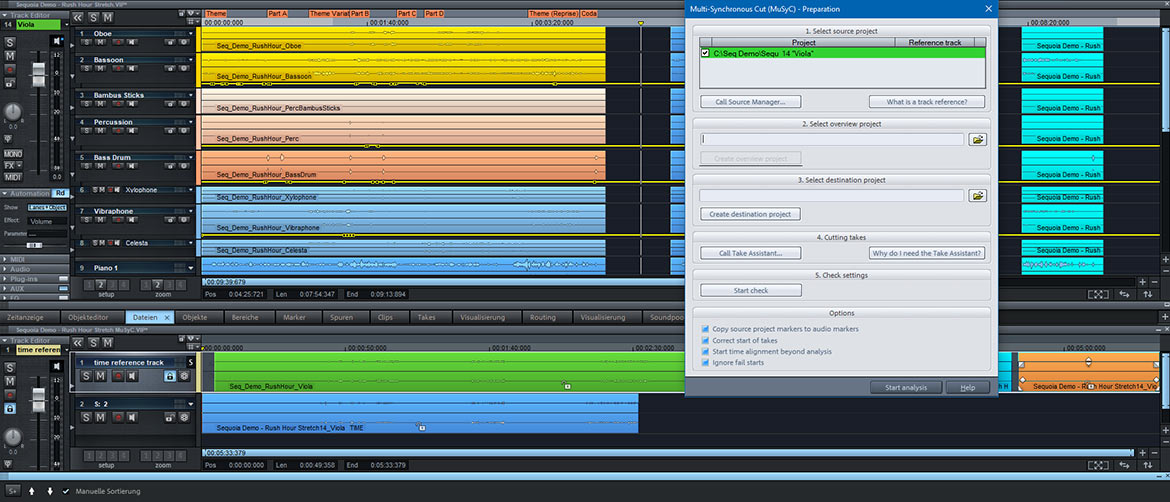 For more efficient editing
MuSyC adds an overview project to the source destination cut by displaying takes according to musical similarity following an analysis of the source material. A multi-track recording take is represented by a single object. If a section of music has been recorded multiple times, the takes are arranged together and displayed in terms of time. This makes it possible to make sound changes and cuts, even between takes recorded with slightly different tempos. Cuts are always made at the correct position, removing the need to search for the beginnings of alternative recordings.
Cuts made in the overview project are carried out in a multi-track destination project which can then be further edited.
Find similar audio material
Finding parts of songs that are musically similar to one another takes a lot of time, especially in multi-track projects with lots of individual takes. Sequoia's "Find audio" feature helps you out by searching through entire projects for musically similar material and reporting the results back to you listed according to the rate of similarity.
The easy-to-use yet powerful feature makes searching for similar material much easier and is useful for swapping out individual audio objects in a single project.

Advanced crossfade editor
The crossfade editor offers the option to make exact cut adjustments and to design object transitions. All crossfades are computed in real time, meaning modifications are immediate and can be played without any intermediate calculations or delay. A special advantage of this is that the unused material is visible to the left or right of the crossfade and can be listened to if needed. This also makes extremely precise adjustment of the editing points possible for the transition.
Keyboard shortcuts and mouse instructions can be configured freely to offer users customized operation. All fade characteristics can be changed (e.g. length, curve characteristics, position in the audio material), different fade variations can be managed via snapshots for quick comparisons, and different playback commands can be carried out in order to evaluate transitions as a best as possible.
Sequoia 15
The engineers' choice!
This product cannot be shipped to your country currently.
Sequoia has been one of the leading software solutions for professional audio productions for decades. Sequoia 15 is specifically designed to meet the requirements of professional users and represents a further milestone in the area of audio production, broadcasting and mastering.