Highlights in the Suite – more possibilities for audio editing
This complete package for recording, editing and processing audio files includes various powerful plug-ins from MAGIX and renowned partners and sets a new standard in the audio world.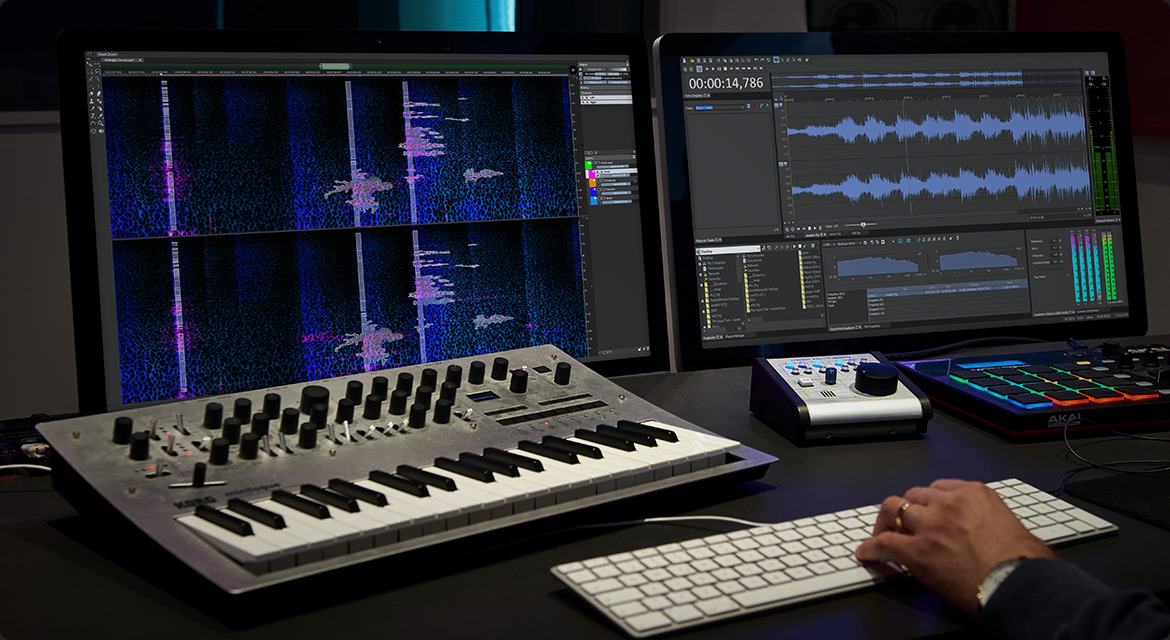 Steinberg SpectraLayers Pro
SpectraLayers powers your audio editing workflow by displaying sounds as visual objects. Unparalleled selection tools developed over many years are now joined by new artificial intelligence-driven audio extraction and repair processes, making this the most significant version of SpectraLayers yet. Unparalleled selection tools developed over many years are complemented by artificial intelligence-driven technology for audio extraction and restoration of recordings. An ideal companion software to SOUND FORGE Pro Suite.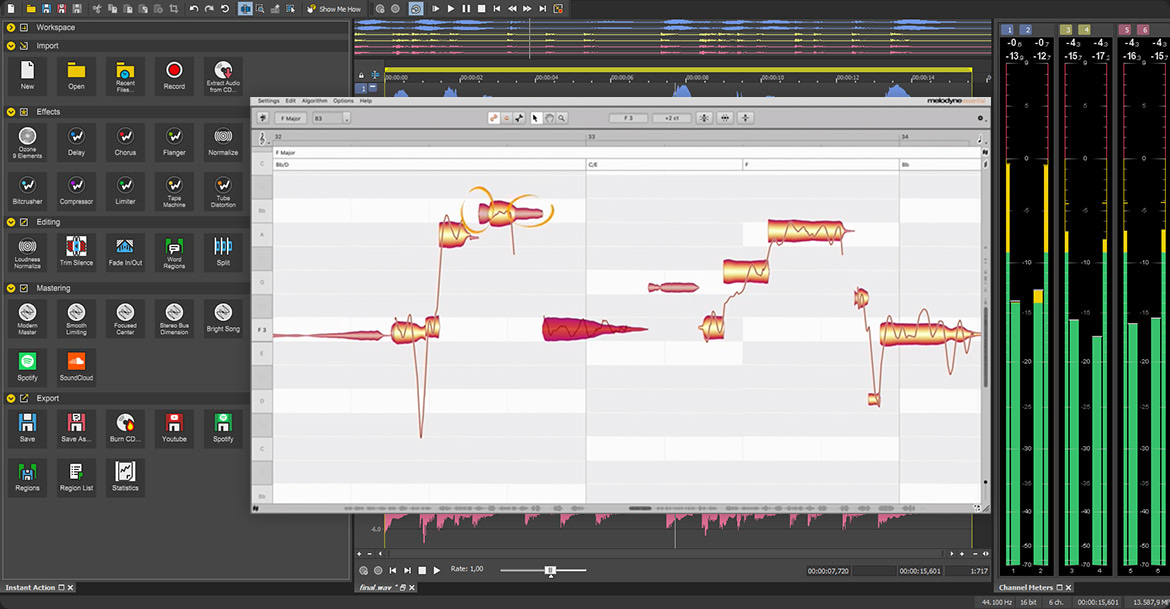 Celemony Melodyne essential
Melodyne provides you with unparalleled access to all the musical details in your recordings and samples - note by note.
This is made possible by sophisticated analysis that deeply examines your recordings and samples to identify and understand the musical relationships within them: The individual notes and their properties, the scales and chords used, timing, tempo, and sound. And then, all of it can be edited intuitively with Melodyne.

Analogue Modelling Suite
The Analogue Modelling Suite Plus includes four high-quality effects plug-ins that model analog audio tools which simply can't be left out of any mastering process.
This includes a high-quality analog compressor (am-track) with optional simulation of studio tape machine saturation effects, a transient designer (am-pulse) for influencing the signal envelope of percussive audio material, a tube pre-amp/channel strip (am-phibia), plus a mastering dynamics tool (am|munition) with compressor, limiter, clipper and M/S editing.

essentialFX Suite
The essentialFX Suite is a collection of 11 first-class effect plug-ins and is suited for all every day studio applications. In addition to high-quality algorithms, great importance was placed on practical icons for the individual parameters and the effectiveness of the function.
The uniform operation concept, combined with low resources demands for top quality production, makes the essentialFX suite a collection of high-quality audio tools for all-around tasks.

Vandal
Vandal is a virtual guitar and bass amplifier with impressive effects that provides the characteristic sound and feel of a real hardware setup with the advantages of a software application – all for you to enjoy on your computer!
It lets you easily simulate any kind of guitar effect in a realistic way.

VariVerb II
VariVerb II (short for: VARIable reVERB) is a high-quality reverb plug-in that runs on an algorithmic basis.
It provides a series of rooms, halls, reverb plates, spring reverb modules, and so-called non-linear effects, which can be edited comprehensively and easily.

Vintage Effects Suite
The Vintage Effects Suite expands the palette of effects with a Chorus/Flanger, a delay, and a filter plug-in, CORVEX, ECOX and FILTOX, all of which are based on the same simple operating principle and will wow you with their incredibly exciting effect sounds.

Highlights
NEW! External FX
NEW! VST Enhancements
NEW! coreFX Utility
NEW! Optimized Onboarding
dynamicEQ now featuring oversampling (exclusively in the Suite)
Melodyne essential version 5.3 (exclusively in the Suite)
Mastering and restoration with iZotope plug-ins:
Ozone 10 Elements & RX 10 Elements
32-channel audio recording, editing, and processing
VST Engine & ARA2 support
Record at up to 64-bit/768 kHz
Numerous audio effects and plug-ins for sound design, mixing & mastering
zplane élastiquePro v3 Timestretch