All Features in
Photo Manager 16 Deluxe
Import from camera, scanner or PC
MAGIX Photo Manager Deluxe automatically finds pictures on your PC and allows you to import from your scanner or direct from your camera. Files that have already been imported are automatically skipped.
Format variety, including RAW files
View photos and RAW files from over 590 camera models.
Supported image formats: JPEG, TIFF, BMP, GIF, PSD, PNG, TGA etc.
Intelligent Selection Wizard
The Selection Wizard uses innovative image analysis to sort out poor shots, duplicates and blurry photos.
You can also specify the number of photos to select, for instance.
Save additional information
In order to help you quickly find images and never forget important facts, you can easily add meta data to your images: name, rating, experience, location, etc.
Find duplicates
Save storage space on your PC and organize your photo collection better by deleting duplicates. The program runs a detailed analysis of image contents, such as color and forms, to find similar photos.
Face recognition (FaceID)
The automatic face recognition feature detects faces and allows you to assign names to them, so you can find photos of specific people or groups.
Automatic backup copies
Optionally, your personal Photo Manager can regularly remind you about backup copies. You can then burn photos you haven't already backed up to CD or DVD.
Password protection
Protect your data from unwanted access with a password.
This is highly recommended when exchanging your images over the Internet.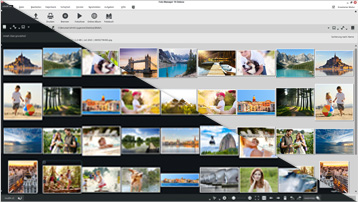 Optimized workflow
A completely redesigned user interface with optional dark and light color schemes.
Enables you to edit your photos more quickly and efficiently.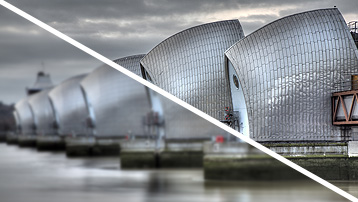 Quick image optimization
Optimize brightness, contrast, color, and sharpness with just a couple of clicks.
You can also easily remove red eyes and cut your images.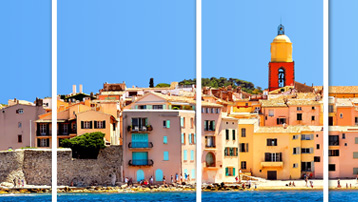 Panorama montages
Put panoramas together by combining up to eight individual images. Photos are aligned and transitions are added automatically.
Perspective correction tool
Avoid leaning buildings. Correct perspective distortions with just one click.
Batch processing
You can easily optimize and change file names, dates, etc. from several photos at the same time.
Presets
Save your individual settings for image quality, your camera model and special lighting conditions as a template.
Interactive presentation mode
Display your photos with music and effects, such as zooms and tracking shots. The mouse "laser pointer" is ideal for pointing out details during presentations.
Additional slideshow templates
You can find photo material with different themes, animations, background music and sound effects in the Catooh Online Media Catalog. More info
Various viewing modes
Adjust the display of your images any way you want – a framing grid with or without text, film strip, with all details or as a simple list.
Automatic sharpening
Image sharpness can be automatically optimized in display mode and you can choose between different degrees of sharpness correction: slight, medium or strong.