Thousands of templates
More than 1600 license-free design objects, such as buttons, headers, navigation bars and geometric forms freely available. Additionally, you can choose from 150 completely premade website templates.
Design freedom
Easily adjust elements by clicking and dragging with the mouse. No programming skills required and yet still great design freedom.
Highlights:
Brilliant videos
Display your high-resolution HD videos (H.264) in best quality. You can configure the player according to your wishes.
Create impressive animations on your own
Enhance the look of your website with animated GIFs. Aside from being a cool effect this option is ideal for animated banner ads.
Flash technology
Flash enables dynamic websites with interactive animations and spectacular effects as well as easy operation.
Password protection
Password protect individual pages or your entire website with one click. This way, only certain visitors will have access to your website.
* MAGIX Website Maker MX 2013 is a complete package that consists of the online software Website Maker MX 2013 and the "Easy PLUS" hosting package with 5000 MB web storage, a domain (choose from all domain extensions offered by MAGIX except .tv) and 5 email accounts (1 GB each, including MAGIX web mail). The duration of the offer is 12 months. After this period, the offer can be extended at a special price of €1.99 a month (just €23.88 a year) for another 12 months. If you do not wish to extend the offer, you can switch to the Website Maker free, which has no duration limit but is limited in function. Note: MAGIX Website Maker MX 2013 is technologically bound to MAGIX web hosting service. It's possible to publish Website Maker web sites with other providers, too. This will, however, be merely virtual web hosting. The complete service (software and website, including all content) physically run on MAGIX servers.
Specifications
All MAGIX programs are developed with user-friendliness in mind so that all the basic features run smoothly and can be fully controlled, even on low-performance computers. Check your operating system's control panel for technical information about your computer.
Minimum system requirements:
| | | |
| --- | --- | --- |
| | Windows | Mac |
| Processor | 450 MHz | PowerPC® G3 500 MHz |
| Main memory | 1 GB | 1 GB |
| RAM | 50 MB | 50 MB |
| Internet access | DSL 2,000 | DSL 2,000 |
| Monitor | Min. 1024 x 600 resolution, 16-bit high color | Min. 1024 x 600 resolution, 16-bit high color |
| Internet browser | Microsoft Internet Explorer version 8.0 or higher | Safari version 4 or higher |
| Other tested Internet browsers | Firefox version 3.0 or higher, Opera version 9 or higher, Google Chrome | Firefox version 3.0 or higher, Google Chrome |
| More | Adobe Flash Player version 8.0 or higher (the latest version is recommended), Java 2 runtime environment version 1.4.2 or higher (both are available for free) and activated Javascript and Cookies (default setting) | Adobe Flash Player version 8.0 or higher (the latest version is recommended), Java 2 runtime environment version 1.4.2 or higher (both are available for free) and activated Javascript and Cookies (default setting) |
| Optional | 16-bit sound card | 16-bit sound card |
Internet connection: You will require an active Internet connection in order to work with Website Maker because it is an online software and needs permanent access to the MAGIX server. For optimal working conditions we recommend a DSL 2,000 or higher connection (the faster the better).
Additional Products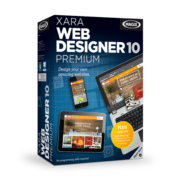 Xara Web Designer 10 Premium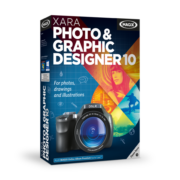 Xara Photo & Graphic Designer 10
MAGIX Photo Manager 15 Deluxe