Transform precious memories
into unforgettable videos
Design videos your way using custom texts, amazing effects, your own commentary and music! You can burn your movies including menus to DVD or Blu-ray Disc, save them on your computer, or present them online.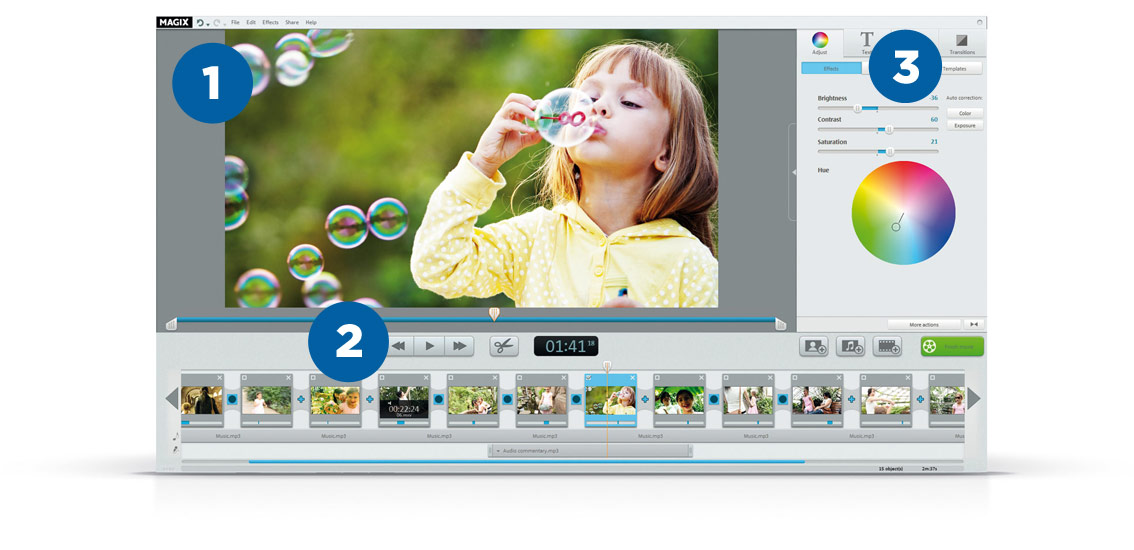 Record & import
Import videos and photos directly from all common media devices. Import videos and photos from all common image sources. Stay organized: No matter whether you're importing content from your camera or smartphone, the program's connection and introduction wizard provides you with a clear overview of your media and makes it easier to choose files.
Optimize & design
Give new life to your recordings: Optimize video and audio recordings automatically, cut your videos down to the right size or remove unwanted scenes. Design your own videos with custom texts and amazing effects.
Export & present
Watch your finished videos on your computer or burn them to DVDs or Blu-ray Discs including impressive animated menus for your TV. Impress friends and family: Share your videos on popular sites such as YouTube and Facebook.
The most important features:
Support for all standard camcorders, digital cameras & smartphones
Clear user interface with extra large buttons
Includes useful video tutorials to help get you started
Handy connection and introduction wizard
Automatic video editing wizard
Lots of stylishly animated menu templates
Movie-quality transitions and video effects for your videos
High-quality intro and outro animations for every occasion
Export to DVD, Blu-ray Disc, YouTube and as files
New in this version:
Numerous new menu templates
Ideal for birthdays, weddings or holiday videos. Make a video documenting your child's first years and burn several videos to one disc.
Online tutorial videos
The free tutorial videos from MAGIX provide you with an initial look at various MAGIX programs.
You'll learn quickly and easily how to use the most important features in order to bring your own projects to life.