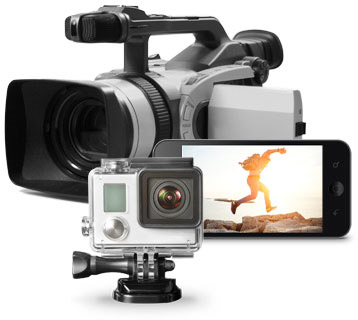 Import
It doesn't matter if you use a GoPro, Panasonic, Sony or other action cam, Fastcut supports import from nearly all standard devices – including smartphones, tablets and AVCHD camcorders.
Simply drag recordings from your SD card or via USB cable to Fastcut and start working on your latest video.
Amazing editing templates
Fastcut offers diverse editing templates which allow you to automatically cut your footage to fit music. Each template comes with a great song.
A range of exclusive templates also contain spectacular effects like slow motion & time lapse.
Filter for templates
Fastcut now contains a range of filter options to help you find the best editing template for your video.
This guarantees you'll find the right template – whether the style of your video is adrenaline-loaded or relaxed.
Your music. Your templates.
Create your video's soundtrack with the song of the summer. Fastcut lets you create videos using your own favorite music tracks.
This ensures that your films will always bring out the right feelings and emotions you intended.
Customized templates
Specify the number and frequency of cuts in your video. With custom editing templates, you have more freedom for designing videos so that they reflect your own personal style.
Create a template exactly the way you want!
Goodbye fisheye
Most action cams take wide-angle shots, which can lead to images being optically distorted.
Fastcut lets you easily correct this effect, which is known as fisheye.
Automatic image optimization
Extreme lighting conditions and intense colors can easily be corrected by automatically optimizing color, brightness and contrast.
Mercalli V2 image stabilization
proDAD Mercalli V2 technology in Fastcut lets you fix unusable footage.
Even shaky and unstable footage can be corrected to run smoothly – making one less challenge.
Video alignment correction
Record videos in the craziest perspectives – Fastcut can rotate your footage to make sure everything is properly aligned.
Attaching a camera to your skateboard, mountain bike or under your car is no problem at all.
Hardware-accelerated H.264 decoding
H.264 hardware acceleration decoding reduces CPU load to enable faster video editing.
This also improves your editing workflow.
Proxy video editing
The proxy editing feature uses the proxy files from your GoPro for editing 4K & HD video files.
This allows you to smoothly edit your footage – and when you're finished, you can enjoy every detail in high resolution.
Video effects
Set your adventure in black & white or vintage look, and apply tons of other effects.
Tracking shots, zooms, mirroring, looks and other impressive effects can be easily applied to sections of the video with drag & drop.
Backlight correction
HDR (High Dynamic Range) effects provide the right contrast in the image composition during video editing.
The correction tool lets you optimize exposure, lighting and fix elements the way you want.
Slow motion
Fastcut can even slow things down during important moments. Make your films look even more impressive with slow motion effects.
Even extremely slow motion footage will play smoothly.
Dynamic transitions
To breathe new life into your footage, you can actively design transitions between slow and fast motion recordings.
Fastcut also offers a wide selection of dynamic transitions.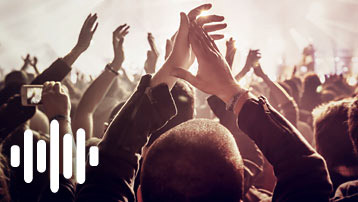 The right volume every time
Easily adjust your video's volume using the program.
This way, everything not only looks great, but sounds great too.
Universal export formats
You can also easily save your finished videos in up to 4K resolution on your computer – all you have to do is choose one of the many export formats.
Direct upload to YouTube, Vimeo, and Facebook
When you're finished, you can upload your video from Fastcut directly to Facebook, YouTube, and Vimeo. Your videos have never made it online this quickly before.