New features in Movie Studio 2022!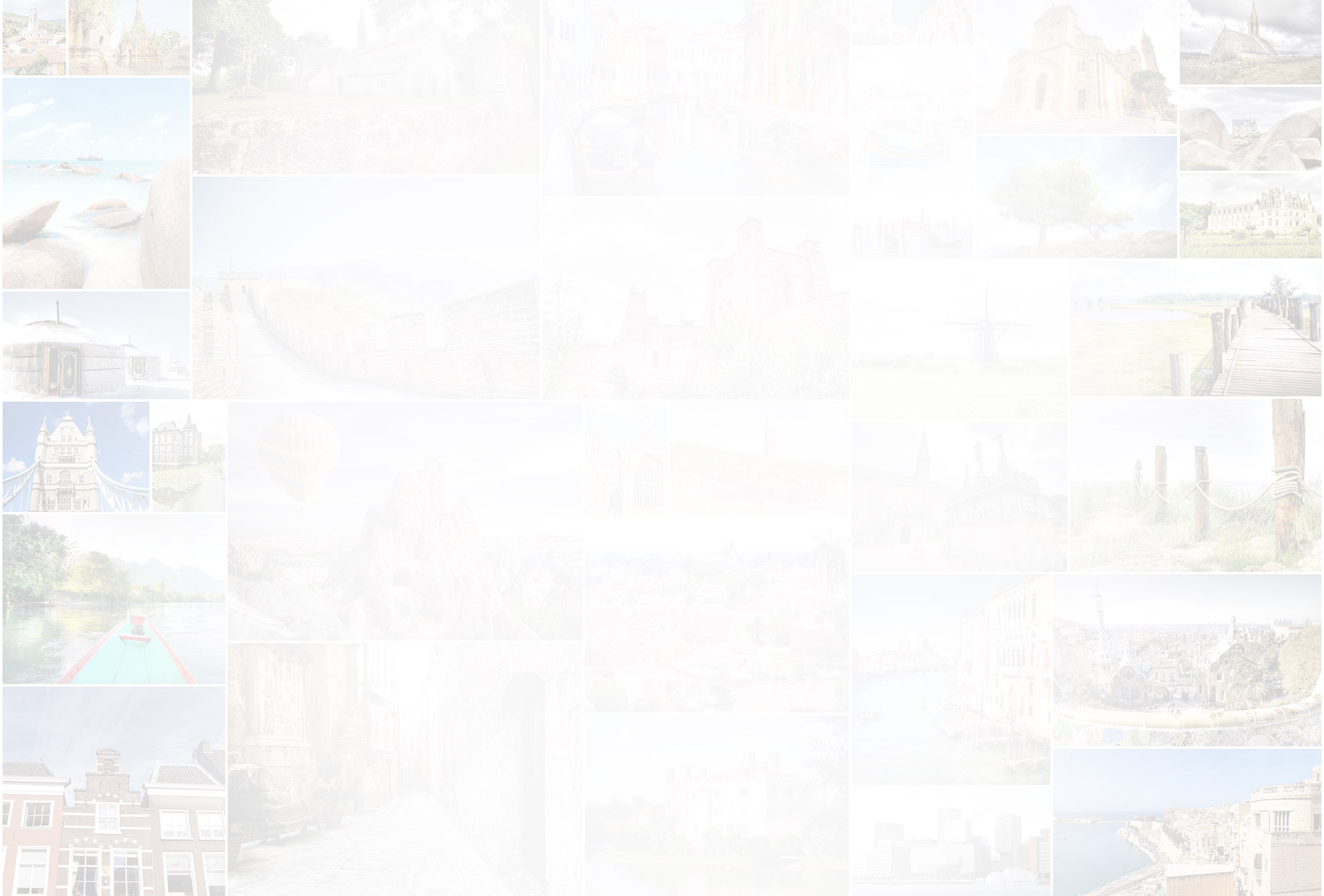 This subscription is packed with MAGIX content:
Your library full of music, stock footage, and animation!

Looking for the perfect soundtrack for your video? Would some drone footage and forest sounds perfectly complement the videos from your last hiking trip? Whether you need music, sound effects, stock footage, or animations for your video productions, MAGIX Content provides an unlimited collection of HD videos and audio files.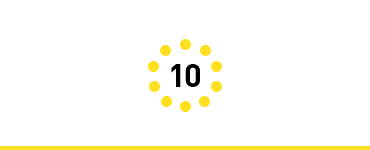 10 FREE content items per month
Gain access to 10 files every 31 days that you can easily download for unlimited use with your MAGIX Content subscription. The ideal plan to start creating your own personal media library!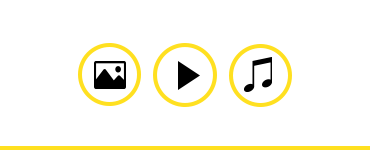 Millions of videos & audio files
You're sure to find the right clips and the matching music for your work in the MAGIX Content Library! Choose whether you want to specifically search for the desired file or browse through categories like "Cinematic" or "Aerial & drones" for inspiration.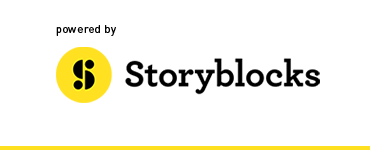 Rights of use for any project
Thanks to our collaboration with Storyblocks, you have access to all content for any project, any type of publication, and for an unlimited period of time.
MAGIX Content provides you with license-free video and audio files. With this plan, you receive the perpetual, worldwide, limited, non-exclusive, and non-transferable right to integrate files you download into your individual, creative work. Any files from MAGIX Content may be embedded into any project, for example web videos (YouTube, social media, websites, etc.), feature films, television shows, advertisements, educational media, offline printing, multimedia, games, and merchandise.
You may freely distribute and publish projects in which you have used content from MAGIX Content. You are not permitted to transfer individual content (e.g. a song or video) by MAGIX Content as a stand-alone file to third parties.
Exclusively in the Platinum & Suite subscription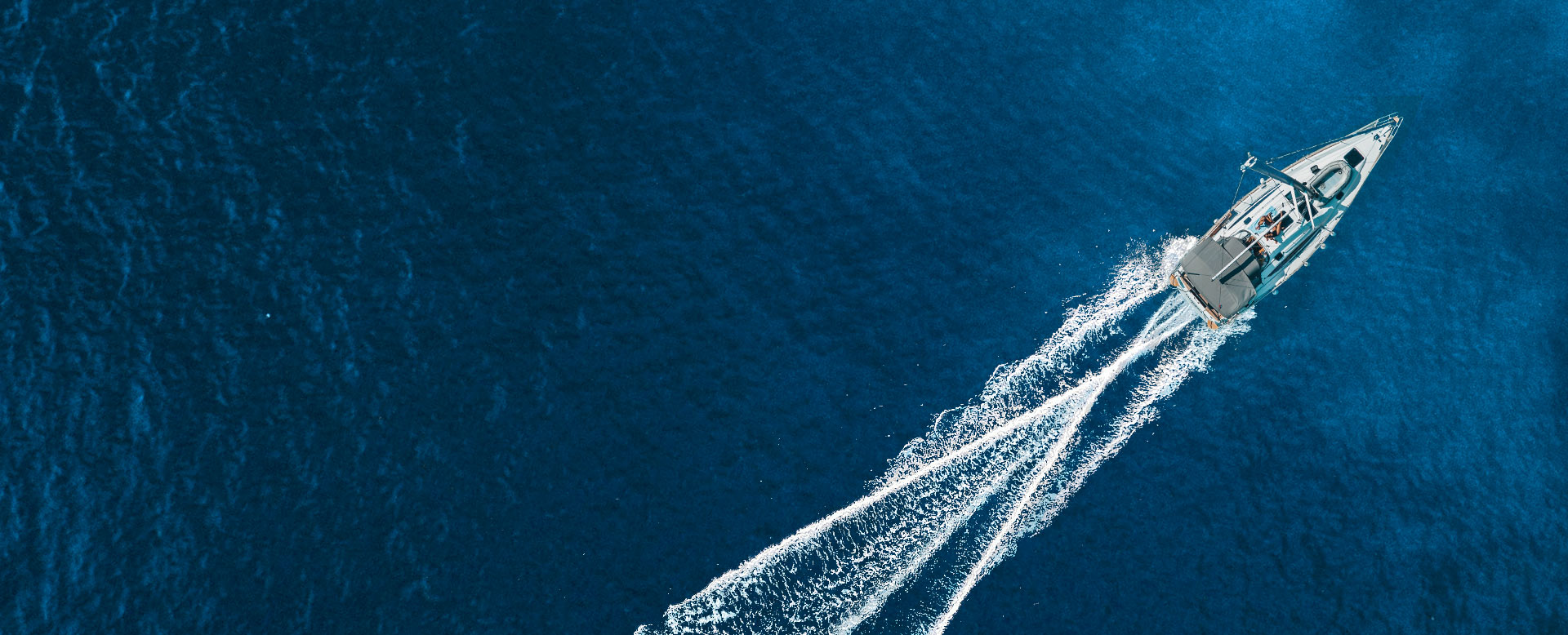 Ultra-fast export with the INFUSION Engine 3
– 5x faster than real time
Movie Studio now runs using an engine with unprecedented power: The INFUSION Engine 3. The engine's brand-new version accelerates exports for modern graphics cards from Intel, NVIDIA and AMD and delivers your finished videos ultra-fast*.
What's more, thanks to INFUSION Engine 3, you'll always be able to preview even large projects packed full of effects and smoothly without needing to wait for rendering.
*12-second export time for 1-minute Full HD, MP4, AVC with Intel i7 6700 and NVIDIA GeForce GTX 1070


Also new: More powerful with multi-GPU
What is multi-GPU?
Normally, video editing software only uses a single graphics card. Multi-GPU functionality in Video Pro X means you can use multiple graphics cards and assign different tasks to different cards. You are also free to combine graphics cards from different manufacturers.
What are the benefits of multi-GPU?
Multi-GPU functionality means you can assign import, effects processing and export to separate graphics cards. This results in your hardware's computing power being used in an optimal way and frees up more of it for your projects.
Travel route animations with new features
Developed based on customer feedback:
Personalized map views, display for GPX elevation profiles, fly-in animations, constant playback speed between locations, MP4 and 4K* export – discover all these new features in the freshly revamped MAGIX Travel Maps. Another highlight: Create your travel route animations in fullscreen mode and enjoy the new, easy-to-use menu.
*Export up to 4K is dependent on the respective screen resolution.
Exclusively in the Platinum and Suite Editions
Three highlights in detail:
Fly-in animations
Use the new fly-in animation to give your animated routes a proper intro. Choose the angle at which you want the animation to start and the length you need for your movie. Then, MAGIX Travel Maps will take care of the rest.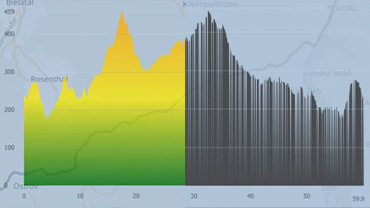 Display GPX elevation profiles
Whether camping or hiking: Keep your audience riveted by showing how many meters of elevation you've climbed during your journey. You can now depict elevation data from imported GPX files directly in your animation – and live at your avatar's position.
Personalize map views
Bring a new perspective to your travel route: With the help of the redesigned control menu, you can easily skew and rotate the map. There are also two zoom options that allow you to adjust the level of detail in the map view.

Video collages and animations:
Now even more varied & easier to design
Now, you can adjust the position and size of video objects even better thanks to new, intuitive controls.
This is perfect for quickly creating video collages and custom split screens! The new versatile rotation point allows you to easily animate dynamic motion.


New Panorama Storyboard
With audio editing and XXL preview images
Do you like the clarity of the Storyboard mode, but switch to timeline mode for audio editing?
Now, you can save that step and directly edit audio in the Panorama Storyboard.
Another new feature: The extra-large preview images allow you to get an better preview of a clip's content. That means that you can keep track of every aspect even when working on larger projects.


Exciting effects pack:
NewBlue Stylizers 5 Illuminate
The fastest way to add atmospheric light effects to your videos: NewBlue Stylizers 5 Illuminate includes over 100 templates to choose from, including glow & neon effects, simulated candle flicker and rays of light, metallic effects and much more. All templates can be completely customized to your liking.
Discover more new features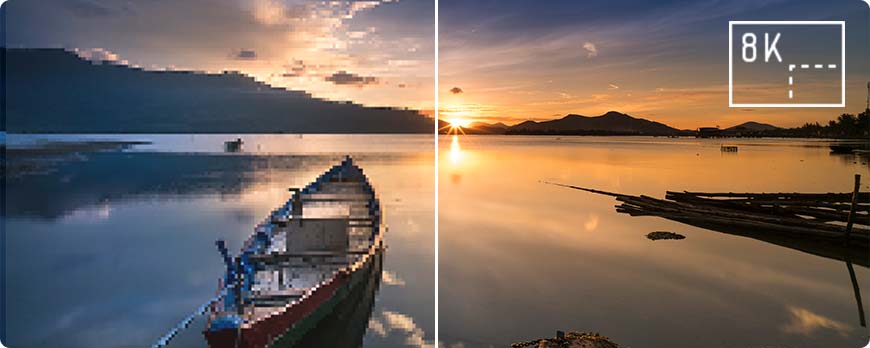 New since August 2021
8K UltraHD
Edit and present films in 8K Ultra HD. The new, one-of-a-kind INFUSION Engine 3 allows you to play your new high-resolution video material in realtime.** This means you can view your footage during the editing process – no waiting around.
** Dependent on the graphics card used. For more information, contact the card manufacturer.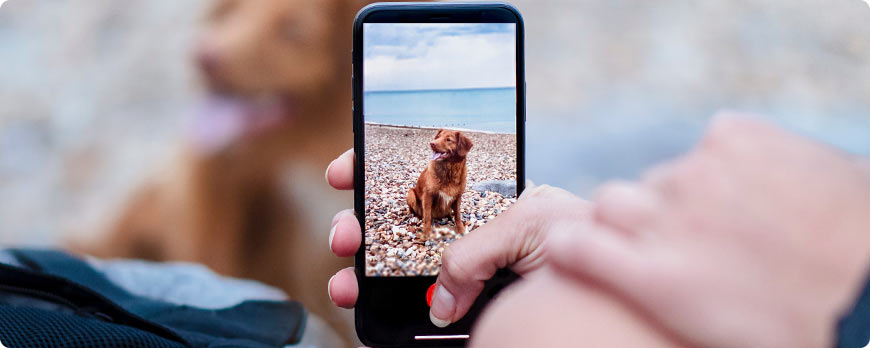 New since August 2020
Improved workflow for your smartphone videos
Vertical videos made using smartphone are recognized directly upon import and are automatically rotated to the mode in which they were originally filmed. As well as project and export templates, the program now includes templates for vertical videos.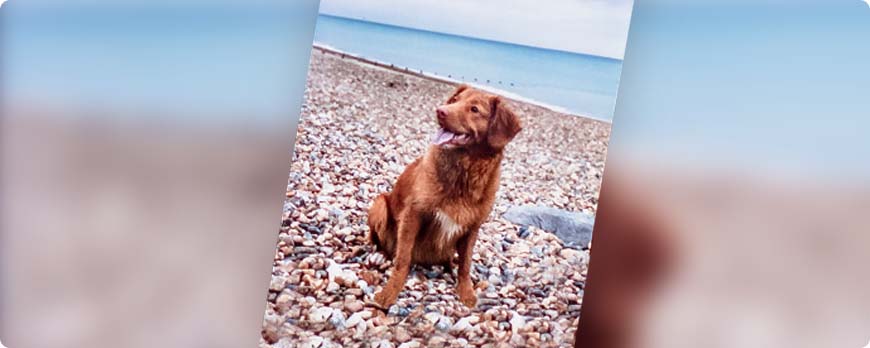 New since August 2020
Social media templates and image border effects
Ready to showcase your videos online? New project templates for social media clips in vertical and square formats make it easy to create videos for any kind of portal or app. Creative image border effects conceal distracting black borders in videos with an aspect ratio of 16:9.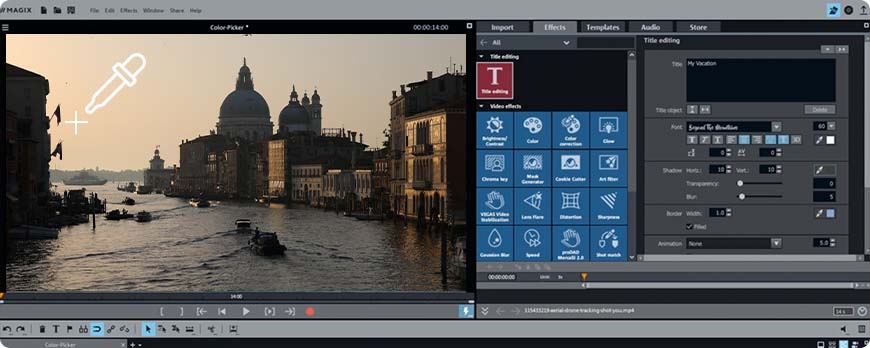 New since December 2019
Color picker in title editor
Fast color matching for image and titles
Find the right title color for each and every scene. The color picker lets you easily select a desired color from an image and transfer it to the title. This can be done quickly using the pipette or more precisely with manual color settings. No matter the method, image and title are perfectly matched.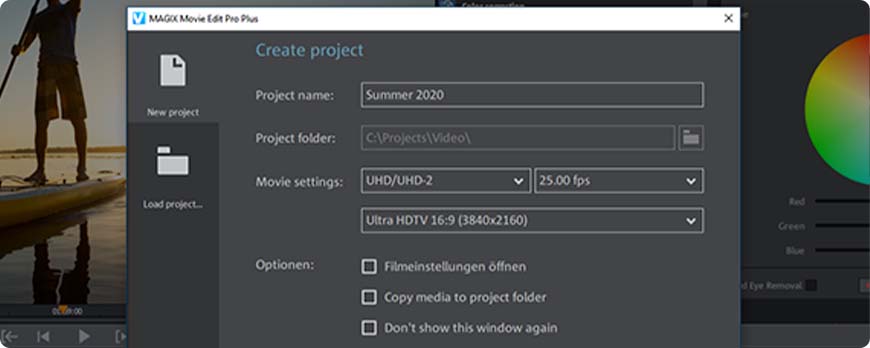 New since August 2020
More intuitive start dialog
Find the right project template faster
The new start dialog features a clearer, scaled back layout. Project templates are now named and arranged more clearly in the program. That means you can find the ideal project settings faster and start editing your videos right away.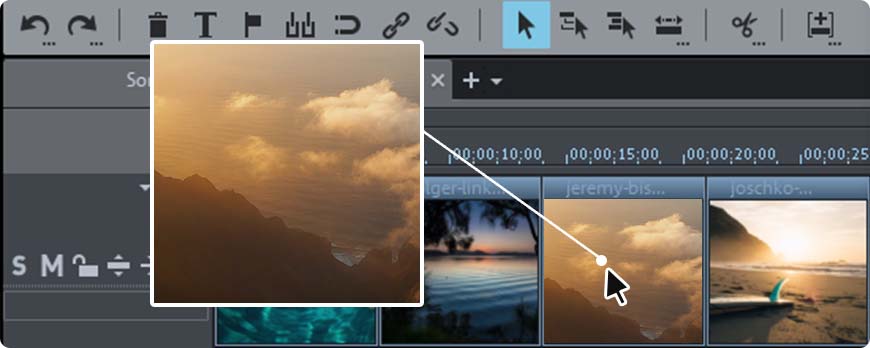 New since August 2019
"Split and trim"
1-click editing with real-time preview
This new tool is designed to save you lots of time. Viewing and cutting your video material can now all be done via the timeline. A real-time preview can been seen in the video monitor at all times. Split and trim your videos with a click of your mouse.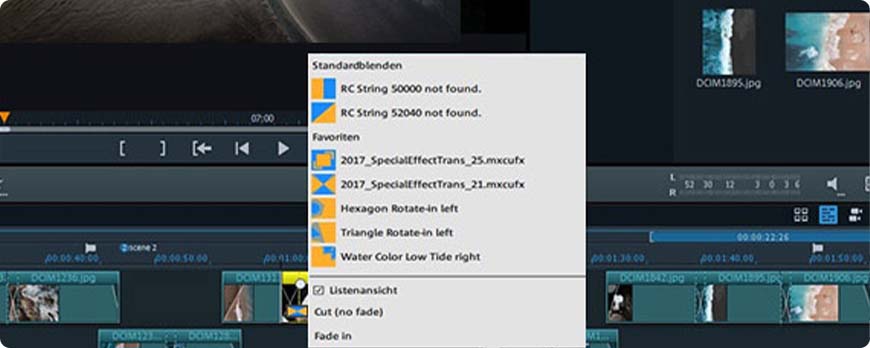 New since December 2019
Optimized transition menu
1-click selection for transitions
Built-in transition icons enable you to find the transition you're looking for at a glance. Quick access for previously used transitions as well as your favorites is included. You can also try out the random transition selector, which includes a search filter for specific transition types and groups.
Improved workflow for your smartphone videos
Social media templates and image border effects
Color picker in title editor
More intuitive start dialog
Optimized transition menu

All new features at a glance
Ultra-fast export with the INFUSION Engine 3 thanks to Intel, NVIDIA & AMD GPU support
Exclusively in the Platinum/Suite subscription: MAGIX Content with stock footage, music and much more. Powered by Storyblocks!
MAGIX Travel Maps includes new features: Fly-in animations, GPX elevation profiles, MP4 export and much more.
Create custom video collages and animations with flexible rotation point + new controls
Panorama Storyboard with audio editing + XXL preview images
Multi-GPU support – use multiple graphics cards simultaneously
NewBlue Stylizers 5 Illuminate: Atmospheric light effects with around 100 templates
Movie Studio 2022
Shortcut to amazing
Movie Studio 365
Movie Studio 12 month subscription
Movie Studio 365
Movie Studio 12 month subscription
Movie Studio 365
Movie Studio 1 month subscription
Available until August 23, 2022