Work faster, on a more stable PC.
Thanks to automatic system optimization and updates, PC Check & Tuning 2017 lets you get top performance from your computer again. Customize functions and PC settings to your needs. Keep everything more organized, get more consistency from your PC and save time – on up to 6 computers!
Clean up
Clean your system and free up memory by deleting unnecessary or particularly large files.
Accelerate
Defrag drives, optimize the startup and adjust power saving settings to improve performance.
Update
Keep software and drivers automatically updated to the latest versions to close security gaps.
The most important features:
Automatically find & solve problems
Real-time protection against performance problems
Free up disk space
Driver updates for over 50,000 devices
More security and better data protection
High-speed mode for immediately more performance
Power saving mode for longer battery life
Delete your digital footprint and browse faster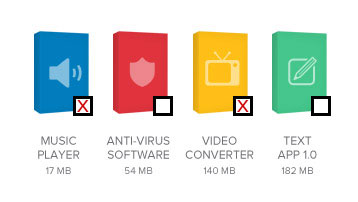 Remove unused programs
Create space on your hard drive and increase PC speed. The Uninstallation Wizard shows you how often you use programs and recommends ones to delete.
Optimal use of memory through defragmentation
Over time files are scattered around your hard drive, which slows down your system. PC Check & Tuning 2017 rejoins these fragments, which speeds up your hard drive.
Accelerates system startup
Shows you all programs in the startup and suggests which programs are unnecessary. You can deactivate this with a single click.
Removes garbage data
Finds garbage data automatically to create more space for important documents, photos, videos and music files.
Specifications
All MAGIX programs are developed with user-friendliness in mind so that all the basic features run smoothly and can be fully controlled, even on low-performance computers. The technical data for your computer can be found in the control panel of your operating system.
Minimum system requirements:
Hard drive space
100 MB for program installation
Graphics card
Onboard, minimum resolution 1024 x 768
Internet connection: Required for registering and validating the program, as well as for some program features. Program requires one-time registration.
PC Check & Tuning 2017 is sold as a 1-Year license version. Renewal for a special price.
"Family Pack" refers to an extended license, which permits installation on up to 6 PCs.