Full control. Full transparency.
Over 10 years of PC Check & Tuning and more than 11 million optimized computers. Over 6 GB of junk files removed per user. More than 20,000 securely deleted files per PC. Bring your computer back to maximum performance!
Full control: Restore your system to a previous state anytime.
Full transparency: Clearly arranged logs provide information for any optimization changes.

Clean up.
Free up space and save energy.

Faster.
Achieve the maximum performance from your PC.

Safeguard.
Protect your PC – online and offline.
Clean up
More storage space & organization.
Delete up to an average of 20,000 unnecessary files with one click! With PC Check & Tuning, you can easily clean up and create more storage space as well as organize your PC – all in a matter of seconds. Quick, easy and absolutely transparent.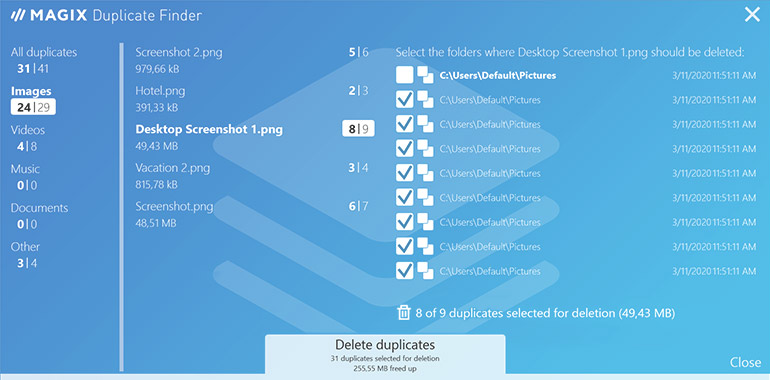 Find duplicates
PC Check & Tuning enables you to scan your hard drive for unnecessary duplicated files, such as photos or music and video files.
This gives you a clear overview of your computer system and lets you get rid of any garbage data, quickly and easily.

Remove temporary files
Create more space on your hard drive: Many programs leave temporary files during use. PC Check & Tuning recognizes and reports these files so they can be deleted.

Save power
PC Check & Tuning optimizes your Windows energy saving settings even more: Reduce your power consumption to protect the environment. All without affecting your computer's performance.

Organize multimedia files
How many photos, videos, and audio files do you have on your computer? PC Check & Tuning helps you to find and eliminate the largest memory-wasting files.
Accelerate
New levels of performance for your PC.
Break through the limits of your processing power: Optimize your computer using PC Check & Tuning's numerous features for acceleration.
Quickly get an overview of your computer's performance and then optimize various processes easily. Experience what your PC is really capable of!
Optimize Windows Services
Windows activates various background processes at each system start. You can speed up your start up procedure easily by deactivating unnecessary services.
PC Check & Tuning will help you to identify and deactivate them.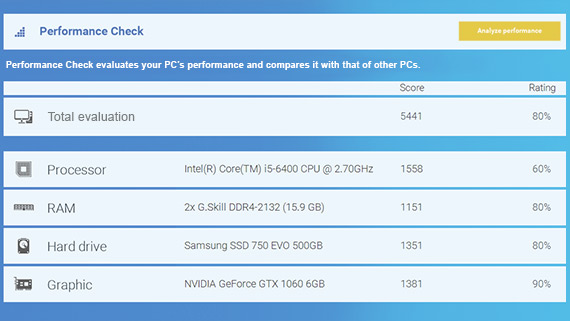 Performance check
How efficient is your PC? Find out – with the performance check in PC Check & Tuning. Learn everything about the performance capabilities and weaknesses of your computer – because only those who know their computer can get the best out of it.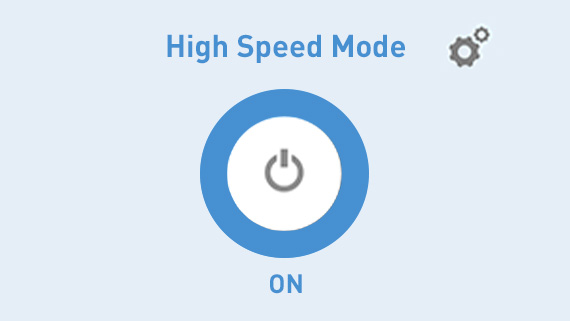 High Speed Mode
In High Speed Mode, PC Check & Tuning prioritizes which programs need the most power. For example, speed up your multimedia software while reducing performance for less important processes.
Secure
Increase your PC's security. 100%.
With PC Check & Tuning, your PC is always secure. Should your computer have a problem, you are immediately informed and are able to review all processes running.
Continuous error detection, automatic service features and data protection ensure your all-round security.
Real-time protection
PC Check & Tuning stays alert even after optimizing your computer. With the autopilot running in the background, errors can be detected and resolved in realtime. This way there are no problems in the first place and your PC is constantly protected.
System Restore
Restore your system to a previous state anytime with PC Check & Tuning. If you ever delete a file accidentally, you can easily recover the data with PC Check & Tuning.

Delete malicious software
Find unnecessary and even malicious software on your computer using PC Check & Tuning. Create more space, increase your security and speed up your computer by safely uninstalling these programs.

Run the maintenance service
PC Check & Tuning's maintenance service offers a clear and transparent overview of where your computer's performance can be optimized. Receive messages from the maintenance service about urgent problems like malicious downloads.

Remove Internet traces
Protect your privacy by deleting temporary files, cookies, and your browser history. This way you can cover your tracks on the Internet and, for example, avoid that companies can identify you for advertising purposes.
Your computer is in good hands – with PC Check & Tuning
A long-standing success story
6 GB of junk files removed per user
Over 20,000 files deleted securely per PC
More than 3,000 warnings in total per day
4 optimized Window startups per user
More than 2 outdated drivers found and updated per PC
11 million optimized PCs in the last 11 years
*Anonymous data collection, December 2017
MAGIX PC Check & Tuning
1-year license
MAGIX PC Check & Tuning
1-year license
Noticeable & proven improvement in PC performance
More than 11,000,000 downloaded versions
91% of users have recommended PC Check & Tuning to others