A Video Software That Easily Helps Handling Film Footage
Video software refers to computer programs that allow video footage to be cut and edited using a computer.
This process is also referred to as Non Linear Editing (NLE), with an interface that often uses timeline layouts to manipulate video content. Software and the corresponding hardware has largely replaced traditional editing stations which dealt with physical tape (digital) or celluloid (analogue). It is still possible to edit these recordings as long as there is an input format that the hardware and software support.
Since most of the video software sold in this category is consumer based, many companies have concentrated on developing pro-level tools meant for the consumer market. Thus, video editing software can now easily reduce shaky footage, normalize colour tones through a white balancing process, and fix poor audio samples. Many programs allow you to edit in a non-destructive manner the raw video data, preserving the original and outputting a new file. Some companies have realized that video and audio often comes from more than one source, and programs like MAGIX's Video Pro X, and Movie Edit Pro have come preloaded with the ability to create a final video using MultiCam editing. This process takes two or more sources, and allows a user to seamlessly transition between the multiple shots. This reduces the amount of time that a user would usually have to take combining video sources.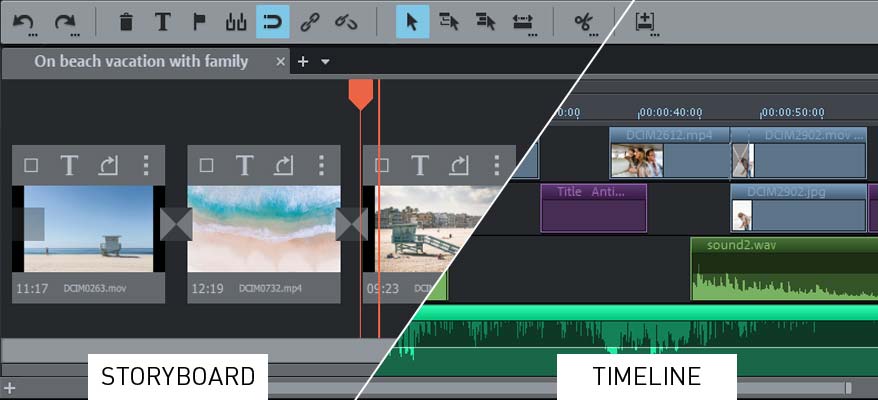 A Video Software For The Consumer By MAGIX
Software like Movie Edit Pro or Video Pro X enables you to edit raw footage quickly and easily. It doesn't matter if you are a beginner or have years of video editing experience, everyone can benefit from MAGIX video software!
* With the update service you will receive a full year of free new features and updates, which can be used indefinitely. If you reinstall the program after one year, you will have access to the basic version. After the one-year update service has expired, you can extend it for a discounted price.