Copying and editing a VHS to DVD or Blu-ray disc
DVD disks have been around for a while but there are still plenty of people with boxes and boxes full of VHS tapes containing precious memories like home videos, weddings, graduations and other recordings.
It's easier than you think to preserve these memories and it's not hard to convert your old VHS tapes to DVD. Bring your old home movies into the 21st century and enjoy your memories again and again with MAGIX Rescue Your Videotapes!
With the MAGIX solution Rescue Your Videotapes! for your Windows PC, you can easily digitize videos and further edit the video files on your computer. The included video editing software, MAGIX Video easy, also detects VHS, Video8, S-VHS and other common tape formats with ease. To copy the video and burn it to a DVD, for example, you only need a playback device, a PC and some blank DVDs. The MAGIX solution already includes the necessary adapters and connections providing you with both the hardware and software you need. Tip: you can also download the software for your Ultrabook on www.magix.com/download/.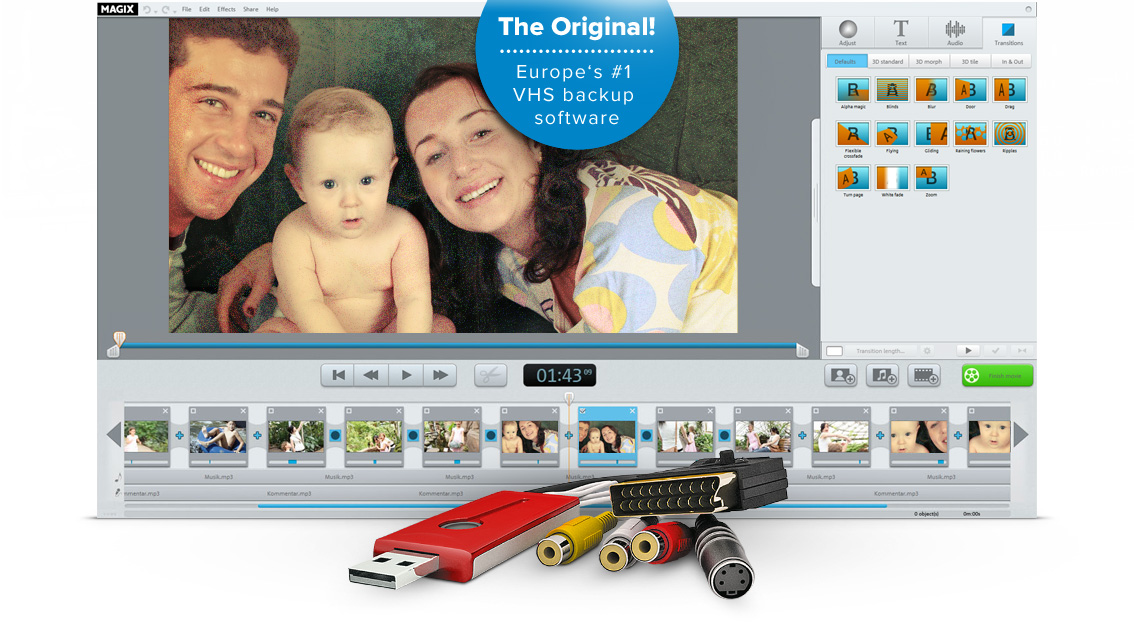 Save your memories to enjoy again and again: copy video and burn to DVD
After you save the files with Rescue Your Videotapes!, the films not only have a longer life, but they are also far less susceptible to damage. You probably have a ton of old recordings stored in your attic, basement, closet or other storage rooms. Why not save space and clean those areas out by getting rid of your VHS tapes and transferring your old treasures to your PC.
It's also important to quickly copy your videos while the corresponding playback devices for different video tapes are still available on the market and also save your video files before the ravages of time take their toll on them and your archived memories are lost. Preserve your memories now using a top notch program, the best-selling VHS rescue software and show your children the funniest and most exciting times of your life.
It doesn't matter which of the numerous analog formats you need to save. To edit your saved video files later on, there is a wide range of film-worthy animations, fade-ins and a large collection of templates available from MAGIX, which are perfect for every occasion. And if even that is not enough for you, then visit the Catooh online media catalog. Regardless of the video footage there are menu templates, transitions, animations, sound effects or background music perfect for any occasion. Surf through the variety of free templates and effects and download the right one for your films.