Making music with the ideal setup
THE NEW MUSIC MAKER HARDWARE EDITIONS!
Do you live for music – and prefer to make your own? Make your own beats and tracks with MUSIC MAKER 2023 PREMIUM – quickly, spontaneously, and no previous experience required.
Combine your favorite software with powerful hardware from Akai, Alesis, novation, and Focusrite. Smooth workflows bring your setup even more enjoyable and push your creativity to the next level.
Choose the hardware that's right for you!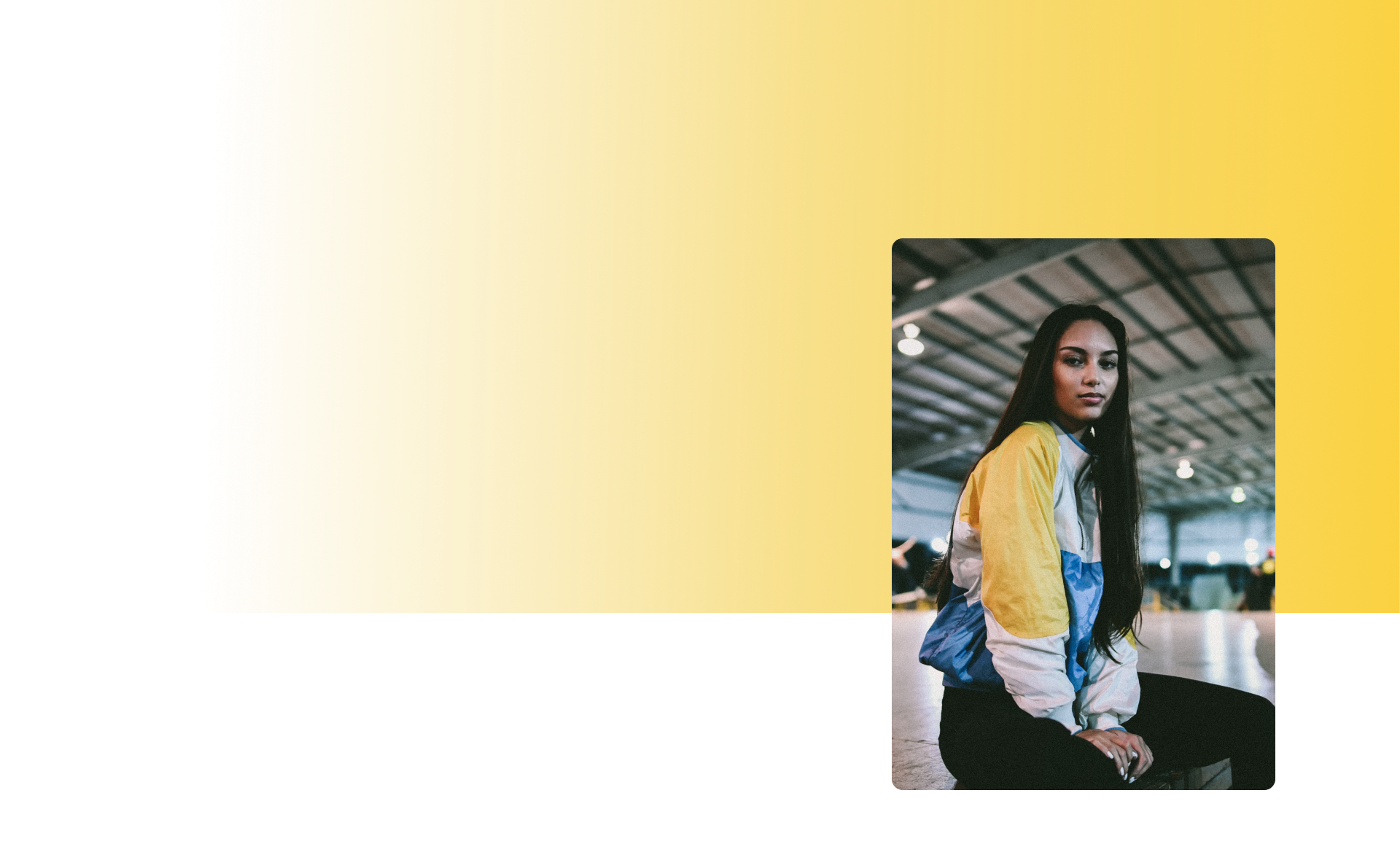 Your laboratory for beats and grooves
MUSIC MAKER 2023 BEATBOX
FEATURING novation Launchpad Mini MK3

Step up your beatmaking game with MUSIC MAKER 2023 BEATBOX! No matter whether at home, on tour,
or on stage:
Start producing your beats with novation MIDI Grid Launchpad MK3 today – anywhere and anytime.
Easily program beat patterns on the novation Launchpad's 64 RGB pads, then edit and arrange sequences
directly in MUSIC MAKER.

Perfect for beat makers: 64 backlit RGB pads and 16 buttons (including control keys)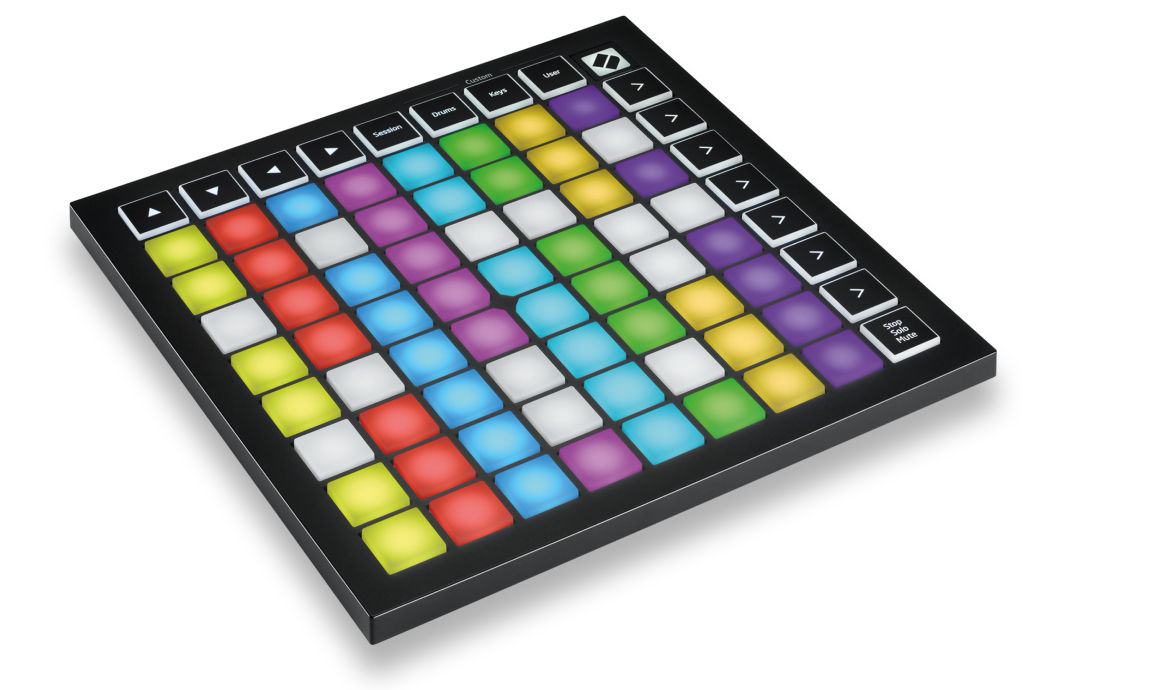 4 cursor keys
Simplified control for session mode
Connections
USB-C port
Kensington MiniSaver slot
4 pads
Session mode for controlling session functions in software
Three custom modes Drums, Keys, and User for controlling all MIDI functions
Control button Stop/Solo/Mute
Streamlined session control directly via Launchpad Mini
Performance control using stop, solo and mute
64 RGB pads
64 three-color, individually assignable pads
8x8 grid
Various light displays for perfect live performances or recording sessions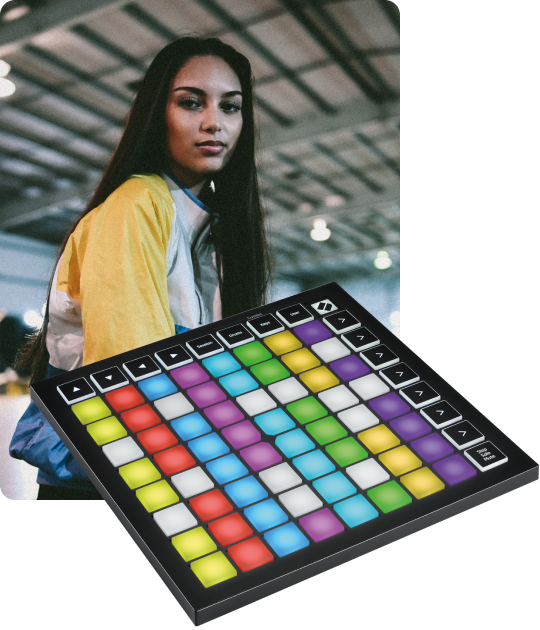 Sequencing using
hardware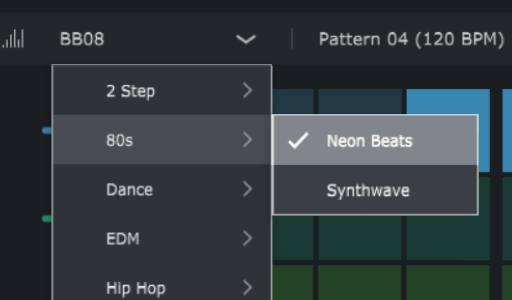 Choose a drum kit depending on your genre and taste, and get started with authentic patterns – or program your own beats directly using the 64 illuminated RGB pads. For perfect drum tracks and pro-level sequencing.
Beatmaking – totally
interactive and intuitive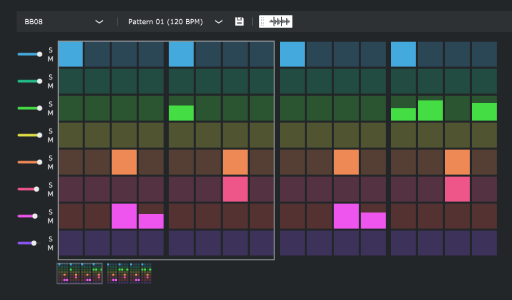 The Mini MK3 communicates seamlessly with any software. Build beats with the 64 pads and then they will immediately appear as patterns in Beatbox Pro 2. Then, fine-tune the velocity of each step and arrange your beats.
Arrange quickly and
perform live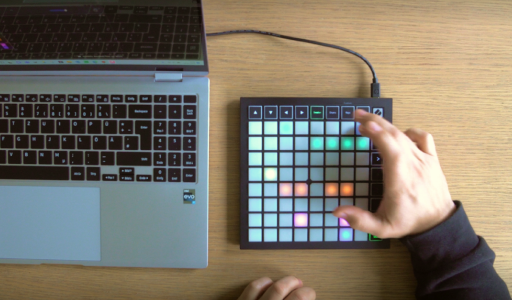 Compact and ideal for live sets: Use the arrow keys on the Launchpad to switch between two 16-step drum patterns and arrange individual parts at the touch of a button. Extremely practical: Use the Stop/Solo/Mute buttons to control the tracks of your pattern.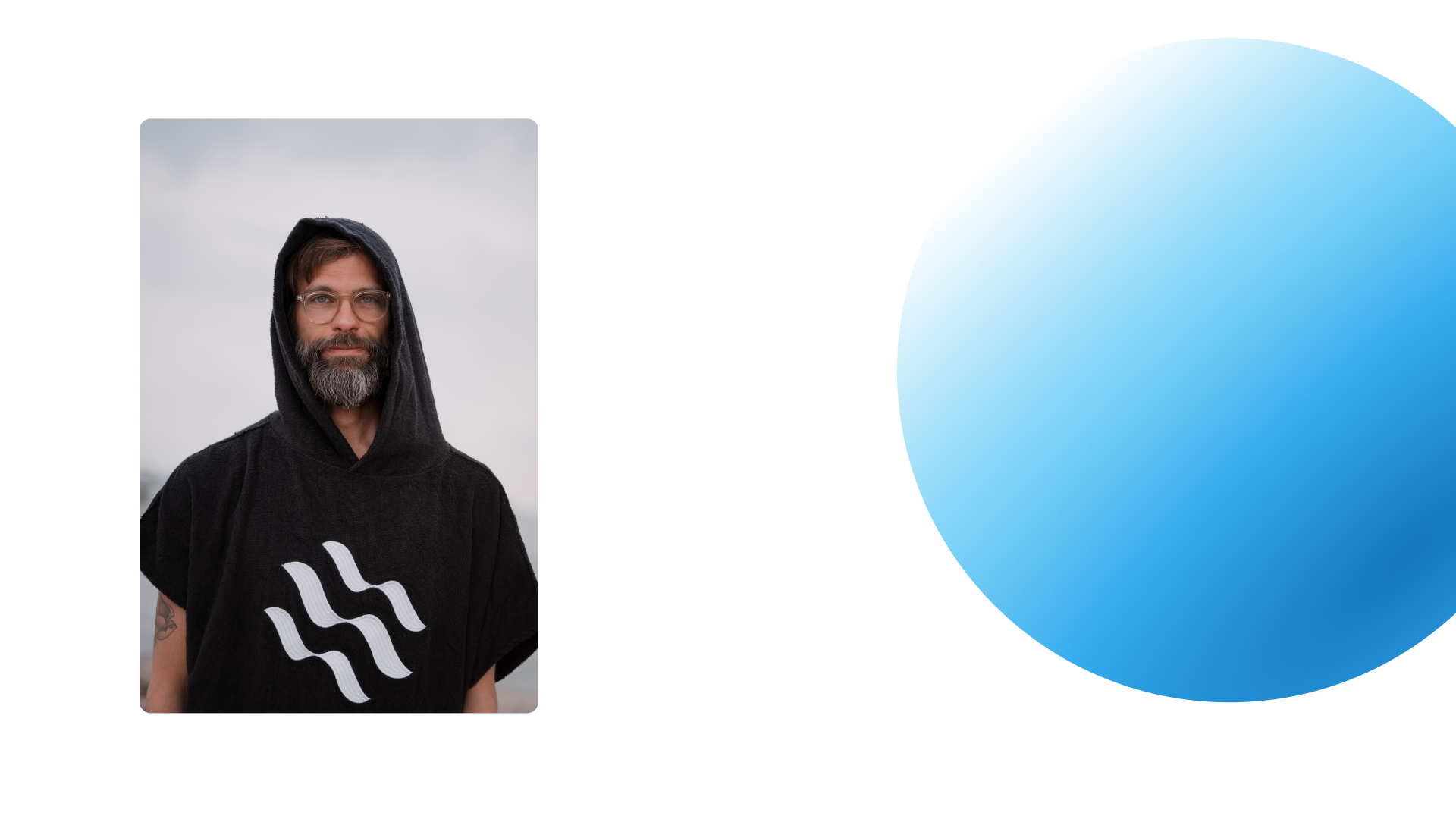 Full control of your sound
MUSIC MAKER 2023 CONTROL
FEATURING Alesis Q49 MKII

Does your song need more bass? Get the most out of your productions with MUSIC MAKER 2023 CONTROL: The most successful, entry-level software for song and beatmaking provides unlimited creative possibilities for crafting your songs. And with the Alesis Q49 MKII 49-key MIDI keyboard, you can play any virtual instrument with maximum dynamics over 4 octaves.
This versatile controller is the ideal tool for developing your own sound and taking it to the next level.

Perfect for songwriters: 49 keys, pitch and modulation wheels, and control buttons
Connections
USB connection
Sustain pedal input
6.3 mm jack
Plug-and-play connectivity for Mac and PC
Compatible with iOS devices (via Lightning to USB camera adapter sold separately)
Directional buttons & Stop/Play/Record
Directional buttons for controlling certain software functions
"Stop", "Play", "Record" buttons for stopping, playing, and starting recordings
Volume
Seamless volume adjustment during recording or performance
Advanced Transpose & Octave buttons
Fader for controlling volume and individual effects
Octave +/- keys to enable access of full piano range
Pitch/modulation
Pitch bend and modulation wheels for added expression and transport keys
Keyboard
49 full-size velocity-sensitive synth action keys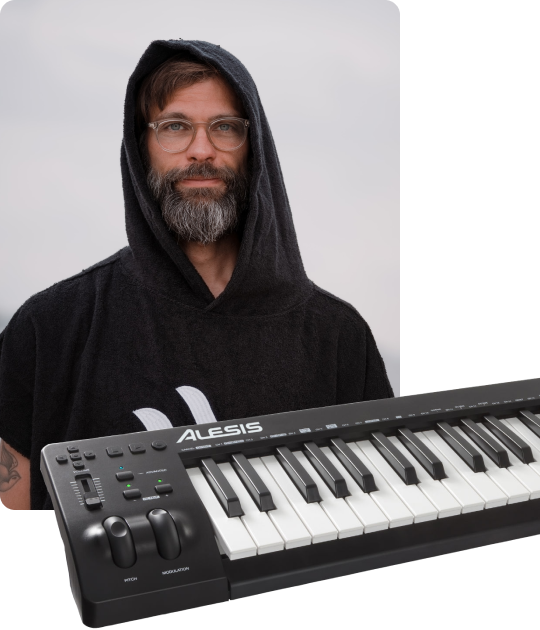 Tonally rich
instruments
Enhance your production with classic elements like bass, guitar, synthesizer, or a perfectly recorded orchestra. MIDI lets you edit everything the way you like and easily bring your productions to the next level.
MIDI recording
made easy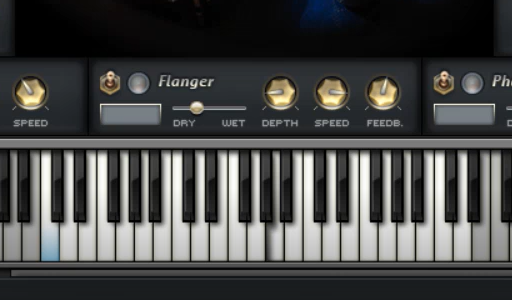 For example, select a virtual bass in MUSIC MAKER 2023 PREMIUM and record a new MIDI track. Easily correct mistakes with your mouse in the editor. Then, simply find the right effect and your bassline is done!
Emotion and expressiveness
for your melodies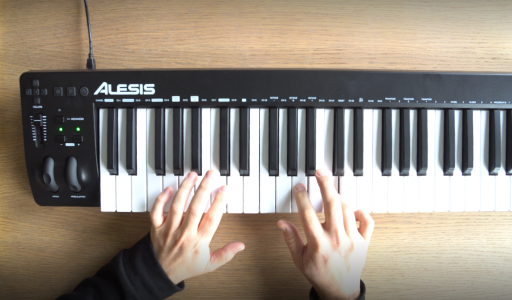 The Q49 MKII MIDI provides transport controls and everything a musician's heart desires. The octave and transpose keys open up the entire range of notes, and you can use the pitch bend and modulation wheels to add even more expression to your melodies.

A must-have for your productions – take it everywhere with you!
MUSIC MAKER 2023 PERFORMER
featuring Akai MPK Mini 3

Want to produce songs live, even on the go? Get this compact
power tool for aspiring producers: MUSIC MAKER 2023 PERFORMER is the perfect combination
of your favorite DAW and Akai's MPK Mini 3, which was designed based on their legendary
MPC drum machine. This popular MIDI controller features dynamic pads, endless knobs,
and a 2-octave keyboard – ideal for producing beats with samples.

Perfect for producers and anyone on the go: 25 velocity-sensitive synth action keys, 6 drum pads,
4-way joystick, and pro controls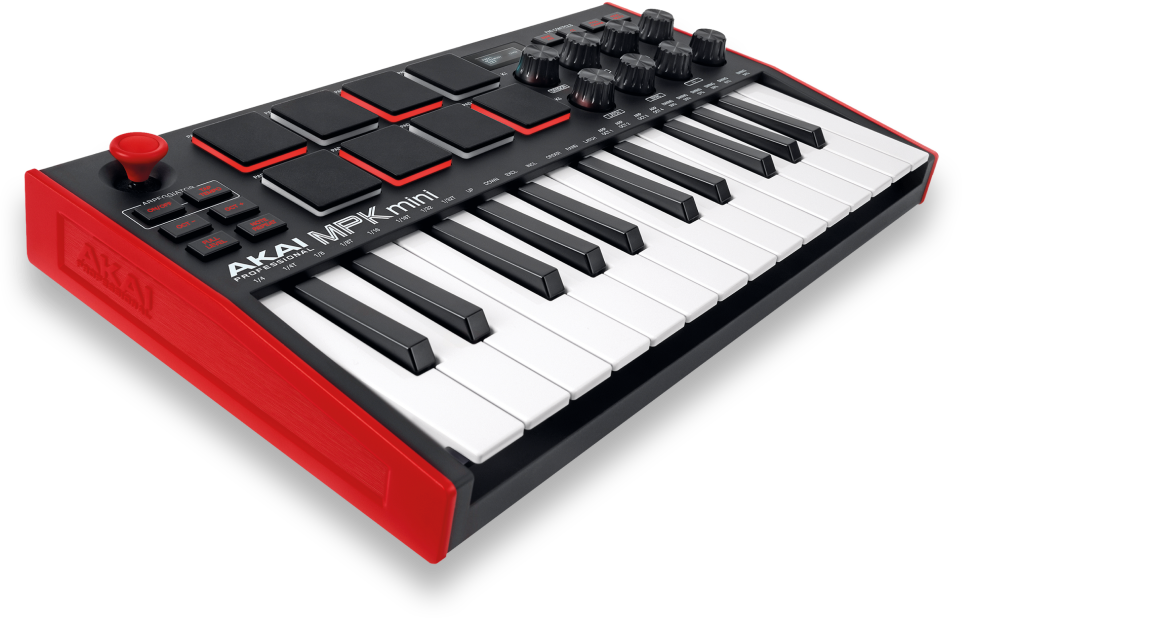 Simply connect & get started!
Driver-free, plug & play connection for universal compatibility
Total control over your productions
Innovative 4-way joystick for dynamic pitch and modulation control
Built-in arpeggiator with options for resolution, range, and modes
The MPC experience
8 backlit, velocity-sensitive MPC pads
Note repeat & full level for programming drums, triggering samples, and controlling virtual synthesizers/DAWs
The ultimate performer
25 velocity-sensitive mini offer superior piano key performance with exceptional response
Focus on your performance
The OLED display provides clear and important information about DAW mode, speed, CC, and much more
Controls for your virtual instruments & FX
8 360° knobs can be mapped with your music studio plug-ins for mixing, adjusting synth controls, and more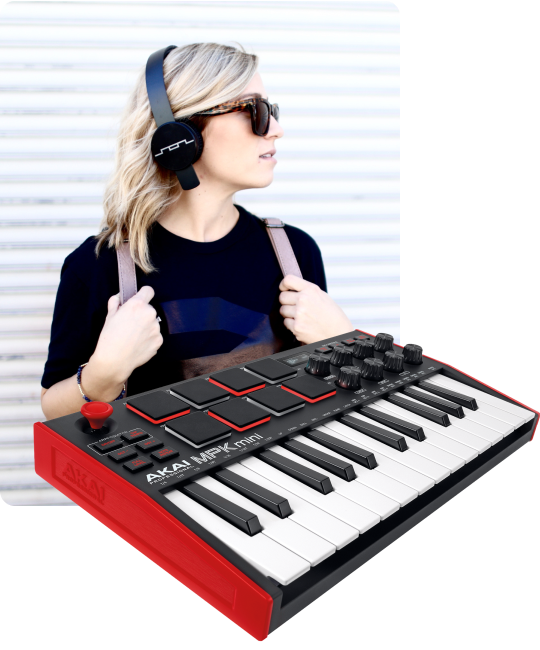 The perfect
all-rounder
Whether virtual instruments like electric piano, vibraphone, or drums: The Akai MPK Mini 3 is the perfect all-round controller for any situation! It fits in any backpack and is easy to connect via plug & play.
MIDI recording
made easy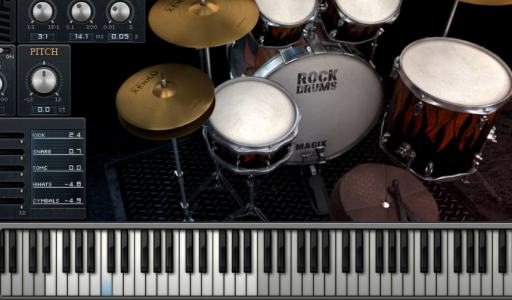 For example, select a rock drum kit and play a drum part on the MPK Mini 3's pads conveniently using MIDI recording. The next step is to refine your loop and start using it in your track. Add effects and you're done!
Precise drum patterns and
high-quality sampling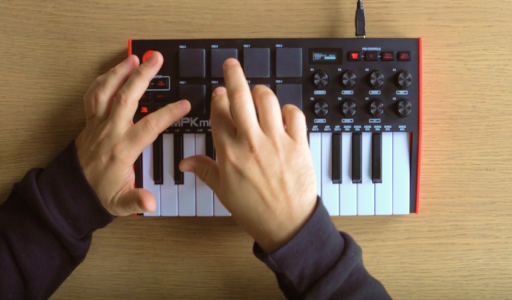 The MPC pads allow dynamic drumming with subtle accents. Using the convenient knobs and 4-way joystick, you can always control the most important parameters on your synthesizers – thanks to freely customizable assignment!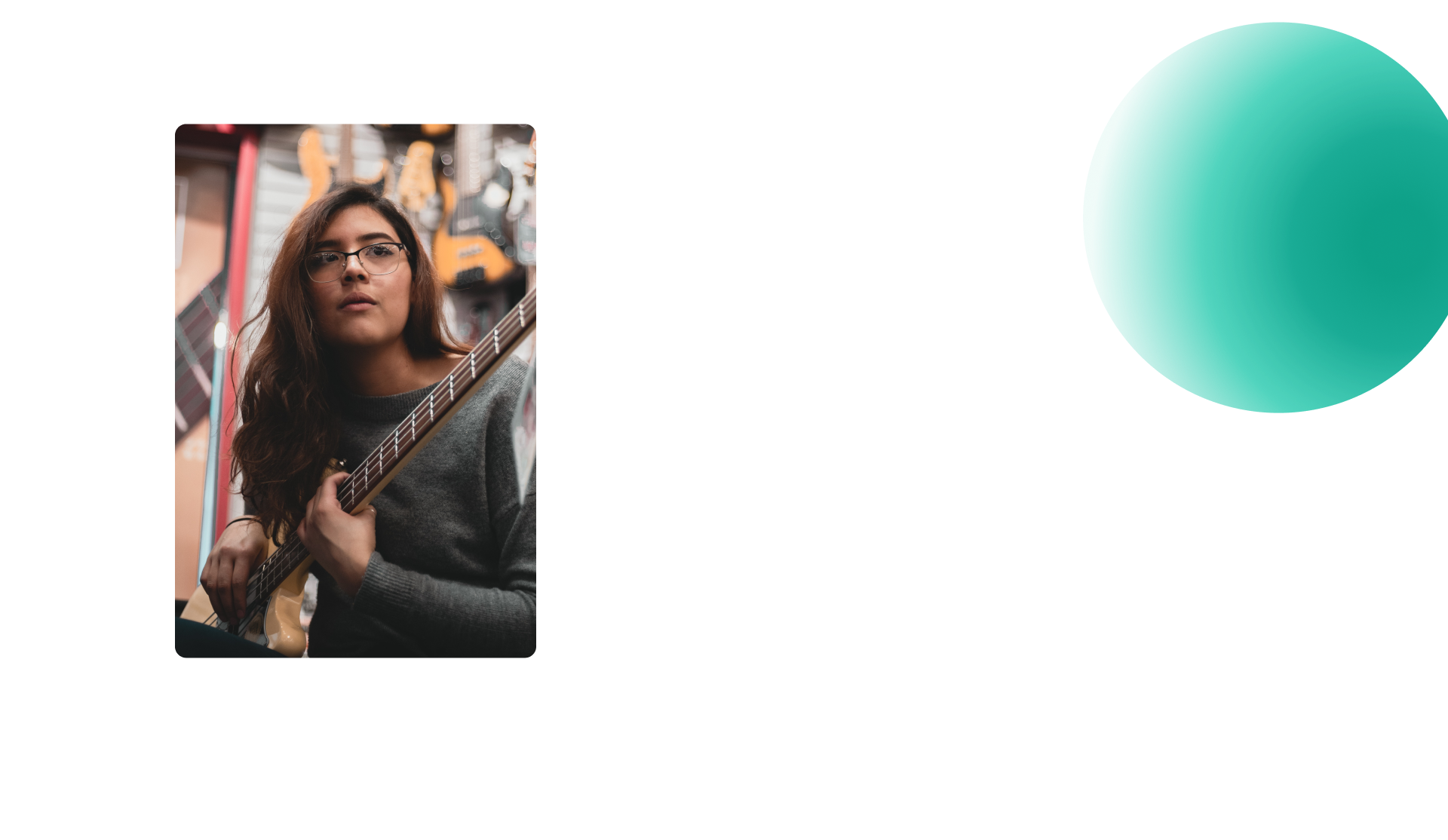 Ultra-clean sound and the right connection – always
MUSIC MAKER STUDIO
FEATURING Focusrite Studio Bundle

Looking for a recording setup for home or on the road? STUDIO combines the successful, entry-level song and beatmaking software with high-quality Focusrite hardware to professionally record instruments and vocals. This bundle includes you everything you need for a successful recording session. Record in professional-level quality and then mix your songs like a pro with MUSIC MAKER 2023 PREMIUM. Get loud and get creative!

Perfect for home musicians: Audio interface, condenser microphone, and headphones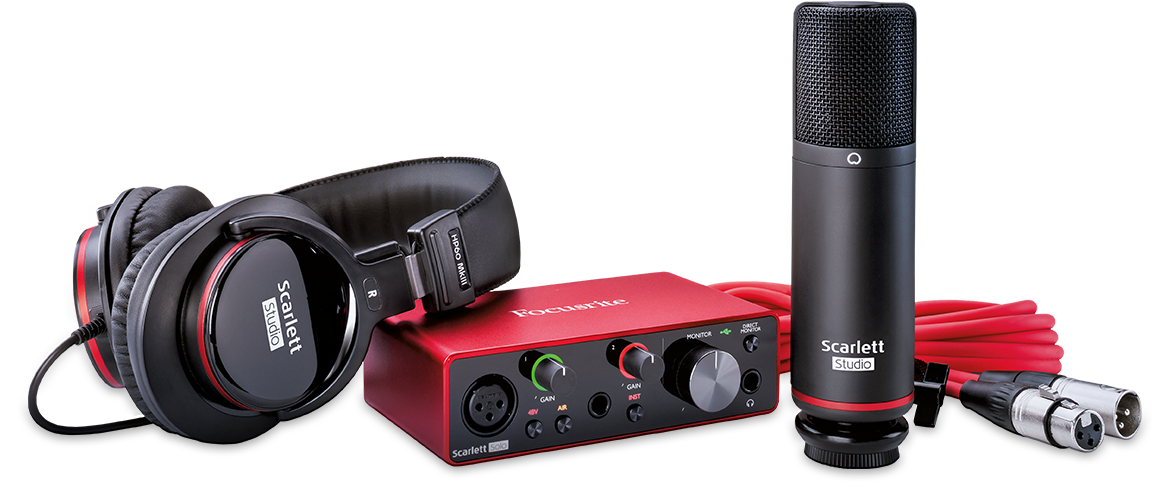 Focusrite Scarlett CM25 MkIII large diaphragm condenser microphone
Studio condenser mic with a particularly natural sound
The cardioid characteristic of the condenser mic offers ultra-clear recording results in studio quality.
Focusrite Scarlett HP60 MkIII padded headphones
Professional closed-back headphones for precise audio playback and the highest audio quality when mixing and listening
For optimum wearing comfort during long studio sessions
Focusrite Scarlett Solo with mic preamp
USB 2.0 audio interface with powerful 24-bit/192 kHz A/D converter and ultra-low latency for the highest sound quality
Microphone preamp with phantom power and air mode for full, rich vocal recordings
3 meter XLR cable
For connection microphones and instruments
Offers noise-free audio signals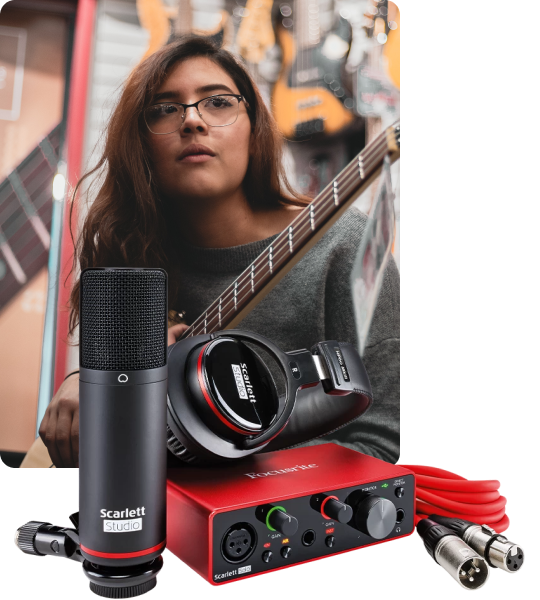 Record live – with
all the features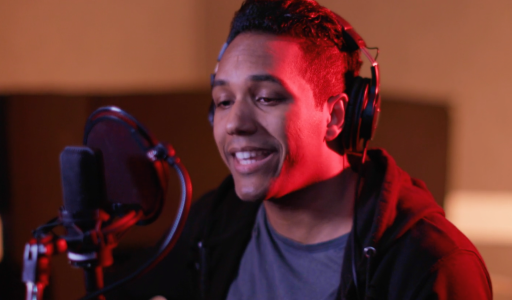 This setup brings rich live sound to your tracks! Get your studio ready for any kind of vocals or instruments. The interface provides easy connection to a wide variety of signal sources in the best quality.
Noise-free recording
in studio quality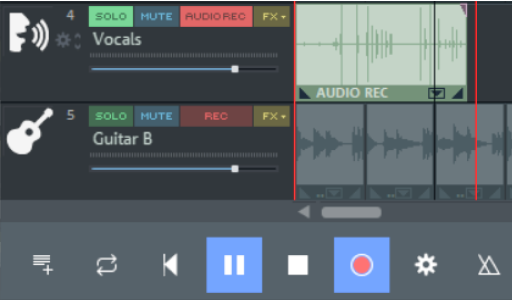 The large-diaphragm mic ensures clean, balanced recordings thanks to the high-quality components and professional A/D converters in the Focusrite interface. Enjoy ultra-clear sound that you can hear in the mix through the high-quality headphones.
Perfect for where you
are the most creative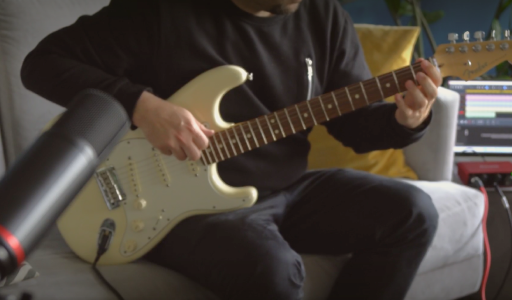 Want to record songs on the go? Focusrite's compact setup is easy to store, transport, and reconnect in your favorite creative space without the need for an additional power supply – thanks to its USB connection.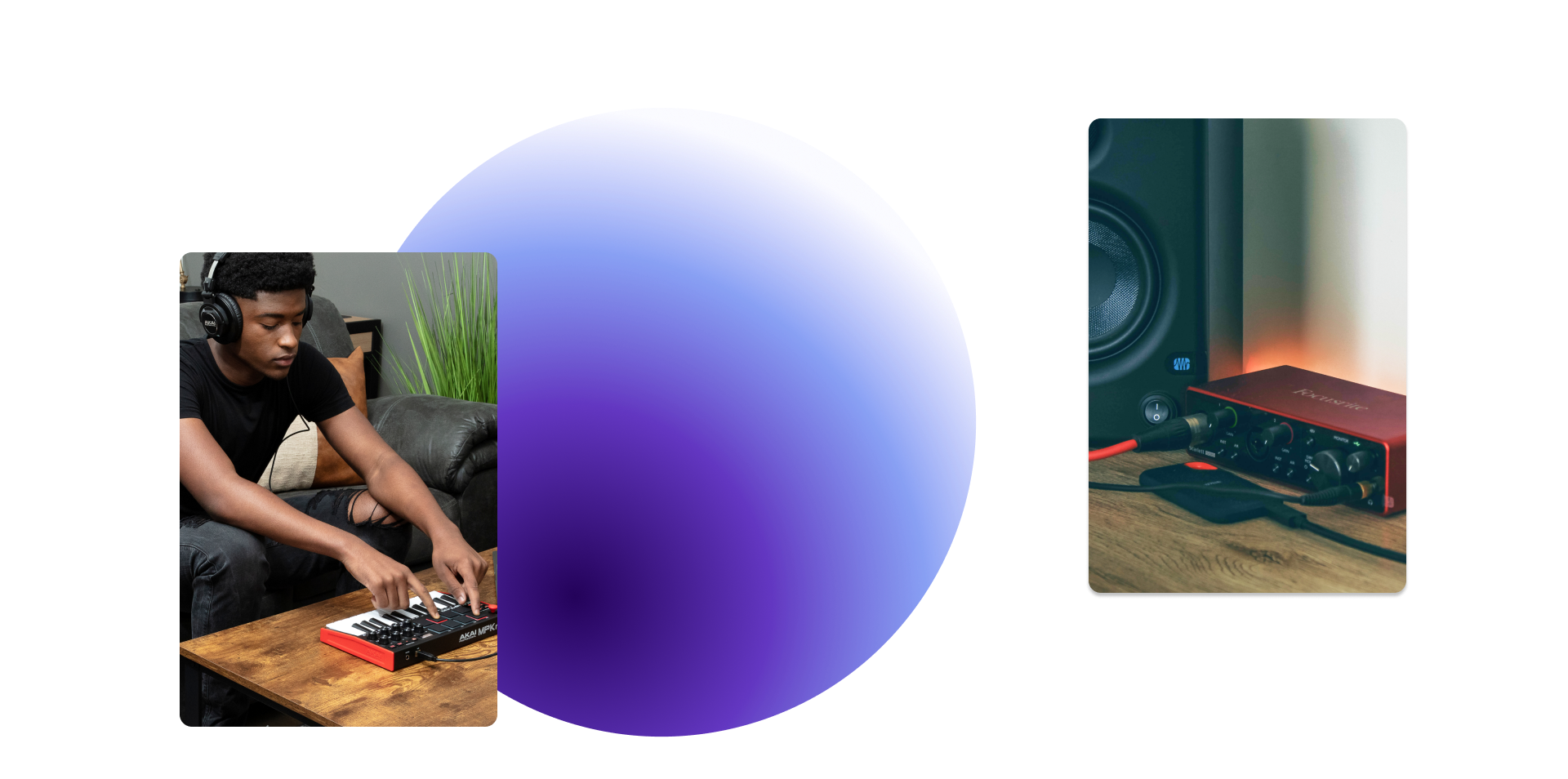 THE MUSIC MAKER PROMISE:
MAKE YOUR FIRST SONG TODAY!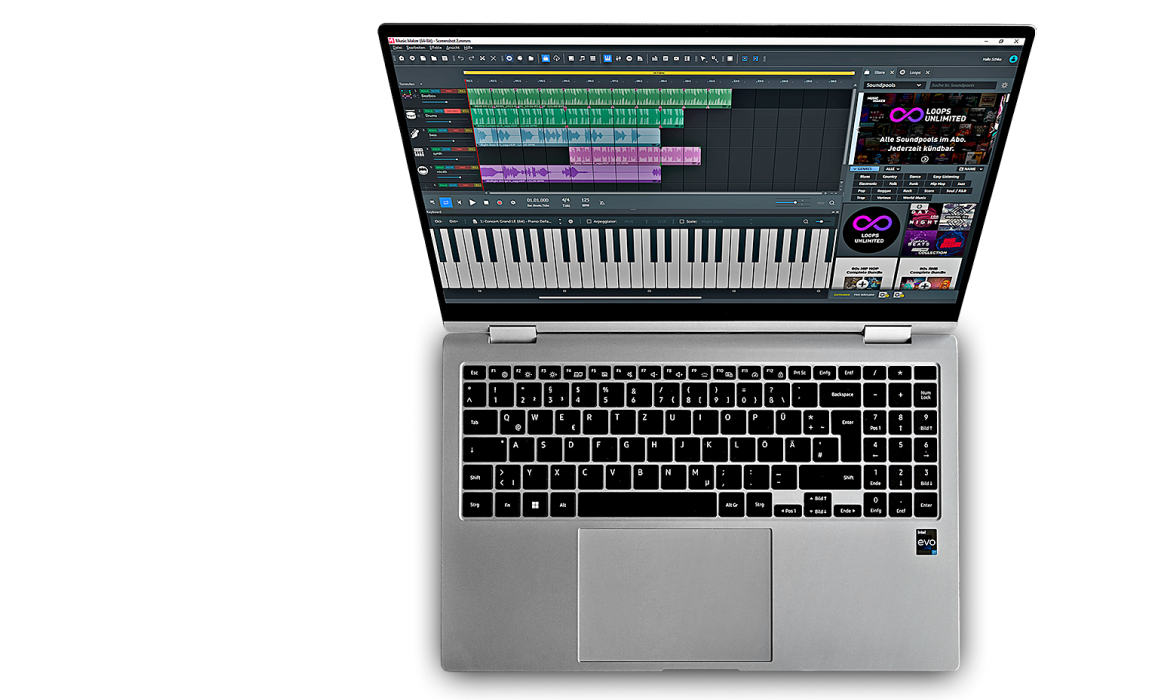 1. Connect
You can easily connect your hardware to your PC via plug & play using your USB port.
2. Install
The hardware is automatically recognized after installing the drivers and can be used immediately the next time you open MUSIC MAKER.
3. Get started!
Dive into the world of music production: With innumerable sounds and features, you'll never run out of inspiration!
Choose the Edition,
that is best for you!
MUSIC MAKER 2023 BEATBOX
MUSIC MAKER 2023 BEATBOX combines the novation Launchpad Mini MK3 and new MUSIC MAKER 2023 PREMIUM. This bundle includes Beatbox Pro 2 featuring 17 drum kits, new sounds, and dynamic patterns. Simply record your beats using novation Launchpad and edit your sequences directly in MUSIC MAKER.
Available until 2 April 2023
Buy now
MUSIC MAKER 2023 CONTROL
A complete music studio in a single Music Maker Edition: MUSIC MAKER 2023 CONTROL combines the Alesis Q49 MKII 49-key USB MIDI keyboard with new MUSIC MAKER 2023 PREMIUM. Drag & drop sounds and samples to effortlessly create new songs and play virtual instruments using the keyboard's velocity-sensitive keys.
Available until 2 April 2023
Buy now
Sold out
MUSIC MAKER 2023 PERFORMER
Get even more out of MUSIC MAKER with this hardware. MUSIC MAKER 2023 PERFORMER combines the Akai MPK Mini MK3 MIDI Controller and new MUSIC MAKER 2023 PREMIUM. This MIDI Controller with 8 dynamic pads, 8 endless knobs, a 4-way joystick and a compact mini-keyboard is perfectly integrated in the new version of MUSIC MAKER.
Sold out
MUSIC MAKER 2023 STUDIO
The perfect home recording studio: MUSIC MAKER 2023 STUDIO unifies powerful software from MAGIX with high-quality hardware by Focusrite in one bundle for creating professional vocal and instrument recordings. Turn up the volume and produce your own hits – easier and more creatively than ever before!