Creating the perfect sound with Music recording software
Like with every piece of musical equipment, it is just as important to find the right music recording software that provides the right sound and fit for any musical enterprise.
Flexibility is one of the most important aspects of any instrument in a musician's arsenal when they are making music and the same is true for music recording software. However, the physical space needed to house music equipment and instruments is large and is often very expensive. But with the right music production software, space doesn't become an issue and anywhere you can set up your PC can become a recording studio.
One of the best solutions on the market is Samplitude Music Studio, which combines the usability of MAGIX's consumer line with the power of its professional line. Combining features with direct multi-track recording capabilities, musicians and recording artists can use separate line inputs and then combine them inside the program. With both high quality studio effects and virtual instruments, if a band member can't make it, you can add in a virtual instrument track preprogrammed to match the missing part. If you are satisfied with the track, you can keep it in, or get a separate recording when the band member is present. Simply swap in the new audio information and export the recording. MAGIX products all use Red Book audio standards for creating audio through their music recording software offerings. Within the mixing and mastering software Samplitude Music Studio, inputs from VST, ASIO, ReWire, and DirectX among over supported devices and plug-ins.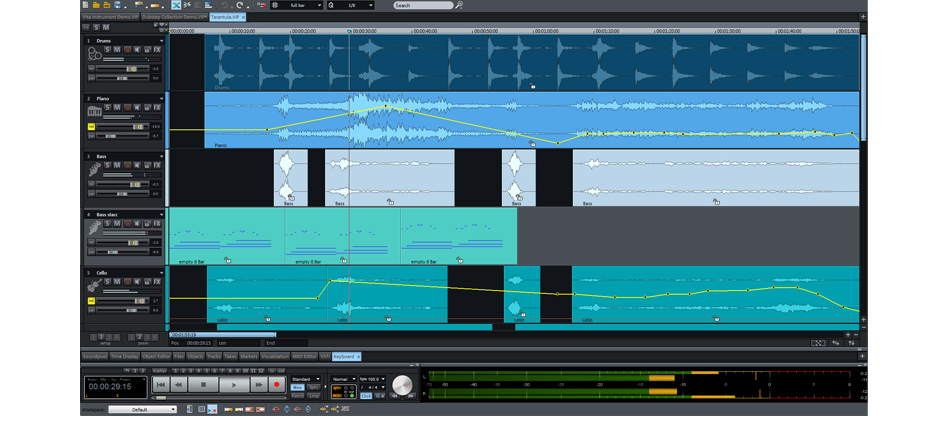 Why Samplitude is not just music recording software, it is an entire studio
This entire recording studio for professional and first time users also supports the Samplitude Music Studio exclusive: Auto JamSession. The Auto JamSession has some of the best auto-arranged musical styles available, and since Samplitude Music Studio is an entire mastering/recording/editing package you already have to tools to change every aspect of the Auto JamSessions to fit any musical style.