Import the material from your camera, action cam or smartphone.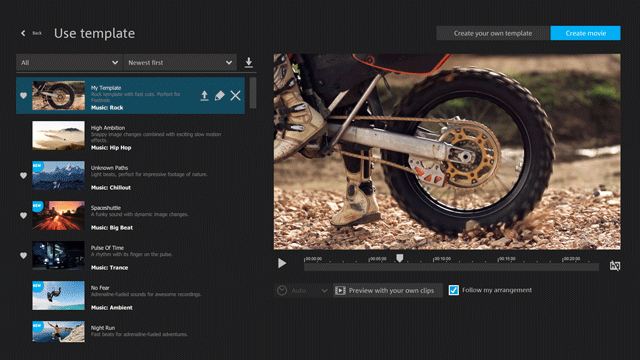 Select the editing template with music fitting to your material.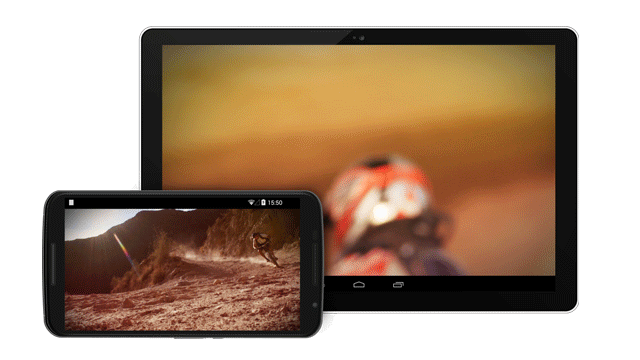 Share your videos over the Internet via your smartphone, tablet or TV.
Optimized for action cams.
Image stabilization
Improve focus by correcting shaky videos with automatic image stabilization!
Lens correction
Remove fisheye effects or other lens distortions quickly and easily.
Slow motion effects
Add the "wow" factor: Highlight your most beautiful moments with the slow motion effect.
For the biggest adventure of your life.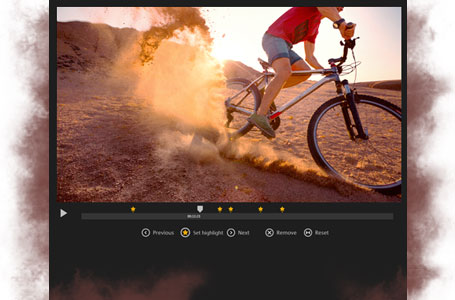 Your highlights
Select the best scenes using the highlight function! Then, Fastcut will create a video using these special moments.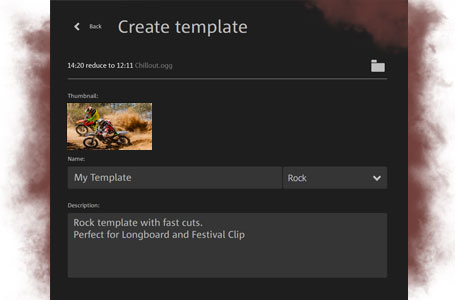 Your templates
As individual as you are: Create your own template using music. Set your own edit markers or take advantage of automatic beat recognition.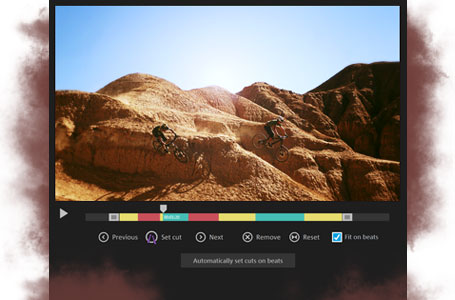 For your final touches
Free your creativity: With video effects, fades and text – add your own personal touch to your videos.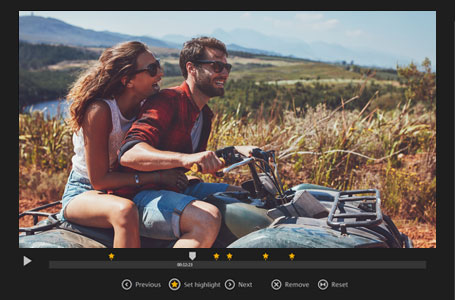 Set clip highlights
Decide exactly which favorite moments in your videos you'd like to see in the finished movie. Simply set highlight markers and Fastcut will perfectly integrate them into the selected template.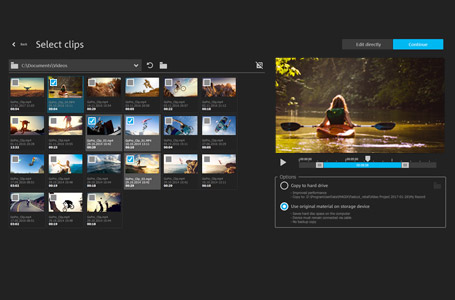 Decide clip order
You no longer have to make sure your clip selection is made in the final order. You can change it after the fact by simply drag-and-dropping.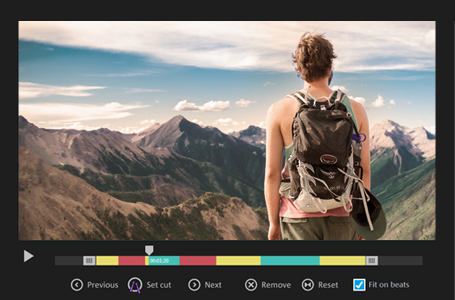 Automatic beat recognition
No need to set cuts in your own templates by hand – Fastcut does this for you with automatic beat recognition!
Edit your templates
Would you like even faster cuts and more lens flare? No problem: Edit your templates as often as you like without losing the settings.
Save clip adjustments
Now, all changes to individual clips such are cut markers and highlights are automatically saved as a preset for later projects.
Edit audio
Would you like to use only a section of your song in a template? Simply trim it to the perfect length.
Import & export templates
Export your own templates from the program. Afterwards, you can import it to any PC with Fastcut.
Smart Preview
Thanks to a technical innovation in proxy generation, you'll benefit from smooth previews without any delays. This way you can directly see which template fits your recordings best.
What the press has to say