You have an idea – ACID has the tools.
ACID Pro 11 is the creative DAW for today's artist and producer. Behind its refined and sleek interface lies a powerful, fully-featured DAW where sophisticated tools sit side-by-side with an easy workflow. 64-bit power allows even the most complex of projects to be handled with ease, while dozens of instruments and effects combine with thousands of ACIDized loops to result in the ultimate DAW for music composition. ACID defined loop-based music production 20 years ago, and now ACID Pro 11 refines it for today's creative musician.

Sampling is just the beginning.
Get animated by ACID Pro.
ACID's many features include the Beatmapper and Chopper tools which make sampling and remixing easy. The Beatmapper helps you identify tempo and time signature information from external audio files. Analyze any sample and set up new projects to match its tempo.
Chop up audio samples with the MIDI Playable Chopper and create impressive drum fills, stutters and DJ effects. The combination of MIDI Playable Chopper and Beatmapper make ACID Pro 11 a powerful DAW for everyone who enjoys sample-based music production.

MIDI Playable Chopper
The all-new MIDI Playable Chopper brings MPC-style performance sampling and hip hop beat creation to ACID Pro 11. Play samples from loops, beats and from drum kits – perform and record the results as audio events for instant remixing.
Packed with the new time-saving Auto Slice function, the MIDI Playable Chopper also features a brand-new transient detection for Automated Marker Placement. It is a perfect way to play around with drum loops and mark them with 8th, 16th or 32th notes. Play, record, and jam – ACID is your new instrument for performance!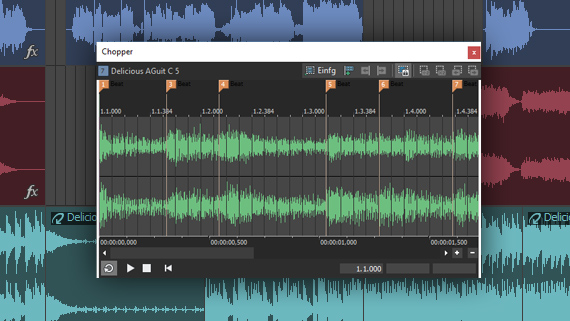 Chopper
Chopper is a tool that allows you to slice and dice an audio file so you can reorder, remix, change its groove and replay it. It creates amazing rhythmic variations of the original audio and you can create many of your own customized samples from one original loop.
Chopped events will play in sync with your ACID Pro 11 projects, and you can even use keyboard commands to drop events from the Chopper onto the timeline in real time.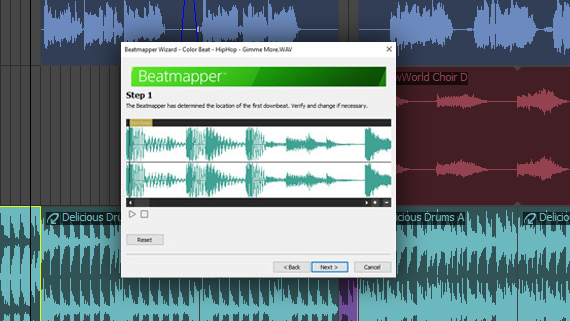 Beatmapper
Beatmapper offers a super fast and innovative process to remix music in ACID Pro 11. It identifies the tempo and time signature information in external audio files – including MP3s and complete songs – and allows you to label and edit the file with that information.
You can then create Beatmap songs and when other clips are added, they all lock to the tempo of the imported file allowing quick and easy remixing. Beatmapped audio files can also have their tempos and pitches edited for maximum flexibility.

The next generation.
In sampling music.
ACID has always used groundbreaking audio technology for producing music, seamlessly allowing you to mix and match sample pitches and tempos.
Now ACID Pro 11 brings the next generation of sampling to the masses.
ACID Morph Pads.
Enter unknown spheres of sound design.
Experience a whole new way of applying effects to your productions. Inspired by well-known analog audio effects units, ACID Morph Pads let you morph between different effect parameters assigned to individual tracks or the master bus. Morph between a diverse range of presets for stunning results. You don't need an effect buss – just switch the effect on or off with a simple mouse click.
ACID's new ACID Morph Pads can also be automated, helping you to become a world-class sound designer and remixer!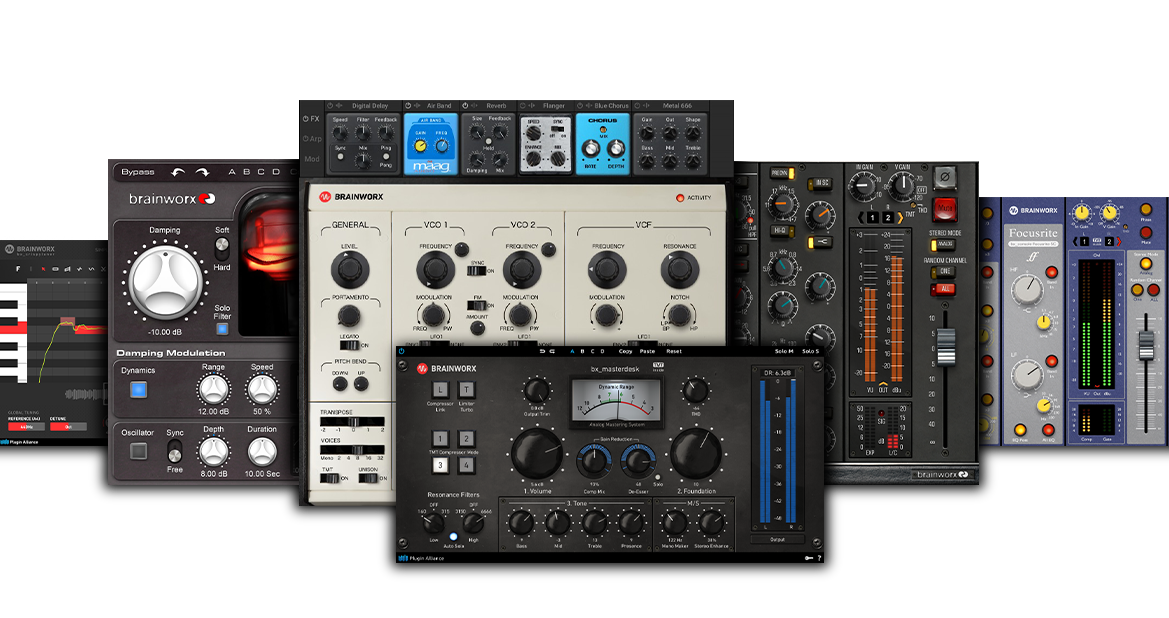 Brainworx Plug-in Package
bx_crispy tuner, bx_console, bx_masterdesk, bx_oberhausen, bx_refinement
ACID Pro 11 provides you with two plug-ins from the innovative software company Brainworx.
bx_console N is a faithful replica of a Neve VXS console. bx_masterdesk is a high-end analog mastering system in a single plug-in – directly in your DAW!
ACID Pro 11 Suite offers you five plug-ins from the innovation driver Brainworx.
In addition to bx_masterdesk, ACID Pro Suite also features bx_console Focusrite SC – a legendary studio console of which only ten were built. The synthesizer bx_oberhausen is based on the characteristic Brainworx Tolerance Modeling Technology (TMT) and emulates analog circuits down to the smallest detail. The Brainworx bx_crispy_tuner performs simple pitch corrections and extreme tuning effects. Thanks to bx_refinement you can identify and eliminate unpleasant high frequencies and refine your mix with analog warmth.

Helpful producer tools.
Suited to your workflow.
Multitrack recording
ACID Pro 11 offers uncompromising 24-bit, 192 kHz multitrack audio recording. With an array of pro-level features, it is equally at home being used for the recording an entire band in the studio – as it is for creating loop or MIDI-based compositions on the road or at home.
High-fidelity audio
ACID Pro 11 has a 64-bit engine and really works with your PC to bring maximum power and efficiency to your music making. Whether you are making 24-bit, 192 kHz multitrack recordings, mixing with multiple effects in real time, or composing with the dozens of plug-in instruments, ACID Pro 11 will step up to the plate and offer you all the latency-free power you need.

Arrange Tools
ACID Pro 11 offers many creative tools for today's producer. It's easy to divide your project into logical sections and then arrange them on the timeline. Tracks can be organized by placing them into Track Folders and then cluster editing allows you to drag, pitch-shift, cut, copy, and paste whole sections of an arrangement to help you easily create complete tunes.

MIDI – but without the mess.
Audio control and MIDI in ACID Pro.
ACID Pro features some incredibly comprehensive, sophisticated and precise MIDI editing features. These include direct MIDI editing of data within the timeline, track freeze to audio, Keyframe automation and flexible drum editing. You get all the MIDI features you would expect from a high-end DAW, but with user-friendly tools and clear editing environments. MIDI control in ACID is intuitive, fun and hassle-free.

Inline Editing
Inline Editing allows you alter MIDI data directly in ACID's timeline within traditional piano roll and drum grid interfaces. You can edit note positions, velocities, pitch bends and controller information all on the main multitrack interface so there's no need to open another edit window.

Drum grid mode
ACID Pro 11 is easy-to-use and intuitive: The Drum grid mode allows you to edit beats directly in the software's timeline. The grid style edit window shows all the drum parts, to which can easily move, add or delete beats.

MIDI track freeze
This allows you to turn MIDI tracks that are being triggered by software instruments into audio. Freezing a track like this means less instruments need to be running in real time so it conserves valuable CPU processing power.
MIDI filtering and processing
Processing of multiple events or tracks of MIDI data can also be done directly on the ACID Pro 11 timeline. You can use quantization and global editing of velocity values, note event duration and more.
MIDI track envelopes and keyframes
ACID Pro 11 utilizes envelope and keyframe automation features. All MIDI continuous controller data are used to edit parameters like pitch, modulation and expression – or indeed the controls of a soft synth – can be modified with smooth transitions. You can also use envelopes and keyframes on individual clips or make larger, project-wide changes.
Drum and patch map editors
Create and edit drum maps efficiently in ACID Pro 11. This enables you to use templates to assign labels to hardware or software-based MIDI synthesizers and drum machines. You can also easily saved and recall templates easily.
VST2/VST3 Engine with 32-bit bridge
Using the new VST2/VST3 Engine and the 32-bit bridge, you can run the latest plug-ins in ACID Pro 11 and even integrate your favorite older plug-ins into its sleek, 64-bit environment.
ARA2 support
ACID Pro 11 is now ARA2 compatible, which offers more efficient interaction with ARA2 plug-ins. This enables real-time audio editing, a much faster workflow and an improved user experience.

Get in the groove.
Audio editing and mixing power
ACID invented the standard when it came to real-time audio editing and now ACID Pro has some of the most powerful audio features in any DAW. These include the famous ACID real-time pitch and time-stretching, and sophisticated groove mapping where you can extract a groove from a loop and apply it to any audio file.
Sidechaining
Sidechaining is an essential tool for contemporary music productions. It is the interaction between two audio tracks and the rhythmic control of different audio signals.
Signal A's level can be automatically controlled by signal B. So, for example, a guitar can automatically be made quieter by singing, or the compression of the input signal results in any other sounds sounding stronger in the mix. Use it to create the characteristic "pumping" sound of modern EDM tracks or to really make your kick drums stand out in the mix.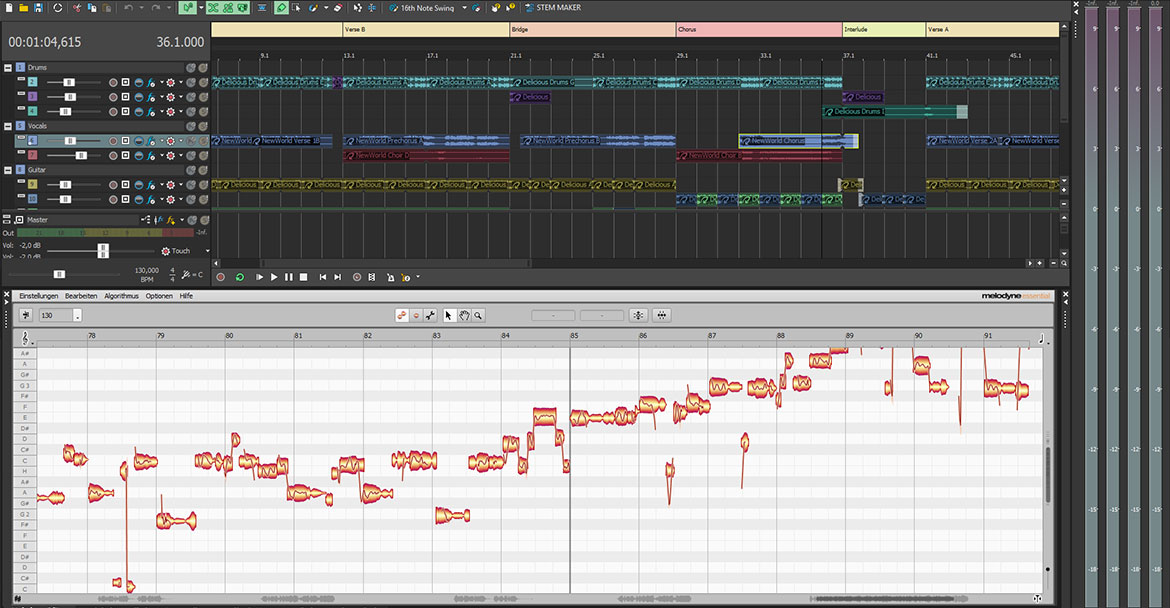 Celemony Melodyne 5 essential
Melodyne 5 essential is the perfect application for getting into an audio file and making precise edits to correct the pitch and tone. In Melodyne, notes are displayed as "blobs" – the exact pitch is visible as a curve. The individual tools let you alter all the important musical parameters directly on the notes. Simply move the notes and take control of pitch and timing in an intuitive manner. Thanks to its sophisticated algorithms and innovative features, it is the ideal tool for natural-sounding pitch changes on your vocals. Enjoy even better vocal edits thanks to the new, redesigned Melodic algorithm.
Quickly edit notes to match the song using the Chord Track and create note-based fades in polyphonic recordings and samples with the unique Fade tool.
Superior mixing
ACID Pro 11 offers the same kind of mixing experience you would expect from a full-blown studio mixer, with incredibly flexible routing, and access to both internal and external effects. The software also supports external hardware control surfaces including Mackie Control and Frontier Design TranzPort, so you can get a tactile hardware experience plus all the advantages of software.
Flexible routing
Even though ACID Pro 11's mixing console resembles a hardware studio mixer, it can be easily customized to your workflow. Choose from an array of routing options, for example, route external audio through ACID Pro 11's effects, or even apply external effect processors to tracks and busses.
It's easy to create complex submixes, bus-to-bus routing and monitor everything in real time, and there are also surround mixing options with pan controls offering precise channel positions.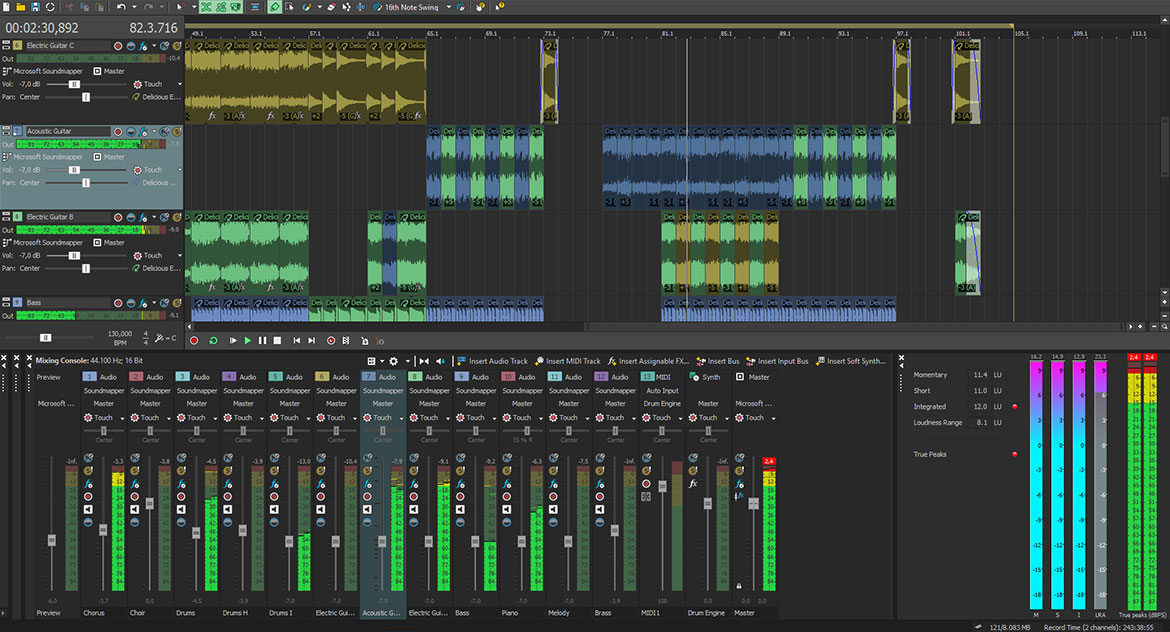 Professional Loudness metering in the master channel
Among the many high-end features that come with ACID Pro 11, there are several functions for mastering music. These include the all-new Loudness metering function for examining your audio in pinpoint detail.
A single click for you. A quantum leap for your sound.
Take complete control over your groove! It's easy to give your music a completely new feel with ACID Pro 11's Groove Mapping and Groove Cloning quantization technology. You can apply preset grooves to a clip or track to give it a fresh new sound, or extract the groove from one track and apply it to another. You can even create your own custom grooves from scratch or edit existing ones for total groove control.
The zplane élastiquePro algorithm. Sound quality like a pro.
ACID Pro 11 features zplane élastiquePro technology to ensure maximum sound quality and flexibility when dealing with pitch and time-shifted clips. It also ensures real-time, artifact-free time-stretching and pitch-shifting on Beatmapped tracks.
Groove Mapping
ACID Pro 11 allows you to choose your own groove from many genres. This means that you can completely change the feel of your loops and MIDI files or simply add a more human or soulful feel to your music. Simply choose your groove and apply it to loops or entire tracks.
Groove Cloning
If you like the feel or rhythm of a loop you can extract its groove using ACID Pro 11's Groove Cloning feature. ACID analyses the groove in a clip's audio and extracts it so you can apply it to your own loops and MIDI files.
Audio Plug-in manager
ACID Pro 11's Plug-in manager gives you complete control over all of your audio plug-ins. You can quickly and easily add effects to a track, bus, assignable effects chain or soft synth bus. You can also easily rename and organize plug-ins so creating a customized plug-in environment that helps your workflow.
ReWire support
ReWire technology allows compatible music packages to work with one another so you can route audio and MIDI data between them. ACID Pro 11 works as both a ReWire host and a device so you can set it up with other ReWire applications such as Sonar, Reason, Cubase, Live, or Pro Tools. You could then use Reason, for example, as a virtual instrument routed into ACID Pro 11 or route ACID Pro's output directly into Pro Tools.
Envelope Control
ACID Pro 11 uses envelopes to help you automate global parameters or modify pitch, modulation, expression or other MIDI data within a track. Envelopes can also be used to automate the controls on a plug-in instrument or create Tempo Curves for smooth tempo variations across a project.
All envelopes can be drawn using a mouse or external control surface and then tidied up using keyframes or envelope thinners that help smooth them out. You can also use keyframes to help automate your 5.1 mixes on the timeline, and use envelopes and keyframes to implement MIDI continuous controller data and program changes.

Achieve pro sound, upload it anywhere -
Mastering and export
ACID Pro has all the mastering tools you need to give your music a professional edge. Then, simply burn it to CD or export to an online streaming service in the audio format you require.

Integrated CD burning
ACID Pro 11 software has integrated track-at-once and disc-at-once CD burning, so you can burn audio CDs directly from the timeline at any point in the production process.

Easy audio encoding
ACID Pro 11 features powerful encoding functionality so you can save your songs in all of the popular streaming formats used on the Web, and also in formats used by your favorite portable players. Supported formats include MP3, WMA, WMV, AAC, FLAC and more.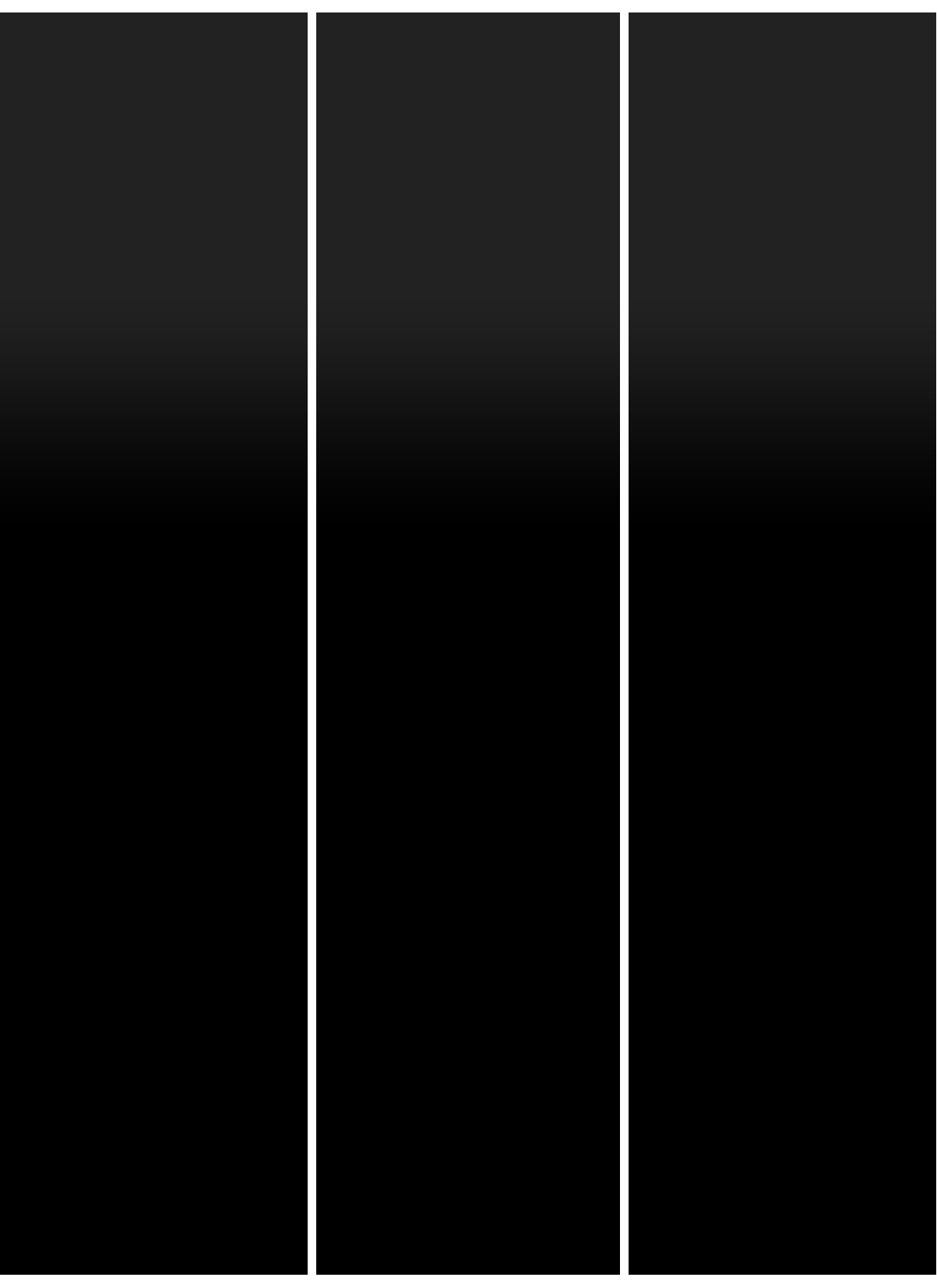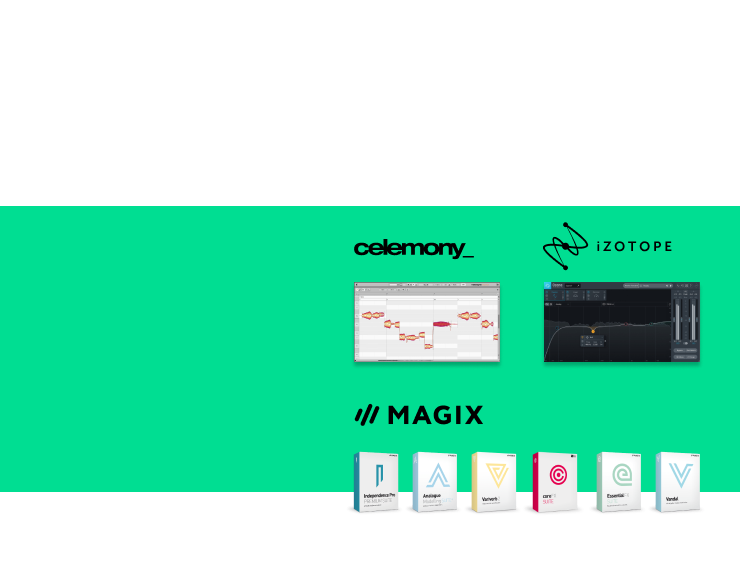 ACID Pro 365
Subscription
Included in ACID Pro 365
✔ ACID Pro 11 ($199 value)
✔ MAGIX essentialFX Suite ($199 value)
✔ coreFX Suite ($199 value)
✔ MAGIX Analogue Modelling Suite Plus ($199 value)
✔ MAGIX VariVerb II ($199 value)
✔ MAGIX Vandal ($199 value)
✔ Independence Pro Plus Suite ($129 value)
✔ Brainworx Producer Bundle:
Brainworx Console N ($299 value)
Brainworx Masterdesk ($299 value)
✔ iZotope Ozone 10 Elements ($129 value)
✔ Celemony Melodyne 5 essential ($99 value)
✔ 19 Vita Instruments
✔ 13.6 GB ACIDized Loops
✔ modernEQ
ACID Pro 365
Subscription
Included in ACID Pro 365
✔ ACID Pro 11 ($199 value)
✔ MAGIX essentialFX Suite ($199 value)
✔ coreFX Suite ($199 value)
✔ MAGIX Analogue Modelling Suite Plus ($199 value)
✔ MAGIX VariVerb II ($199 value)
✔ MAGIX Vandal ($199 value)
✔ Independence Pro Plus Suite ($129 value)
✔ Brainworx Producer Bundle:
Brainworx Console N ($299 value)
Brainworx Masterdesk ($299 value)
✔ iZotope Ozone 10 Elements ($129 value)
✔ Celemony Melodyne 5 essential ($99 value)
✔ 19 Vita Instruments
✔ 13.6 GB ACIDized Loops
✔ modernEQ
ACID Pro 365
Subscription
Included in ACID Pro 365
✔ ACID Pro 11 ($199 value)
✔ MAGIX essentialFX Suite ($199 value)
✔ MAGIX Analogue Modelling Suite Plus ($199 value)
✔ Independence Pro Plus Suite ($129 value)
✔ 19 Vita Instruments
✔ 13.6 GB ACIDized Loops
✔ modernEQ
Included in ACID Pro 365
✔ ACID Pro 11 ($199 value)
✔ MAGIX essentialFX Suite ($199 value)
✔ coreFX Suite ($199 value)
✔ MAGIX Analogue Modelling Suite Plus ($199 value)
✔ MAGIX VariVerb II ($199 value)
✔ MAGIX Vandal ($199 value)
✔ Independence Pro Plus Suite ($129 value)
✔ Brainworx Producer Bundle:
Brainworx Console N ($299 value)
Brainworx Masterdesk ($299 value)
✔ iZotope Ozone 10 Elements ($129 value)
✔ Celemony Melodyne 5 essential ($99 value)
✔ 19 Vita Instruments
✔ 13.6 GB ACIDized Loops
✔ modernEQ
Included in ACID Pro 365
✔ ACID Pro 11 ($199 value)
✔ MAGIX essentialFX Suite ($199 value)
✔ coreFX Suite ($199 value)
✔ MAGIX Analogue Modelling Suite Plus ($199 value)
✔ MAGIX VariVerb II ($199 value)
✔ MAGIX Vandal ($199 value)
✔ Independence Pro Plus Suite ($129 value)
✔ Brainworx Producer Bundle:
Brainworx Console N ($299 value)
Brainworx Masterdesk ($299 value)
✔ iZotope Ozone 10 Elements ($129 value)
✔ Celemony Melodyne 5 essential ($99 value)
✔ 19 Vita Instruments
✔ 13.6 GB ACIDized Loops
✔ modernEQ
Included in ACID Pro 365
✔ ACID Pro 11 ($199 value)
✔ MAGIX essentialFX Suite ($199 value)
✔ MAGIX Analogue Modelling Suite Plus ($199 value)
✔ Independence Pro Plus Suite ($129 value)
✔ 19 Vita Instruments
✔ 13.6 GB ACIDized Loops
✔ modernEQ