What's new in ACID Pro 10?
ACID Pro 10 is better than ever, and comes packed with even more creative tools, instruments and effects plus the latest audio technology. Extract individual stems from your favorite recordings with the zynaptiq: STEM MAKER 2, use the power of the new ACID Morph Pads for endless remixing ideas, or play ACID like an instrument with the all-new version of the MIDI Playable Chopper. Explore the new world of ACID Pro!
The new zynaptiq STEM MAKER 2
Now up to twice as fast and with better audio separation results than ever before.
Finally included in ACID Pro 10: an improved audio separation powered by zynaptiq technology: STEM MAKER 2. ACID Pro 10 features an all-new version of this sampling tool with more refined separation and a better overall sound quality.
Version 2 comes with a new "Strict mode" in which the selectivity of parts is more precise and dramatic. This results in less audio artifacts for a more natural and clear sound for all of the extracted stems. Split your tracks into vocals, beats and music with groundbreaking DSP algorithms and experience the next generation of sampling!
ACID Morph Pads
Experiment with sound in a playful way
The new ACID Morph Pads offer endless possibilities for your sound design. Simply assign audio tracks, instruments or busses to the pad with just one click, morph sounds and effects with various modulations of FX targets, and experiment in a playful way. Smash through creative boundaries with a unique approach inspired by legendary hardware audio effects units.
Xfer Serum
Award-winning advanced wavetable synthesizer
Still looking for the dream synthesizer?
You thought your dream synth didn't exist… Well it does now! Exclusive to ACID Pro 10 Suite, the Xfer Serum synthesizer is nothing less than the perfect soft synth. It comes with a truly high-quality sound and a visually-stunning, workflow-oriented interface designed to make creating and editing sounds fun, not tedious. Work with one of thousands of presets created by some of the best producers in the world, or experience Serum's ability to "go deep" when desired. Create, import, edit or morph wavetables, and manipulate these on playback in real time. Wherever you wish to go sonically, you can be sure that Xfer Serum will go there with you!
Its numerous awards and preset packs, created by some of the hottest producers in the game, speak for themselves.
CELEMONY MELODYNE 5 ESSENTIAL
Real-time audio editing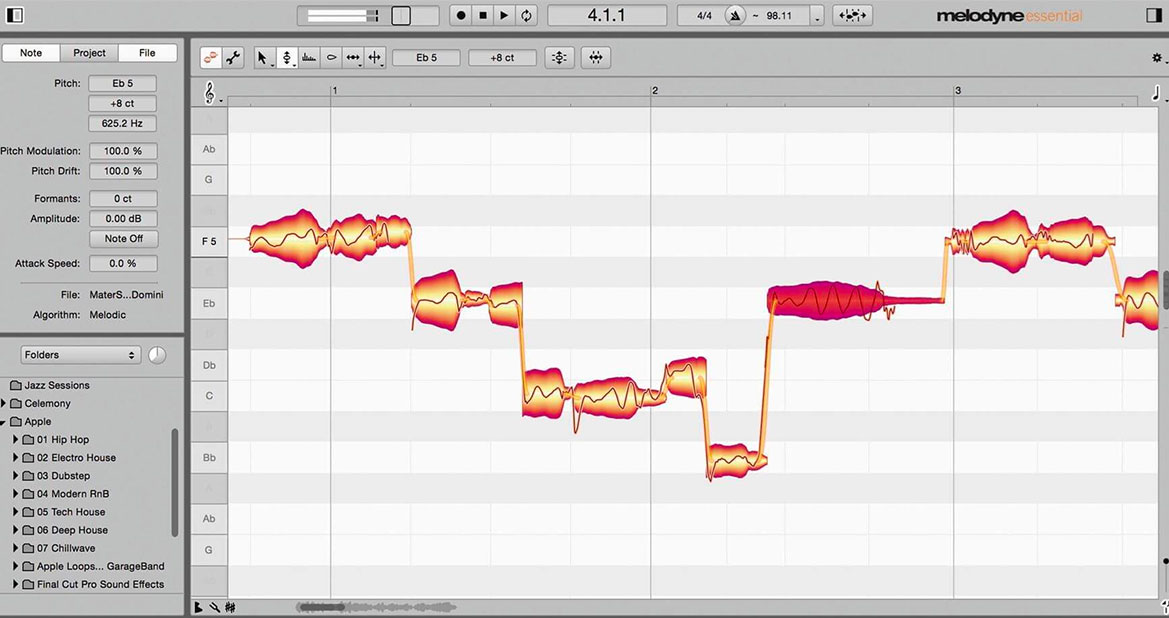 Melodyne 5 essential allows you to edit audio in real time with the highest possible sound quality. Touch notes directly and change parameters such as pitch or timing of vocal recordings and other samples as you wish. The new, fundamentally improved Melodic algorithm makes your vocal edits even better than before. Quickly edit notes to match the song using the Chord Track and create note-based fades in polyphonic recordings and samples with the unique Fade tool. Perfect, natural corrections at the touch of a button - with Melodyne 5 essential, you have complete control!
Sample. Chop. Arrange.
Quicker than ever with the revised MIDI Playable Chopper.

NEW! Transient detection in the MIDI Playable Chopper
Better than ever! The revised MIDI Playable Chopper in ACID Pro 10 lets you play extracted samples, ACIDized loops or your own recordings with any MIDI keyboard and is more intuitive and functional than ever.
Packed with the new time-saving Auto Slice function, the Chopper also features a brand-new transient detection feature for Automated Marker Placement.
Create music with new virtual instruments
ACID Pro 10 comes with four brand new virtual instruments:
1957 Wooden Clarinet
Children Choir
Soloist Collection
Handchimes, Bells and Glass
On top of these, you now also have access to all the classic basses and tearing leads you need for electronic music production.
Brandnew ACIDized loops for your music project
ACID Pro 10 comes with a huge range of fresh loops and one-shot samples, covering a range of music genres including Trap, Reggaeton, EDM, Rock or Score. Load them in, mix them with ease by key and tempo, add effects and sketch out ideas in no time!
All new features at a glance
zynaptiq STEM MAKER 2
Xfer Serum – advanced wavetable synthesizer (exclusively in Suite)
ACID Morph Pads
Celemony Melodyne 5 essential
Sidechaining
Transient detection in the MIDI Playable Chopper Remix Tool
New Instruments, effects and ACIDized loops worth over $1,000
ACID Pro 10
The creative DAW
Upgrade: ACID Pro 10
The creative DAW
$149.00
Regularly $199.00
ACID Pro 10 - where creativity meets inspiration. The DAW for all producers who demand the highest standards for their music productions.
Valid until June 10, 2020
ACID Pro 10 - where creativity meets inspiration. The DAW for all producers who demand the highest standards for their music productions.