MAGIX: DVD software and the necessary hardware for old videos
With its successful product Rescue Your Videotapes!, MAGIX offers you everything you need to digitize analog film footage: DVD software for Windows, USB converter and Scart adapter in one affordable package.
Many analog videos, such as VHS cassettes, are simply lying around completely forgotten in attics, in basements or on the living room shelf. Unfortunately, the storage life of these mediums don't last forever and thus for some movie lovers, it's time to rescue those irretrievable moments from birthdays, weddings or graduations and convert these memories into the digital age and burn them on DVD.
MAGIX Rescue Your Videotapes! is the perfect solution to digitize your analog video recordings. It comes with the necessary cables, a video grabber with Scart and USB connection as well as DVD software Video easy. This package makes it easy to digitize video by simply take the VHS cassette, plugging in the playback device into the Scart and then connecting it to the computer via the USB connection. Install the supplied DVD software on the computer and begin. After you have connected the analog cassette player and the Windows computer, simply start the video. The analog video will appear and you only need to record or dub all the audio, for example.
After you make the recording, you can edit, cut and add effects to the video with the software provided, Video easy. MAGIX Video easy software offers all the basic video editing functions and is ideally suited for beginners and advanced users alike thanks to its clear user interface and easy to find functions. Everything that you need to burn the film treasures of the past from video to DVD is available in this rescue package.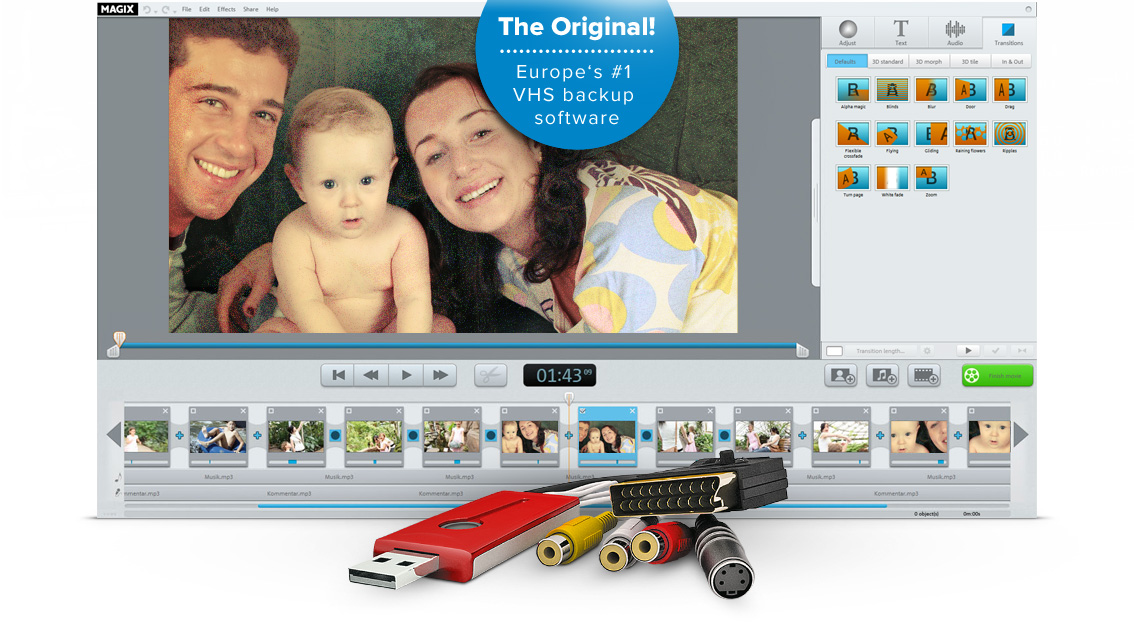 DVD software for recording, cutting and exporting
MAGIX provides you with the converter and DVD software to digitize and burn your old film treasures using your Windows PC. Once the videos are recorded and saved on your computer, you can edit and optimize them. Old recordings are not only rescued, they can also be edited on the computer at the same time, breathing new life into them. In addition to the picture of the old recordings, you can also enhance the audio track: you can also enhance and add comments to your favorite scenes. Important, emotional moments are highlighted even better with the right background music. Your favorite songs will quickly become the soundtrack of your own life. Thanks to the digitization with MAGIX Rescue Your Videotapes! you'll have a lot of fun watching old videos on your DVD player in premium picture and audio quality.