Perfect sound even faster - Audio editing software
Great results in no time! MAGIX Audio Cleaning Lab is the ideal software for any form of audio editing.
The program gives you the option to record audio signals from various sources for editing and optimization. You can, for example, digitize music from old recording media and then cut and precisely edit the recordings. One key feature of this audio software is importing audio tracks. Audio files can easily be imported with via drag & drop into the program or opened with the file manager and even recordings can be made with just a few simple clicks. You can then start using the audio editing software by editing the audio, cutting sounds, adjusting the volume, removing noise and enhancing sounds with various effects.
For quick and easy audio editing and recording, the audio editing software Audio Cleaning Lab offers numerous presets and useful tools. To cut an audio track, simply click on a particular spot and then click on the scissors symbol for editing. In general, editing audio files always takes place on the project or object-level, meaning you can add effects to just the intro or the entire song. The software not only offers tools for editing audio files, but it is also ideal as an audio converter, audiograbber, editor and audio recorder. Thanks to the clearly designed program interface, even beginners will be able to quickly start using the audio editing software. The program is divided into four areas: Import, Cleaning, Mastering and Export. The cleaning & mastering sections offer numerous templates for sound optimization with effects. You can, for example, remove hissing sounds from voice notes, optimize compositions by selecting the music genre or add various effects such as reverb to the audio track. You can precisely cut audio files, adjust the volume for certain sections or slowly fade-out the music. After editing your audio files, you can convert and export the optimized files in various formats such as MP3, WAV, OGG Vorbis or FLAC or burn them to a CD.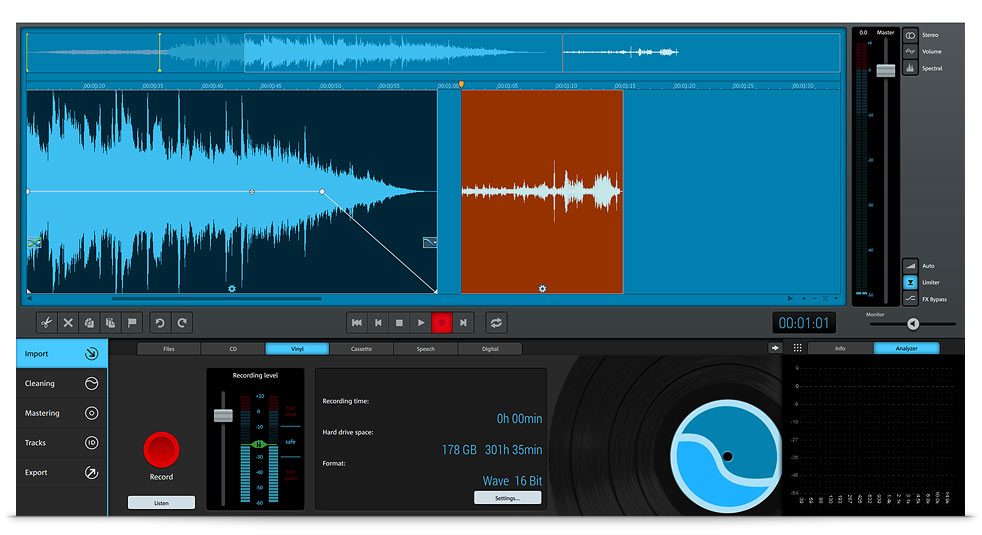 Audio editing software - Everything from recording to converting.
Cut, record, edit or add effects to your audio files. Audio editing with Audio Cleaning Lab can be completed in no time at all. This program offers easy-to-use tools for editing and recording provides professional results with no effort at all. The optimizations performed ensure clearly audible improvements and provide you with precise and excellent sound. Various tools for visual analysis of your own audio material are included in the software and are easy to use to identify potential problems before editing the audio and subsequently select the correct presets.