Music management made easy
Sort, manage and simply enjoy music
Taking control of your music collection isn't as painful as it seems. With these tips and tricks, you can learn how to sort your library and manage your entire digital music collection, no matter its size.
The first steps -
how to manage your music files
The first step to a tidy media library is to insert the title information for all MP3s. This way, you fill in all gaps right at the beginning and create a good basis for organizing your music collection at a later point. In most music organization programs, this information can be transferred directly from the Internet to the software. Such information may include title, artist, album, genre and year of publication. This data helps you because you can now sort all your songs according to these criteria. Once you have collected all the information about your songs, you can continue to organize your library by deleting duplicate tracks.
Occasionally, songs may accidentally be loaded twice into the library. To make sorting as easy as possible, it's best to sort all songs alphabetically. Since you started off by naming all MP3s correctly, you can now easily remove duplicate titles from your collection. Some programs for music management, such as MP3 deluxe, even include a function for automatically deleting duplicate titles – as well as a function for editing the MP3s too, of course.
Music management -
for a clutter-free media library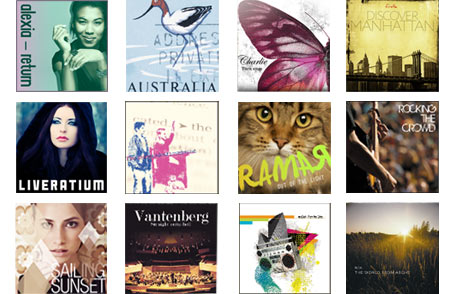 Aesthetics also play a role when you want to organize music. A media library with cover art for all albums creates a uniform appearance. Missing covers are replaced by placeholder graphics and this gives the impression of gaps in your library's appearance.
Cover art, like other meta data, can be downloaded online for most albums, but if this doesn't work, some music management programs include the option of designing your own cover.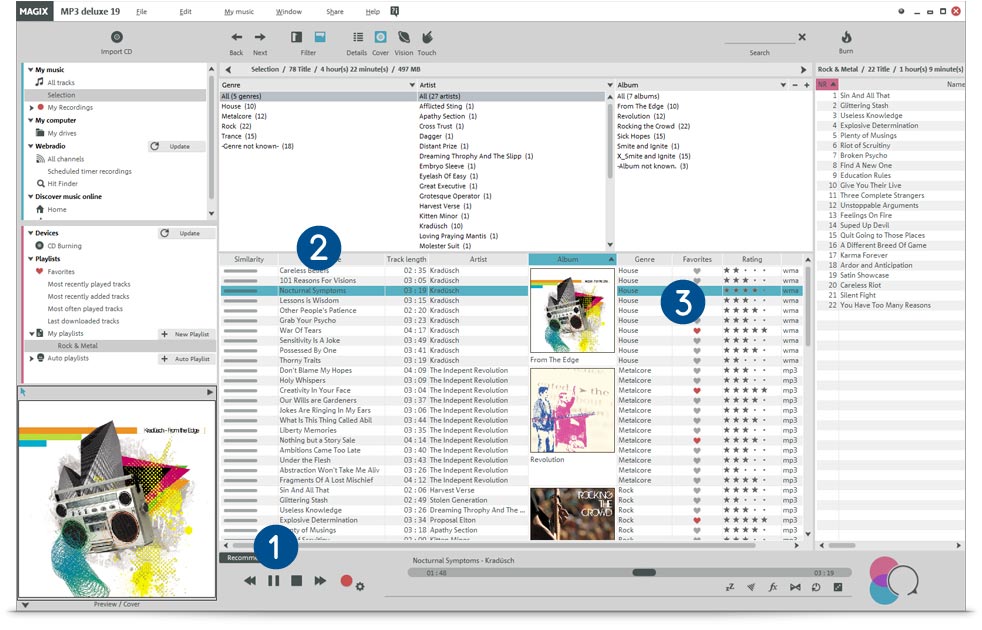 You've now entered all existing data and images into your media library. The only thing missing is your own input. All standard music management programs have a kind of ranking system with which each individual song can be evaluated. As the size of your music collection grows, you can add to your rankings and have them adjust.
Together with all the other track information data, these rankings can then be used to sort your songs. As soon as a ranking has been entered for each song, you can sort your entire media library according to your favorite songs with just one click and start listening to them right away. Some programs allow you to select favorite songs and automatically add them to a playlist.
Managing your music collection –
the finishing touch
The last step to organizing your MP3 collection to perfection is to actively create some playlists. You can compile and sort playlists any way you want – from party mixes with beats to a chillout playlist, there are no limits.
Many programs also automatically create lists of your most recently listened to or recently added songs. This is a really helpful aid for managing your library. When new songs are imported, you can use the "Recently added songs" playlist to directly add any missing data for the songs without having to search for them one by one in your data pool.
One interesting aspect should also be part and parcel of any music management program – that's the option of sorting by sound. This option sorts all songs according to their acoustic characteristics.
It's particularly useful when looking for titles with a similar energy, mood or tempo. Sorting by sound is also great when you want to create playlists, since you can easily move similar-sounding tracks into the same list. If you want, you can also burn the playlists you create to CD.
These tips should help you start tidying up your MP3s right away. Even though organizing your music collection might seem a laborious task at first, once you get started and follow our guide, you'll be able to manage your music with ease. And a tidy, organized music collection will be hard to mess up again quickly.