A loop is a short section of audio material that is a few seconds in length. When placed together, these sections repeat to create a continuous musical loop without interruption. Loops can be straight bass lines, drum patterns or melodic phrases, but also entire sequences with several instruments plus vocals.
In some cases, a new track is created using just one loop, for instance a brief sample with bass & drums from an old song. Various instrumental loops are often combined with a new beat and additional recordings then laid on top. And sometimes, a song is created entirely using loops.
Loop-based music production has led to the emergence of distinct genres such as techno and hip-hop, where loops play an essential role. Today, it's impossible to imagine music production without loops, since they're used in all music genres and most chart hits.
To create your own music using loops, all you need is a standard PC and software such as MUSIC MAKER. The basic version of MUSIC MAKER is free, offers unlimited use and requires no previous experience. It's perfect for trying out loop-based music production – and for professional audio productions too.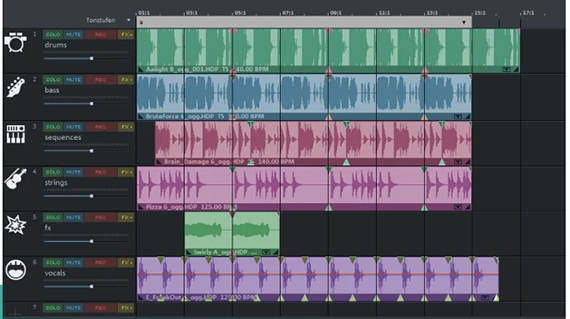 Arrange loops into songs using MUSIC MAKER
MUSIC MAKER lets you combine the included Soundpool loops on several tracks to create your own songs. But you can also cut your own loops from audio CDs, vinyl, MP3 songs and your own recordings too. Basically, MUSIC MAKER lets you combine anything – you can even combine loops you've made using the Soundpool loops with your own instrument or vocal recordings.
Here's how to get started:
Download the free software here.
Double-click the installation file to install the program.
Start the program, click through the welcome dialog and then create a new project.
Select and arrange loops
Click on the "Loops" button above right to access the Soundpool loops included in the program.
The installed Soundpools are located at the top. Only one Soundpool is included in MUSIC MAKER FREE, the free version of the program. Additional Soundpools from any genre can be installed via the Store.
To the right, you'll see the instrument categories for the Soundpools "Bass", "Brass", "Drums", "FX", etc.
In the list below, you can choose the loops. For the "Bass" category, for example, that is "Right Bass" (with variants A-C), "Right Sub Bass" (with variants A and B) and more.
Click on a loop to listen to a preview.
If you want to use the loop, drag & drop it into the arranger.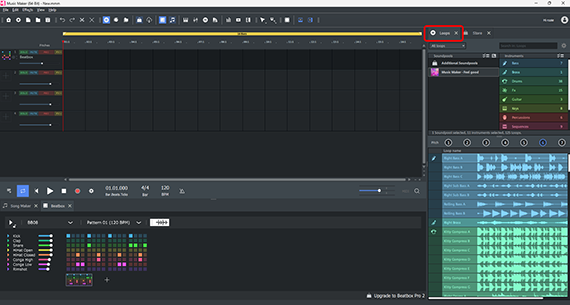 The principle is like a musical puzzle: You simply load instrumental loops into the arranger and combine them with other loops to create your own beats and songs. You can also load new loops during playback – all the content fits together automatically.
If you move the mouse to the back edge of a loop, the mouse pointer will turn into a double arrow. You can now click and hold the double arrow to drag out the section on the track. This will play it as a loop.
Above track 1, you can see the playback range in yellow. The default length is 16 bars long and is played as a loop. While this isn't long enough for a complete song, it provides enough content for you to work with to create a song part.
Set a tempo for your song in the transport controls. The default is 120 BPM, which works for most rock and pop songs, but might be a bit too fast for other genres such as hip-hop. If you slow the tempo down to 90 BPM, the loops in the tracks will take on a whole new, more relaxed character.
Tip: If you only want to create a background arrangement for your own instrument or vocal recordings, don't use too many additional instruments. This can make your sound too crowded. Drums, bass, a piano and maybe a short melody are usually all you need.
Produce songs using loops
To produce a full song using loops, you'll need more space. The 16 bars in the playback range aren't long enough.
Zoom out a little for a better view. The zoom buttons are located in the lower right corner in the arranger.
Songs usually don't start directly on the beat, but after a quieter intro that sets the listener up for the full-sounding beat that follows. This means you need space on the left for the intro.
Select all loops from the first finished song part by pressing Ctrl + A, or hold down the mouse button to select all loops using the lasso tool.
Move the selected song part about 4 bars to the right.
You've now freed up some space for your intro. To create one, you could use a keyboard loop that you have already used in the finished song part. Then maybe distort the sound of this loop a little using object effects.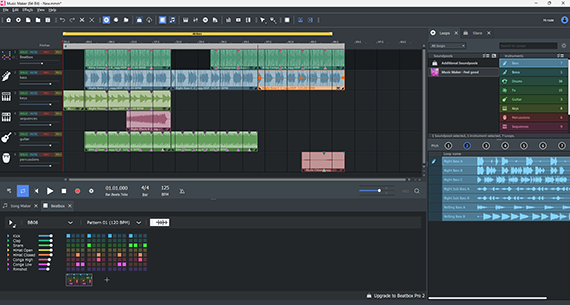 You now need to add to the existing song section to extend its length to several minutes and to build dynamics and excitement.
Select all loops from the finished song part again. Then hold down the Ctrl key while clicking on the loops and drag out a duplicate of the song part. Drop the duplicate directly to the right of the first song part.
Now you've extended your song with an identical part that you can modify. For instance, you can cut the drums and bass in specific locations to create a break. Or swap out one melody loop for another.
To change the key of the song, choose from the 7 pitches above the loop selection.
Each of these buttons modifies the loop so that you can change it to another pitch. Continue working in this way to create verses and a chorus.
How you modify your song is up to you – there are no hard and fast rules. You are free to change whatever you want, and there's lots of room for creativity and experimentation. Once you've got the basic principle of using loops, you'll be able to come up with and develop your own musical ideas quickly.
Plus, you can also create loops from your favorite songs using MUSIC MAKER and use them in your own, brand-new songs. Find out in this article how to create your own loops.
MUSIC MAKER 2024 FREE
Soundpools: Easily build your own beats – fast. Electro, Latin vibes, trap, pop, movie scores or reggae – whatever your sound, simply drag & drop to arrange all your loops and samples. All loops are available in 7 different pitches and can be automatically adjusted to your project's pitch.
Virtual instruments: All you need is your mouse or a standard or MIDI keyboard to record captivating melodies full of feeling. Easily control software instruments such as strings, bass, guitars, synthesizers and lots more.
Recording: Easily record vocals, rap lines or instruments. No matter whether it's a mic, USB keyboard, drum pad controller or guitar – just connect it and get started!
Mixing & mastering: Without any previous production experience, achieve real studio sound by applying intuitive professional effects using easy drag & drop functions. Then, fine-tune for the best results. Go to product page Start your free trial now
Start download