All Features in
Photostory 2015 Deluxe
Operation & Tools
User interface
Large buttons and an easy-to-use interface makes designing slideshows more fun than ever before – even with high-resolution monitors.
Multimedia tracks
More room for big projects. Now it's possible to add photos, videos and audio recordings to any of the 8 tracks in Photostory 2015 Deluxe.
Import Wizard
Use the Import Wizard to transfer your recordings from cameras, drives and data storage devices directly to your computer and into your slideshow without time-consuming searches.
Slideshow management
If you create several slideshows in one project they will be displayed neatly in tabs above the timeline.
Performance & Formats
High-resolution slideshows
MAGIX Photostory 2015 Deluxe allows you to use your camera to its full potential and create slideshows even in 4K Ultra HD.
Faster effect calculation
Effects added to your photos and videos, such as blur or focus, are now calculated by the graphics processor in Photostory 2015 Deluxe.
Effect & Menu Design
Automatic image optimization
Customize color, contrast, brightness and saturation or alternatively do it automatically using the auto-correction feature.
HDR Effects
High Dynamic Range effects (HDR) allow large, detailed differences in brightness to be displayed in pictures and videos.
"Picture-in-picture" effects
With templates for picture-in-picture collages you can perfectly place several images into any scene. Or place portrait images side by side and avoid the usual screen edges.
Title Editor
Titles for opening/closing credits, chapter markers, and subtitles can be entered directly into the preview window and positioned precisely.
Change images to the beat of the music
The musical editing feature automatically gives your slideshows a perfectly fitting soundtrack every time.
Travel route animations
Show your family, friends and others where you traveled. Select a mode of transportation, set the stops along the way and customize the route display just the way you want.
Produce panorama pictures
Combine individual images seamlessly to create panorama pictures, including individual focal distance detection and correction of lens distortions and perspectives. It's also great for full camera panning without any black edges.
Decorative elements
Choose from over 130 templates including audio and effect sounds and adjust the position and size as you like.
Intro/outro templates
We've added even more excellent, high-quality templates to the popular intro/outro template selection.
Menu templates
Add the finishing touch to your slideshows with animated disc menus just like the ones on professional store-bought DVDs and Blu-rays. Easily create professionally animated menus down to the finest detail.
Audio editing
Automatic loudness adjustment
Ensure your audio commentaries are always loud and clear. Photostory 2015 Deluxe automatically adjusts the loudness for you.
Dubbing sounds archive
Can't find the right background music on CD or MP3? No problem! Simply choose from over 850 songs & sounds and find something that fits.
Media output
Export wizard
The new export wizard displays the most common export options at a glance. Simply select an export format and follow the instructions or specify further settings.
Transfer to mobile devices
Transfer slideshows directly to smartphones, tablets, media players and mobile devices. There's a huge selection of device presets available in MAGIX Photostory 2015 Deluxe for all the most popular devices.
YouTube, Facebook & Flickr
Share your most beautiful, most spectacular, or funniest slideshows with the whole world on popular sites like YouTube, Facebook and Flickr.
Present on websites
Direct export of multimedia slideshows as media players for convenient viewing on your PC through an Internet browser and for embedding in websites.
Share with showfy
Share your slideshows with your closest friends. Only the friends that you invite can see and comment on your photos and videos. This guarantees that only the people you choose are allowed to see your content. More information
Help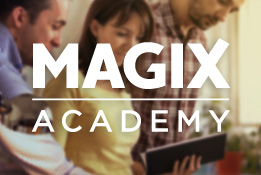 MAGIX Academy
Courses for beginners and advanced users. Also in your area.
All dates and topics are regularly updated at www.magix.info under "Courses".
magix.info Community
The direct connection to the magix.info Multimedia Community makes it easy to find detailed information on how to solve any problems you might have.