Video Editing Software Helps with Professional Touches
MAGIX Movie Edit Pro Premium is sophisticated video editing software for any ambitious user looking to tackle all aspects of movie making.
With a powerful combination of effects, transitions, audio editing and many other tricks, any user will be able to assemble a masterpiece of his own. Each one of the three is an important part of making a video super. Transitions are the provided, stylish way to switch from scene to scene. They come in all varieties: from clean and simple to wacky. Video effects help you to change the way your scenes feel and look.
Among the specialty items that come pre-packaged with Movie Edit Pro, is the Travel Route Animator. It is perfect for all types of films! This function generates an animated clip to display the route your vacation, characters, or storyline has taken with sophistication and fun. Your viewers will get a better, novel perspective of the entire storyline! When you make a video, use it to introduce the story or simply place small clips throughout to show the changing location of events.
Second on the long list of extras is the ability to create 3D text that can be sprinkled throughout your film. Use it to introduce just about anything or to show elements of the story that are bit harder to display visually. These eye-popping titles and text will give your film an edge that will both impress and inform.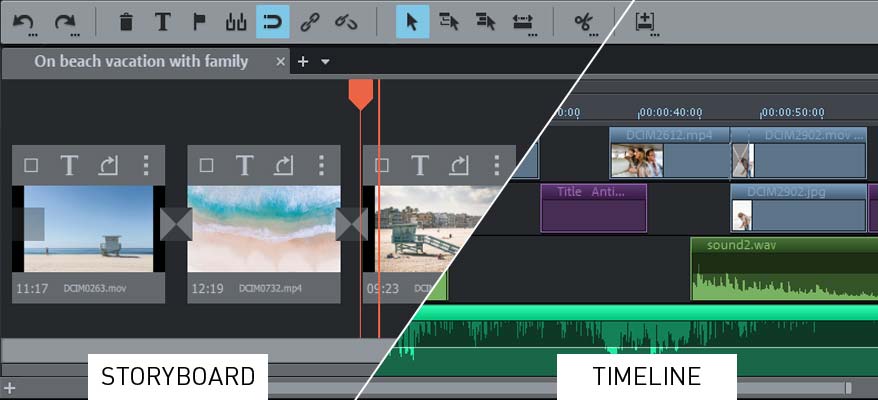 Video Editing Software With Special Functions
There is another, even more impressive, three-dimensional extra you will be able to include when using this video software, that ability to build entire digital 3D scenes. Design digital characters and spaces that can act in your films. Use them to show dream worlds, or imaginary situations. This technology has as much potential as your imagination. With this video editing software, any movie making possibility can become a reality.
* With the update service you will receive a full year of free new features and updates, which can be used indefinitely. If you reinstall the program after one year, you will have access to the basic version. After the one-year update service has expired, you can extend it for a discounted price.