Movie Editing Software with a Wide Range Features and Tools
There are many different types of movie editing software out there in the market.
Some focus on slick presentation and others put more emphasis on the beauty of the actual software and the elegance of the processes available. Another group focuses on the ease with which you can use their software and their user friendliness. What sets MAGIX Movie Edit Pro apart from all of these different programs is not that it does something different than the others, but rather that it does everything! This software focuses on all of these qualities and much more. The program's designers recognize that it is a waste to get stuck perfecting only one aspect of a program. It is essential to have all of these qualities to give users a truly enjoyable and productive experience. So, it is functional, sleek and easy-to-use.
The designers have assembled a large and continually growing group of functions, sound effects and tools that have been incorporated into the video editing interface. To maintain a clean, simple style, each function is placed in the optimal location: neighboring other tools you would use at a similar time. This makes your process to create a video much simpler and smoother. The resulting package is elegant yet powerful and convenient for the user. This software also takes your experience to a new level of ease in a way that most attempt, but only partially accomplish. Throughout the program, users will find helpful tips, tricks, hints and explanations in both video and written form. Whether you are at the beginning phase, trying to edit your footage, or you want to burns DVDs, there will be more than enough help to keep you informed and working like a professional. The expanse of tools and feature available in this movie editing software makes it the ideal program for beginners and professionals alike.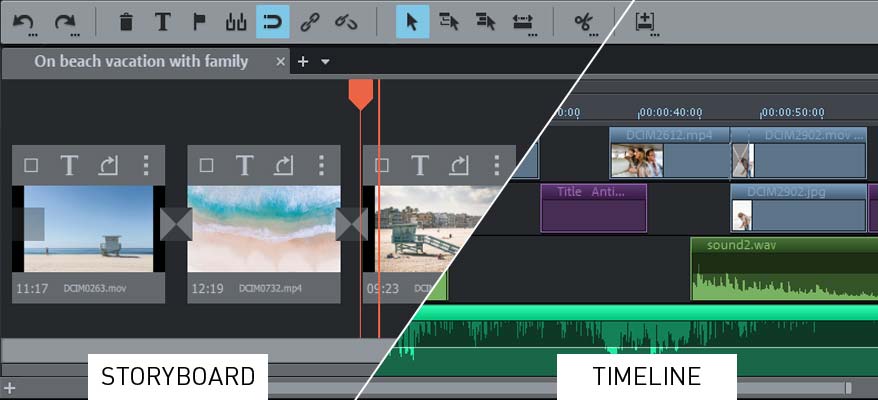 Helpful Movie Editing Software
With such a wide range of functions and a remarkable concentration on user experience and aid, this movie editing software has the capacity to let anyone complete perfect projects with style.
* With the update service you will receive a full year of free new features and updates, which can be used indefinitely. If you reinstall the program after one year, you will have access to the basic version. After the one-year update service has expired, you can extend it for a discounted price.