Get inspired with the creative DAW.
ACID Pro 365 starting at just € 7,99 per month
The legend is back. ACID kickstarted the very beginning of loop-based music composition 20 years ago. Now it returns as a fully-featured professional DAW, but still retains that intuitive and slick compositional environment you know and love. It now features dozens of plug-in instruments and effects, a powerful 64-bit architecture and a slick, new interface. You can enjoy all of ACID Pro's new features for just € 7,99 a month and always be up to date with the software with future updates, additions, patches and new plug-ins. Your production future is assured with ACID Pro 365!
Introducing ACID Pro 365
Never miss an update with ACID Pro 365. Enjoy many exceptional new features including a powerful 64-bit engine, dozens of new instruments and effects and many new professional features that make this the most creative DAW out there.
And with ACID Pro 365, be safe in the knowledge that your future is secure. Get full support and any new instruments, effects, features and patches as they are released and all for a low monthly cost.
Stay one step ahead with ACID Pro 365!
The 365 service advantage
| | | |
| --- | --- | --- |
| | 3 month plan | 12 month plan |
| All the features and functionality of ACID Pro | | |
| Always up to date with the latest updates, upgrades, patches and new features | | |
| Additional Vita Solo instruments: Vita Pop Brass and Orchestral Ensemble | | |
| Additional analog audio tools: AM|MUNITION, AM|PULSE and AM|PHIBIA | | |
| Payment option: € 29,97 for 3 months (€ 9,99/month) | | |
| Payment option: € 95,88 for 12 months (€ 7,99/month) | | |
The creative DAW
For forward-thinking producers and remixers
ACID Pro 365 is the ultimate marriage of professional, high-quality features with a slick, loop-based composition environment that allows you to unleash your creativity in an instant. Dozens of instruments and effects – from powerful Vita Solo instruments to the vintage Analogue Modelling Suite – combine with 9 GB of loops and samples to give you all of the sonic armory you need. With a powerful 64-bit architecture, ACID Pro can handle any complex project, and a slick, new interface ensures a productive, intuitive and inspired workflow for composers, producers and remixers.
Creative loop-based music production
20 years ago, ACID started a revolution in loop-based music production with real-time pitch and tempo transposition.
ACID Pro 8 has that innovation at its heart but adds 64-bit power and dozens of creative tools, instruments and effects. It is a professional powerhouse of a DAW for a new generation of creative artists and producers.
Two additional Vita Solo instruments
Vita Pop Brass
With everything from slick funk to tight Latino rhythms, Pop Brass has everything you need. It's perfect for a wide variety of genres, from creating the sound of the roaring '20s right through to modern R&B, and is ideal for both elaborate productions and creative jam sessions.
Orchestral Ensemble
Explore ensembles within a symphonic orchestra with this authentic-sounding but easy to use instrument. Create everything from dramatic brass staccatos through driving orchestral thrills to gentle string legato.
Also exclusive to ACID Pro 365:
Analogue Modelling Suite
Analogue Modelling Suite is another exclusive addition, just for ACID Pro 365 users. This suite of classic-style effects includes the AM|MUNITION compressor/limiter, the AM|PULSE transient modeller, AM|PHIBIA tube amplifier/channel strip and the AM|TRACK compressor/tape simulator.
AM|MUNITION
If you need more punch in your sound or you need to level out a track then AM|MUNITION is the compressor/limiter for you. It is a dynamic mastering tool which can help your mix sound louder and with added definition. The plug-in can also be used as a limiter and with its combination of features, modes and parameters, it offers not only power but great creative flexibility.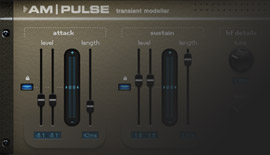 AM|PULSE
The AM|PULSE transient modeller is great for getting creative with envelope characteristics. It is most commonly used on percussive or dynamic sounds although it can also be used simply for reducing background noise. AMIPULSE also includes a saturation control and mix functions within its very flexible harmonic control mode.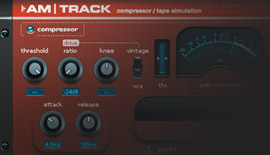 AM|TRACK
AM|TRACK is an analog compressor and a tape simulator combination. You can use it specifically for changing and enhancing your input signals, although the plug-in can be used to add character to any audio. Each of the compression and tape saturation sections has its own independent controls and characteristics making AM|TRACK a very flexible tool.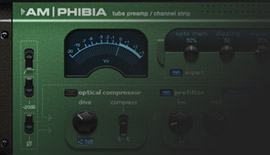 AM|PHIBIA
AM|PHIBIA combines an optical compressor with a pre and post filter unit to result in a very useful tube amplifier/channel strip. The compressor section can be used for a variety of tasks including being used as a vocal pre-amp or tube guitar amp, or for simply use it to add a warm character to any sound. The filter is very flexible too, with a variety of presets to choose from, depending on the input signal.
Can I use the software offline?
Yes, the software can be used offline for the duration of your subscription. An internet connection is only required to check for new software updates as well as to validate the program once a month (required monthly for the duration of your subscription). After your subscription expires, you can renew online in just a few easy steps.
What happens to my projects?
Even if you end or suspend your subscription, your projects are yours to keep forever. That means if you need to work on your project after your subscription has expired, you can renew your subscription and open the project again to continue editing. You will also be able to open the project created in ACID Pro 365 in your perpetual version as long as your perpetual version is equal to or later than the version it was created in (for example, if you created the project in ACID Pro 365 version 8, then you can open it with regular ACID Pro version 8 or later).
Will the plug-ins also stay up to date?
All plug-ins will be available during the duration of the subscription. With every new version of ACID Pro, the latest version of the plug-ins are included.
How do update installs work?
You will be alerted when an update is available. Updates are not automatic so you are free to choose when to install the update.
Will I lose any version of ACID Pro I already have installed?
No. You can use other installed versions in parallel with ACID Pro 365.
What happens when I switch from the subscription to the perpetual version?
If you end or pause your subscription to ACID Pro 365 and switch to a perpetual version, your projects are yours to keep whatever you decide to do next. You will be able to open projects created in ACID Pro 365 in a perpetual version as long as it is equal to or later than the version it was created in (for example, if you created the project in ACID Pro 365 you will be able to open it in a regular ACID Pro version 8 or later).
Highlights of ACID Pro 365
Low regular price – starts at just € 7,99/month
Exclusive! Analogue Modelling Suite with four effects
Exclusive! Two bonus Vita Solo instruments
64-bit architecture for the most demanding projects
Over $1,000 worth of all-new instruments, loops and effects
Inspiring and slick new interface
9 GB of all-new ACID loops and samples
VST3 support coming in a free update
Don't take our word for it.
Artists on ACID Pro.

"ACID is instantaneous gratification in a way that's not talking down to the user, nor is it making music for you. It's a phenomenal compositional tool."
BT, Grammy nominated Composer, Producer, Technologist, Engineer, Multi-Instrumentalist and Inventor of the Stutter Edit

"If you wanted two programs from MAGIX and you just had ACID Pro and SOUND FORGE software, that's all you'd need. I don't think I've ever looked at the manual for any of my MAGIX products. You open it up, and because they're designed so well. I've never had an installation fail on me. I don't think any of my MAGIX products has ever crashed."
Ted Perlman, Grammy rewarded Producer, Songwriter, Musician and Arranger

"Producing great tracks quickly and efficiently is key in this business. ACID software helps me achieve my goals without sacrificing creativity."
Tony Verderosa, Drummer, Composer and Producer

"It's impressive how a DAW this powerful feels so lightweight. Complex projects open and close nearly instant and the new UI is snappy and responsive. The dark UI is easy on the eyes but keeps the classic ACID look old fans of the software have grown to love. Version 8 has the most comprehensive sound and effects package bundled with ACID Pro to date. Finally being able to use all of my 64 bit plugins in ACID is a dream come true."
Mac Melto, Producer, Composer and Viacom Library Contributor

"The projects that would normally take me two-three hours to create a sound, or a plug-in feature in Pro Tools, would take me 15-20 minutes in ACID."
Rod Carillo, Producer and Remixer

"The moment I was introduced to ACID Pro everything changed. It was the first DAW that made it super easy for sequencing, to create and manipulate loop-based content. No longer did I have to fight for studio time because now I could work from home and get amazing results fast. (...) More than 20 years later, I've yet to find another program that has the same power and versatility as ACID Pro. The latest version of ACID Pro 8 picks up where ACID Pro 7 leaves off, providing more stability, plug-in support and a sleeker look that's easier on the eyes."
Curtis Atchison, Producer and DJ

"I've been using ACID Pro since forever and the new ACID Pro 8 is a real game changer. I've tried many DAWs, but ACID Pro always works best for me. It's fast, easy to use and have all you want in a DAW. Soon to release my second album made 100% in ACID Pro just as my first album and all my remixes!"
Moist, Producer, Remixer & Art Director

"ACID Pro has been a great partner during my entire music career. Even before I started working as a professional composer, I had made all of my music using this DAW.ACID Pro has an optimized workflow for making dance music, and an excellent editing capability for recording & remixing. It is the prototype for some popular DAWs today, and in a way, still has some advantages compared to them. Now, thanks to the happy update by MAGIX, I'm making my new songs in the 64-Bit environment. It gives me more power, therefore even making the most complex projects possible. And the huge number of new built-in plugins are very useful for me. More people should know about this great DAW! I love it!"
AKADU, K-Pop and J-Pop Composer, Producer

"I've been using ACID ever since I can remember. I've tried almost every other major DAW in the market and I always find myself coming back to ACID. There's a certain magic that can be created with it that can't be done anywhere else. It's ease of use, loop handling, and simple workflow sets it apart in the industry - and that's why everyone loves it. The new 64 bit version will open a whole new world of creativity for me and I'm excited to continue my musical journey as an ACID user. It simply feels amazing to use 64-Bit plugins in ACID Pro 8!"
Manni Sandhu, Producer and Composer

"I've tried for years to get my head around the Top DAWs on the market — and despite their innovative concepts, nothing gets close to ACID Pro when it comes to workflow, ease of use and mind-to-music process. You won't open the user manual once because it just makes sense, which is why it truly deserves to be called The Creative DAW."
Zacchino, Producer and Composer
BT
Ted Perlman
Tony Verderosa
Mac Melto
Rod Carillo
Curtis Atchison
Moist
AKADU
Manni Sandhu
Zacchino
Join the community
Interact with other ACID users and discuss the latest trends or challenges in music production - or just share your music on Facebook!

Community
Join the conversation with other audio professionals and enthusiasts. Share your production tips and tricks with the ACID community.

Facebook
Discover the world of ACID on Facebook! Join an awesome community to share your music, get inspired and learn about the latest product updates.

Newsletter
Sign up today and never miss out on the latest news, information or ACID offers.
Regularly € 209,98
€ 149,99
Buy now