Artist Interview: Jairo Bonilla

After having introduced you to Cyril Picard, an artist who has reached the top echelon of music production using Music Maker, we now would like to present to you the work of Jairo Bonilla.
The Columbian commercial and jingle composer has been working with Music Maker since 2009 and has specialized in MIDI editing. Thanks to the recognition he has recently received at the Festival De La Publicidad Independiente, a broader public has been introduced to his creations, demonstrating his skills outside of the industry.
In our interview, Bonilla provides us with his perspectives on the advertising industry and dispenses valuable tips on how creatives can get past writer's block when working under time constraints, finding new sources of inspiration.
Composition – "For me, the real key to be successful in this industry is to generate an emotion, no matter what kind of music is created."
Music for advertisements has to offer a particular feeling and atmosphere and represent a certain lifestyle, which is somehow a bit manipulative. How do you go about composing jingles and music for advertisements differently than composing "normal" songs?
First of all, you have the technical argument: in advertising, the main purpose of the piece is to focus the message to a specific target audience. This means to know the client, the customer, brand personality and communication objectives. On those terms, it means to produce the best sound and musical quality as possible. Why? Well, if my music will be played more times per hour on the radio that any famous artist's song, I think I have the responsibility to "feed" people's brains with quality content. Good music is above all clear and capable to sustain itself, no matter if you write advertising music or for your own work as an artist. The standards in music are really high nowadays.
Another important aspect refers to the emotional component of music. I always use my intuition as a composer to seek and produce a state of mind through my work. It is the main objective. For me, the real key to be successful in this industry is to generate an emotion, no matter what kind of music is created. Music will take the listener where the composer wants, that is the composer's choice, not listener's. And the enjoyable part is to achieve it in the process.
How much creative control do you have when developing jingles and ad music and what sort of guidelines for the music do you receive from your clients?
The difference between an artist and a publicist is that the artist does what he wants, while the publicist has to produce what the customer/client asks. In that sense, the work forces you to have clear limits such as references of other music or sounds, formats or lengths of the pieces. It can be very restrictive in terms of work. But I always have the control at the time of the conceptualization and proposal.
Do you find it easier to finish a composition which creates a positive/light or a negative/dark mood?
Whatever the emotion the client wants in the work, it's not so complicated to express. The composer needs to "tune with the tone of the brand" and that is the compositional technique in the service of marketing strategy.
How closely do you work together with the advertisement's director? Do you conceptualize the project together at the beginning or do you receive a finished copy of the ad and develop the music from that?
Of course you need to work closely with the creative director. I pay attention very carefully to what he wants because it makes my work easier. However, the challenge is greater when all responsibility to propose, conceptualize and create the brand sound identity entirely lies on my shoulders; it also happens very often, directors trust in me and they give me enough freedom during the process.
Do you compose such work only after receiving a contract, or do you compose ad music beforehand which you save and later fit to a company and/or product?
Both of of it. I am used to composing the musical piece for the work by contract. But occasionally, some pieces from my personal portfolio could work well too. Of course, the second case applies only to instrumental music, because when the final work is a song, the text and melodic line have already been created for a specific brand. In that case, it cannot be used in another one.
During your work, I would imagine that you often have to fight against your own personal musical taste to compose music, which you perhaps wouldn't otherwise listen to. Where do you find inspiration and how do you overcome writer's block/lack of inspiration with impending deadlines?
First of all, I have to say that, in this business, the composer always works against time and it is very stressful. Second, in this industry it is an obligation to have an open mind and ears. The composer should listen to everything what is banging in the main charts, I mean, all the actual references as possible.
So, in terms of advertising, the inspiration directly comes from the brand's brief. Sometimes I have to compose musical styles/genres that I do not know deeply or do not like. Here is where the composer's training comes, because I need to be able to produce almost any kind of music. That is where the musical style analysis emerges as the ultimate tool. I focus on the sound or written source. Then, I perform sessions of critical and structural hearing, understanding how it is made in its "DNA" and what are its characteristics in order to produce the final work later.
Talking about the lack of inspiration, what I used to do is to stop working and to do something totally different. If the task at hand is to write classical, I clean my mind listening electronic music. If I have to spend many hours sitting, I get up, I wear sneakers and go out for a few hour running. If the day is hectic by sounds, I just look for a time of silence. That's it, always the opposite, but always dynamic, always in activity.
Do you have a personal favorite piece in the field of ad music? Which?
Oh, I have many! Curiously, they are all well-known songs, something typical in advertising. The adaptation of Michael Jackson's "Billie Jean" in the "Pepsi Generation" (1984), Robin Beck's "First Time" (for Coca Cola in 1988), The incredibly sound design in the Honda "The Cog" Commercial for the Accord line (2003), The John Lewis Christmas ad "Man in the Moon" (2015) performed by Aurora, and the Music for Sony Campaign "Soul-Shaking Clarity" that used "Finale" by Madeon in 2013. Anyway, you can find a lot of good music every day in the industry, but most of them are adaptations from musical pieces from famous artists. And there are all the sound logos, these little motives that have something genius on it.
Have you ever thought, "I wish I had scored that" about a spot?
Definitely! But first of all, let me tell you I was a big fan of the original music themes for television and movies. Actually, those themes were what inspire and introduce me to the audiovisual music scoring work.
Here is a short list of both, TV / Movie Themes and ads I love:
Main themes of TV and film: ER original Theme by James Newton Howard. (1994); Battlestar Gallactica Main Theme by Stu Phillips. (1978); Superman (1978); Star Wars (1977); Schindler's List (1993), all movie themes by John Williams.
Ads: The Cadbury's "Eyebrows" Ad (2009), "Kung fu Pepsi Crush" (2002). And so many more.
Music Maker – "You are the orchestra conductor with any kind of sound at your fingertips."
Why did you choose Music Maker as a tool for your compositions?
I was looking for an easy-access and quick-set up MIDI software tool. A powerful one, fast and versatile. But, at the beginning of 2000, getting all these features was too wasteful and expensive. Those years I used to work in separate hardware modules linked each other. Some years later I learned about Music Maker and finally I found all those tools I was looking for and much more, with an affordable price. I did not think twice to try it and it became into my main workstation.
You've mentioned that your specialization when composing is MIDI-editing and you've worked with this since you were a child. What fascinates you about MIDI and do you see this as more advantageous as using traditional notes/notation?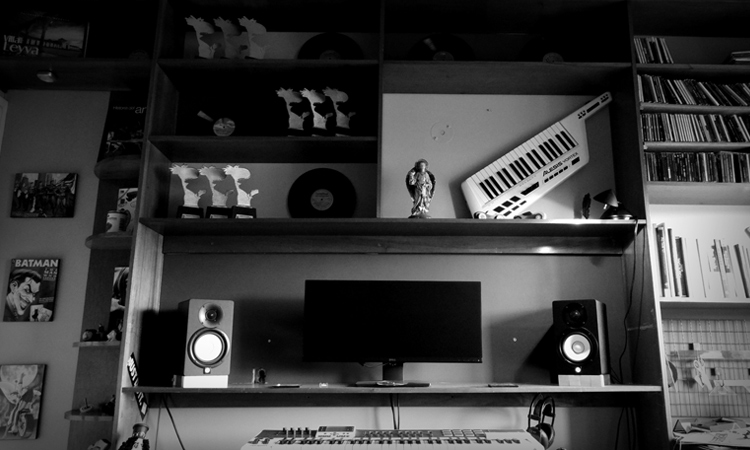 My generation witnessed the birth of MIDI protocol in 1984. I cannot describe how exciting was that for me when I saw electronic instrument playing by itself! At the beginning, I worked with hardware modules, synthesizers, sequencers and controllers of all kind. As you know, those days everything was made step by step, note by note, with your own fingers. Then, the migration from hardware to software took all those elements to the computer. In the present, I use my computer as my main instrument. For me, I am glad for having been part of that evolution.
Speaking about MIDI, its graphic notation is like a normal music score for me. MIDI musical events translated into cells, dots, graphics, lines, binary codes and virtual instruments are fascinating and an advantage for composers of today. You are the orchestra conductor with any kind of sound at your fingertips. But, in some specific cases of traditional acoustic instruments, the human performance will never can be replaced.
How do you create your sounds and tones? Do you use pre-prepared samples or primarily VST-instruments? Do you record these live via MIDI-keyboard? Which plug-ins do you like to use when composing.
I'm very recursive. I always work with everything I have on hand. First, speaking about physical models, I verify what elements or pieces are available in my library to use or modifying them. If I realize that I do not have what I need, I create my own samples.
The MIDI Keyboard is of course the most versatile musical interface I use in my works. Once the music is written, the serious job consists of "humanizing" the virtual instruments; here is when the mouse and binary sequence codes play the main role. For me, programming is "to humanize the silicon."
About the plug-ins, I love to use all MAGIX virtual instruments and also prefer some third-party tools like MOTU (Symphonic Instrument and Ethno Instrument), and strings and brass sets from EastWest Quantum Leap. They are great and easy to use.
Which of the virtual instruments from Music Maker do you use the most and why?
The keyboards, because they are an essential tool for my compositions, I mean, the starting point. Next, I just decorate the original idea with the sonic palette, choosing the proper timbres and density (orchestration). In addition, each year a new version of Music Maker comes with new sounds (instruments) and templates (the Soundpools) to explore. Right now I'm testing the new choir and world flutes of the 2016 version.
"About my main support, I have to say it was my self-confidence and faith in my music, ideas and capabilities."
How did you come to write and produce music for advertisements?
I had a publicist friend of mine, he asked me to support him working on a few jingles and that's where it all began. Some time later I started my own business and I developed a language and personal technique to compose and understand the dynamic in this kind of music. Next to it, I created the first "Manual of Corporate Sound Identity" (MISC in Spanish) based on the guidelines of the graphic design and translated them to music with their own sound/musical language and terminology. Now, after being a musician, I'm studying advertising in Argentina.
How did you get into music? Who was your biggest influence/supporter?
In the 70's, when I was 4 or 5 years old, I remember myself listening to the Pérez Prado's Mambos on my father's big FisherQuadraphonic stereo system. He also gave me my first electric organ lessons on a Wurlitzerthat he bought. My father was a sound fanatic and a music lover. That was my first contact with an electronic instrument. It was love at first sight with keys and buttons. Who would have thought that I would like it for the rest of my life!
Later and without any doubt, my biggest influence and motivation was the film music universe. That is why many of my symphonic scores shows that influence in their notes. Other influences was the pop of the 80's and the electro and euro-pop of that decade. And the sound design and music of so many cartoon series of the TV.
About my main support, I have to say it was my self-confidence and faith in my music, ideas and capabilities. Despite of my parent's disapproval about becoming a musician, I had to fight for my dreamsI. It was a huge struggle at the beginning, a deep conflict for years. But today, after they saw what I do, they are my number one fans in the world!