Audio recording made easy with Music Maker
Although Music Maker is first and foremost known as music editing software that allows users to combine sounds and loops into their own songs, it also offers extensive possibilities to create your own audio recordings.
The software allows you to record your own instrumental loops with a MIDI keyboard as well as vocals with the recording feature and correct the pitch with the Vocal Tune feature. You can then optimize your audio recordings with the mixer, enhance with sound effects and then edit music by combining with soundloops – numerous professional features that you won't find with freeware.
The music editing program Music Maker makes getting started very simple and numerous wizards help with various tasks concerning recording. It's even possible for beginners to quickly start making their own audio recordings. Here are some tips on what to look for when recording vocals and instruments, to ensure that they are good quality: If the audio recording for instance is combined with existing loops in the program, it is important to pay attention to the pitch of the existing songs. With the pitch wizard you can easily adjust instrumental recordings even after recording. The pitch effect allows you to choose a very high or very low pitch and then generate interesting sound effects.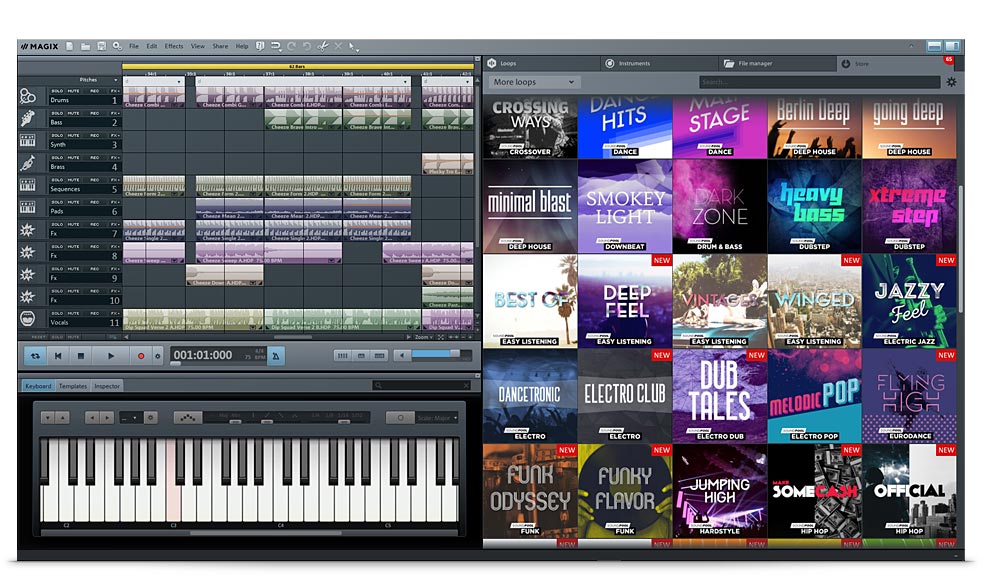 Create audio recordings with Music Maker
Vocal recordings should be made in a well-insulated, quiet room. Since not everyone has a professional recording studio, it may help to drape walls or doors of a small room with blankets to avoid echos. Ensuring that the singer is close to the microphone also helps to prevent unnecessary echos in the recording. For vocal recordings a pop filter should always be used, which filters out pop and hissing noises. Most microphones and pop filters are available as a set and the equipment for your own audio recording is - as long as the quality from a professional sound engineer in a recording studio isn't expected - relatively low cost. When connecting the microphone to the PC, it is recommended that a preamp with an integrated mixer is used. This makes sure that the audio signal received by the musik program is of good quality, making it easier to edit the audio recording.
Easily add audio recordings of vocals and instruments to your own songs with Music Maker. The expandable software instrument plug-ins Vita instrument included can be recorded through MIDI-keyboard, vocal recordings can easily be corrected with Vocal Tune, edited with effects such as reverb or delay and integrated into existing songs. Completed songs can be burned onto a CD or exported as an audio file, allowing you to present your audio recordings to the world.