MAGIX: Convert music files with the MP3 converter
MP3 converters like MAGIX MP3 deluxe can read audio data from CDs or a hard drive and convert these files to MP3 format.
MP3 not only converts you audio files, it also helps you to organize them. The program offers various conversion formats, but MP3 as a codec has special advantages. In addition to being compatible with almost all playback devices, the MP3 offers maximum efficiency in the compromise between size and quality.
This makes it possible to drastically reduce the size of the files without an audible loss in quality. Because the files are much smaller, even large collections of albums, songs & and other audio files can easily fit on your PC hard drive or MP3 player. If the music is converted directly from a CD, the user can determine how much the MP3 converter will compress the files. You decide whether quality or quantity is the most important aspect of your music collection.
More information about the MAGIX program MP3 deluxe can be found here.
For everyone who wants to convert tracks and automatically tag and sort them: MP3 deluxe. In addition to various filter functions and sound-based music recommendations, this program also offers a feature for completing missing track information. This MP3 converter can even find duplicate tracks in your collection and remove them automatically. These days simply converting CD tracks isn't enough. Even digital music collections need to be well organized so you can find the songs you want quickly and easily. Long story short: With this MP3 convertor you can convert audio files into different formats, e.g. MP3, AAC, OGG Vorbis or FLAC, edit MP3s, automatically label songs and add mouseover info for the artist and release date.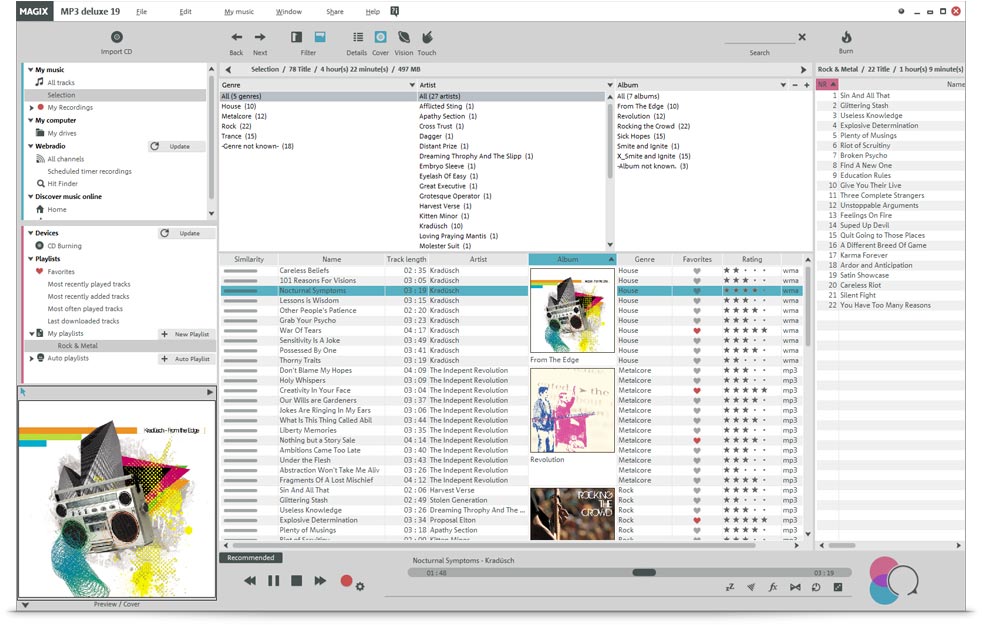 Record and organize music with the MP3 converter
MP3 deluxe also offers a filter function that makes it quick and easy to find your songs (ID3 tagging). The files can be listed by artist and genre and sorted according to similar sounding tracks. After converting to MP3 format you can easily create playlists in top quality without using up massive amounts of storage space.
MP3 deluxe has a wide range of options for converting files and for sorting your music collection. That's because the converter recognizes the characteristics of each song and compares them with other saved songs. This makes it easy to create playlists according to genre our a similar sound – a great way make the soundtrack for your next party! An efficient MP3 converter does more than just convert audio files – it offers a variety of options for managing music collections so you can experience your sounds in a whole new way.