Create a great slideshow with music from separate images
Want to create a slideshow with music from your photos? Than you should give MAGIX Photostory easy from MAGIX a try.
This software allows you to easily transform photos from your camera or smartphone into a fantastic slideshow. Without any previous experience, you can compile slideshows with music for your TV, mobile devices or the web. With Photostory easy, presenting photos was never so easy. Simply import your pictures, have the program optimize them automatically, add effects and highlight it all with background music. And your slideshow with music is finished.
Thanks to a number of wizards, large interfaces and easy to understand dialogues, you don't need to be an expert to create great slideshows with this software. The wizards assist you from the very beginning: the Import Wizard already starts helping you in selecting and adding your photos to the program. You can then select one of many style templates and then have a wizard automatically add photo effects and transitions.
If you want, you can automatically optimize your photos and remove red eye. In addition, the software also allows for dynamic zooms and panning shots. You use these effects to make your slideshow more dynamic. You can then also create animated titles and texts for your slideshow with MAGIX Photostory easy. Subtitles in your slideshow can provide helpful reminders, especially when you're looking for your slideshow years down the road. After all, people can often forget the name of certain locations or attractions after only a short period of time.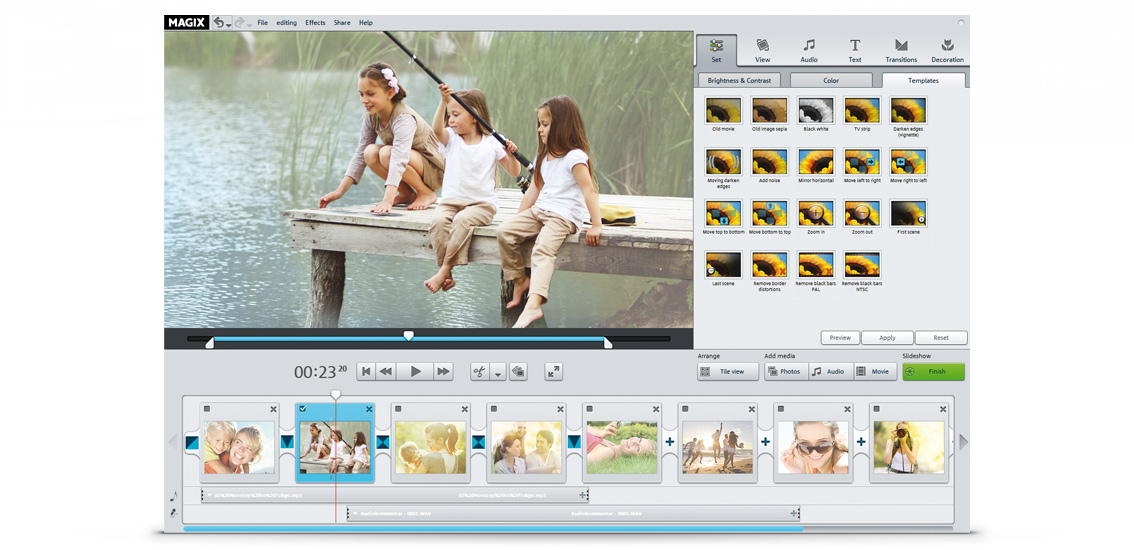 Create a slideshow with music using MAGIX Photostory easy
You can also insert background music. For example, with vacation pictures, a song that you heard a lot while on vacation or otherwise associate with the location is ideal for jarring your memory. A slideshow with music is a great way to relive that vacation feeling. In addition to nice background music, the program also lets you record voices and noises yourself and add them. You thus turn your creation into a slideshow with music or even comments. You can tell humorous anecdotes in the comments or simply name the displayed locations or people. Then burn your completed slideshow on DVD. A slide lets you relive your favorite vacation pictures and share your experiences with your friends and acquaintances. In particular, a slideshow with background music creates a pleasant atmosphere to take in what you experienced.
MAGIX Photostory easy is the easiest solution for creating your own slideshow with music. This software has an extremely intuitive design, thus ensuring that everyone, even those without any previous experience can create fantastic slideshows. You can find a free trial version available for download on the MAGIX website. Start transforming your pictures into a slideshow with music today.