Create your own soundtrack – film music software from MAGIX
Looking for a simple way to breathe new life into your videos? Film music can add greater significance to a scene but also influences a film's emotional impact and atmosphere.
Music Maker is a film music program that transforms you into a composer. The film music software from MAGIX is easy to use and is perfect for your first steps into this exciting terrain.
Experiment with different sounds and songs and discover ways to modify the impact of your film. This MAGIX film music software enables you to create soundtracks that will really make an impact, even if you've no previous experience. To make working with the technology as smooth and fast as possible, the controls in this film music software have been designed with user-friendliness in mind and contain virtual instruments as well as premade sounds, loops and effects. This means you can start composing right away!
The film music software from MAGIX offers 64 tracks for mixing on which you can arrange music using drag and drop. But as well as using it for adding premade sounds to movies, you can use the film music program for film music composition too. Play your own instruments live or record and edit vocals. If you don't own an instrument but still want to create your own melodies, you can this with the MIDI editor. Thanks to the touch-optimized film music software, you can easily play new melodies and tunes with the intuitive screen keyboard.
Whether for creating tense, atmospheric or joyful moments, MAGIX film music software has the right repertoire for every kind of scene. Soundtrack Percussion includes fast rhythm instruments such as wind chimes, congas and cymbals, Livid offers authentic drum kits and BeatBox 2 is for bringing a real 80s sound to your soundtrack. Robota is great for creating abstract sounds like a dark electronic bass. The virtual instruments provide you with true creative freedom, so you can make your audience sweat, scream and laugh when watching your film!
If you've added your soundtrack but something's still missing, have a look at the sound effects offered by the music program. Spice things up with retro sounds using the Vintage Effects Suite and the pitch effect for voice distortion. There's no limit to the creative possibilities!
When perfecting results, a film soundtrack composer needs to know how to synchronize image and audio. The program contains a range of professional audio editing tools that make adjusting audio tracks and regulating volume simple. Combine individual sections and adjust tempo to match the action in your film precisely.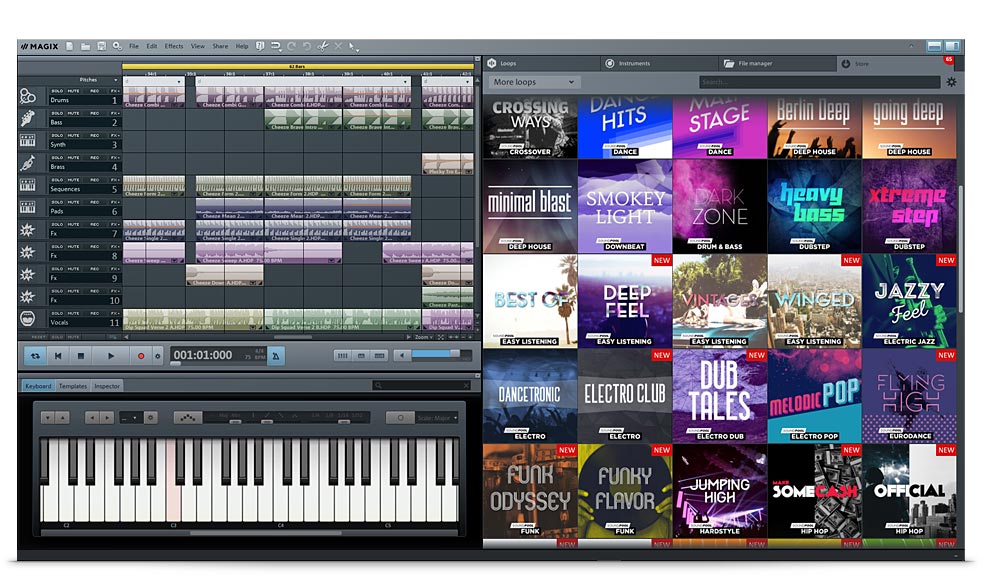 The film music maker among the MAGIX products
You've made all the modifications and are happy with your results – at last! So now you can simply export your very first soundtrack from the film music software in audio or video format and save it to your computer. Publish your work to online platforms like Facebook and YouTube so that others can appreciate it. Let the world hear your music!
Bring music to the big screen. With Music Maker, you can create impressive film music in no time. Bring your family and friends together on the sofa for your big premiere. Getting great results is easy even without previous experience – and at a great price too. Try out the film music software for free for 30 days after downloading and see for yourself. After all, filmmakers can be composers too.