Create an Amazing Slideshow with MAGIX
Once the images have undergone quick optimization or are improved with the help of a graphics program, they can be used in style in a slideshow.
Slideshow programs let you add effects such as transitions, text and music to your photos. Afterwards, they can be burned to a storage medium such as a DVD in order to be enjoyed by friends and family. MAGIX Photostory easy is the perfect program to do all of this and was even rated highly by the press and has won multiple award.
Control of the program takes place almost exclusively via the Media Pool. The time line determines precisely where the effect or fade should be set. If the result is to be viewed in a small circle, the slideshow may be burned to disc in any video format and viewed on TV. But beware – an important rule to follow when creating such slideshows is: "less is more". A 3D animation at the start of a slideshow is a good idea, but MAGIX Photostory easy additionally offers a large number of fades, effects, design elements, etc. The user shouldn't assume from the term "multimedia show" that between every picture there needs to be an effect, a fill with funny animations or sensational camera movements. Every effect should have its place.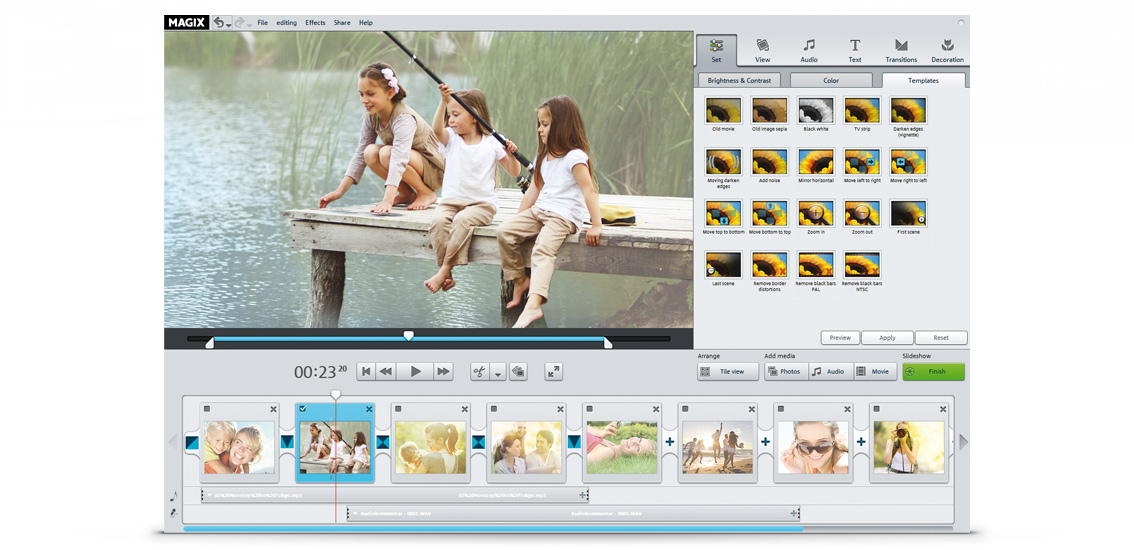 Important rules for slideshows: Less is more
In addition, when creating a slideshow with MAGIX Photostory easy, keep in mind that you are supplementing your self-shot pictures using thematic material to make them a bit more exciting. For this reason, try to stick to classical cross fades and use impressive effects only when they make sense.