Bring your music collection into perfect order with a music manager
A music manager takes care of all the important tasks related to archiving music files stored on PCs.
With MAGIX MP3 deluxe, you can transfer music from CDs to your PC in top quality and store it on your hard drive in whatever format you choose (MP3, AAC, OGG Vobis, etc.). If your music is already stored on your hard drive, you can use MP3 deluxe to convert the files into the right format. Since many of us consume music that way, converting music files with a music manager is the first important step before starting to archive our music.

To organise music intelligently is important if you don't want to lose track of your music collection. MP3 Maker offers a range of tools that help manage your music collection. Above all, this includes naming your music tracks (ID tagging), something that the software automatically takes care of after importing the files thanks to mufin audioID. This makes it easy to find tracks after you've saved them, for example, by using the quick-search function. Special filters help distinguish between different genres ensuring that only music files you are really searching for are displayed. The same track being stored on your hard drive more than once is another problem in music management. Thanks to a special function, the software is able to detect and delete these duplicates and free up hard disk space. However, the program doesn't simply search for file names, but uses sound analysis to find identical tracks based on their sound properties. This is useful if you've named tracks incorrectly by mistake.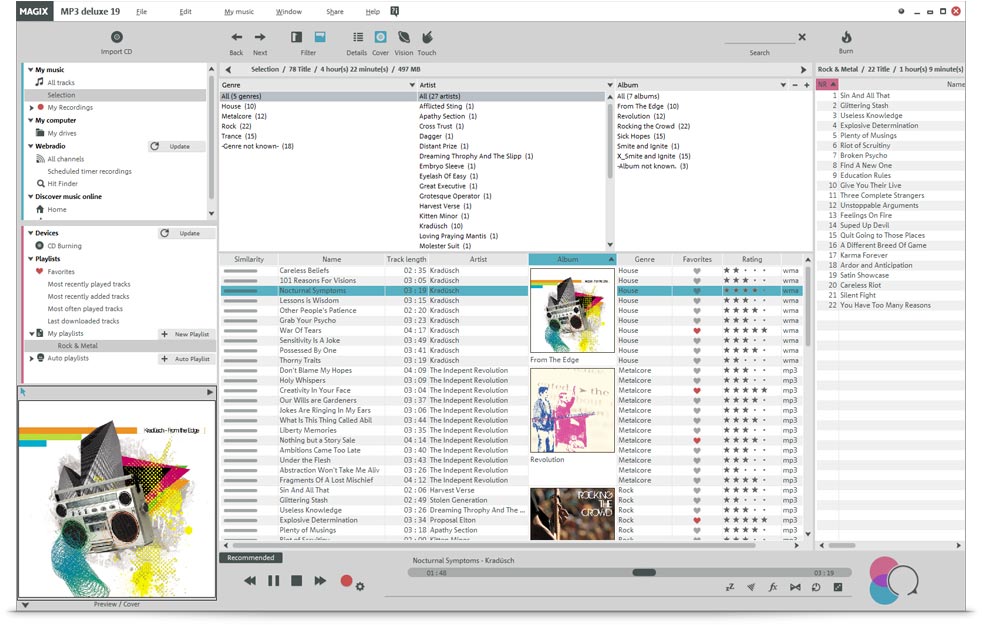 Music Manager: the perfect solution for hassle-free music management
Thus, a music manager not only organizes your hard drive, but also helps to restore order to your CD rack. For more information about MAGIX MP3, please click here.