How To Organise Music Intelligently With MAGIX
How to organise music doesn't just play an important role for music enthusiasts.
Constantly increasing music archives and inconsistent naming schemes for files cause many users to lose an overview of their own music collection. Management essentially starts with the transfer of music, for example from a CD to the computer, which is often referred to as grabbing or ripping in English.

Transferring CDs to your PC also requires the right music management software: MAGIX MP3 deluxe offers convenient transferring and special tools that are very helpful for managing and archiving audio files. The quick search feature enables lost treasures to be recovered, one-time titling simplifies the structured naming scheme for files, and mufin technology enables tracks to be discovered that are musically similar to another. ID3 tags are important for finding music conveniently and comfortably on your PC. This extra information (metadata), which is contained in MP3 audio files, helps users identify the band, artist, or style of the music. Before there were ID3 tags (by the way, ID3 stands for Identify an MP3), file names or folder names needed to include this extra information. The consequences were long and impractical file names that made music management more complicated than it needed to be. These circumstances lead to the development of adding metadata in a reserved part of the file information included with the file.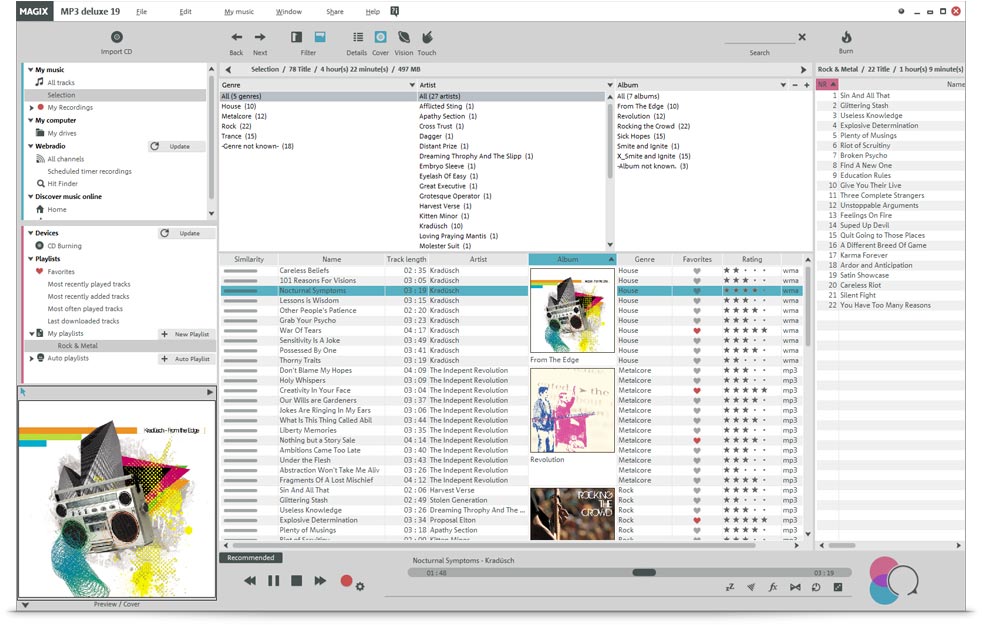 Organise Music With MAGIX MP3 deluxe
An intelligent way to organise music helps users find music quickly, and is therefore not just a topic for music nuts, but it's also important for everyone who owns a digital music collection.