SOUND FORGE Pro 16 Suite is here. This professional software package for recording, editing and processing high-quality audio files includes a range of powerful plug-ins like the brand-new Steinberg SpectraLayers Pro 9 and Melodyne essential and sets a new standard in the field of audio.
Steinberg SpectraLayers Pro 9
SpectraLayers Pro 9 is the most advanced audio spectrum editor on the market. SpectraLayers Pro transforms sound into a unique visual world of multidimensional audio data. With this visual approach and the extensive tool kit in SpectraLayers, it's easy to rearrange, extract and optimize sounds in ways never before imagined. SpectraLayers 9 introduces real-time dynamic spectral processing, which means an exponential increase in the speed and control of your workflow that raises the bar for audio editors everywhere. An ideal companion software to SOUND FORGE Pro 16 Suite.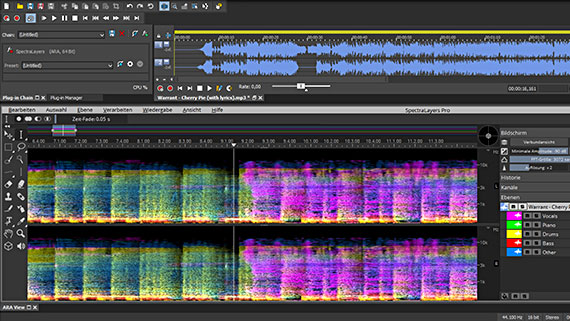 Unmixing layers
With new tools driven by AI technology, audio tracks can now be unmixed in Steinberg SpectraLayers Pro 9. This means that music can be split and isolated into individual layers. Extract vocals, piano, bass, drums and "other instruments" from stems, or separate sound, noise and transient layers. Use the new unmixing function as a creative tool for remixing new songs.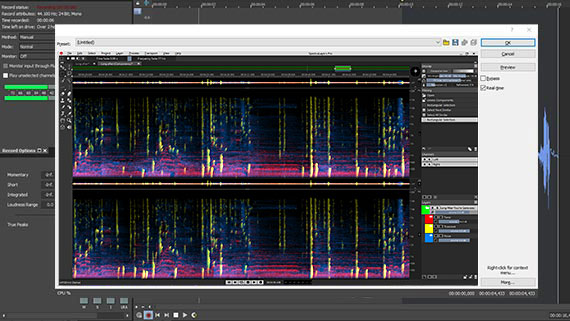 Integration in external DAWs
Steinberg SpectraLayers Pro 9 can seamlessly access editing effects from other audio applications, meaning it can be used with a selected audio file right away. All edits you make are synchronized too.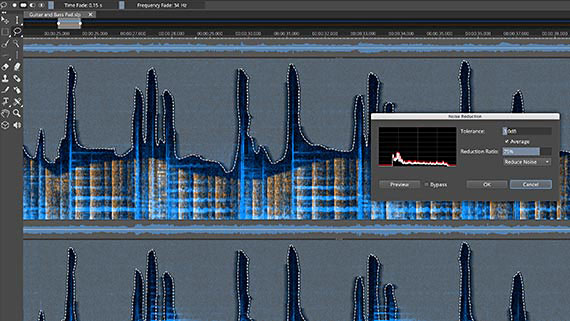 Advanced selection system
Steinberg SpectraLayers Pro 9 offers incomparable precision when it comes to selecting sections of the audio spectrum. Create user-defined 2D fade masks at the edge of a selection, model fades on a visual basis and view all resulting changes in amplitude in realtime.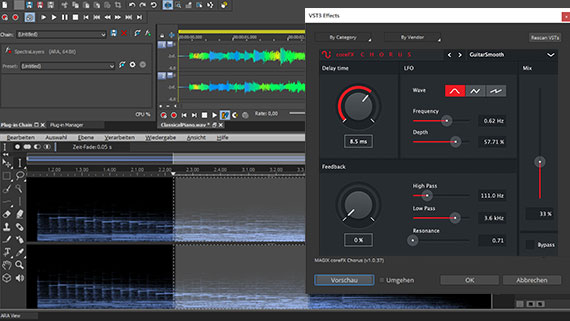 Apply VST 3 effects
The latest VST 3 plug-in support now enables you to apply additional VST 3 plug-ins to individual layers, as well as in standalone or ARA mode. Apply interesting VST 3 effects on the spectral layer and discover entirely new options for creative editing.
What you can do with Steinberg SpectraLayers Pro

Mixing with Spectral Casting
Use the frequency spectrum of one layer as a cast or mold for "carving an impression" directly into the spectrum of a second layer. Spectral Casting/Spectral Molding opens up unexplored new worlds of audio processing possibilities.

Sound design with Spectral Molding
Spectral Molding offers an extensive bandwidth of sounds: The technology enables users to transfer spectral data between recordings and create an entirely new and different sound aesthetic. For instance, you can give a guitar recording the acoustic texture of vocals.

Cleaning with acoustic fingerprints
Steinberg SpectraLayers Pro 9 is able to create exact prints of noise interference and then suppress them or remove them completely from the track. This technology offers you absolute precision for achieving ultra-clear audio results.

ARA2 plug-in
The ARA2 plug-in integrates Steinberg SpectraLayers Pro 9 directly in SOUND FORGE Pro 16. Once set up, Steinberg SpectraLayers Pro 9 behaves just like an independent part of the DAW and integrates essential components of the host DAW such as track colors and other elements.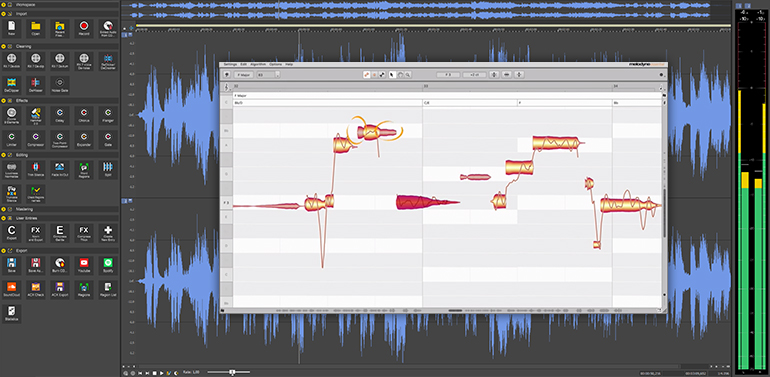 Celemony Melodyne 5.2 essential
Celemony Melodyne 5.2 essential is the perfect complement to the audio editing functions offered by SOUND FORGE Pro 16 and with its built-in ARA2 and AAX support, Steinberg SpectraLayers Pro 9 is equally so. Discover the legendary tool for precise audio correction.

Vintage Effects Suite
Reproduce the naturally full and warm sound of analog tools in an authentic way.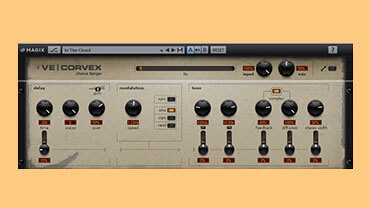 ECOX
Ecox is a plug-in that emulates realistic tape echo sounds. You can reproduce the sound here in an authentic way that sounds as if different tape speeds were used to change the delay – with tracking variations and loss of high frequencies during tape feedback.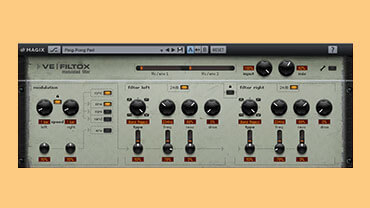 FILTOX
This filter has been developed to control frequency resonance for a modulation source. This enables you to create a characteristically analog sound and internal distortion. Cut-off frequency and resonance work together here to create synthesizer sweeps and creative drum loop distortion that sound anything but digital.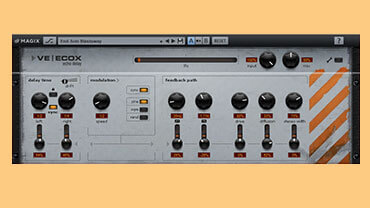 CORVEX
Corvex produces a refined sound tapestry of variations between analog chorus and flanger effects that goes beyond standard concepts. Give your instruments astounding acoustic depth, make them sound much fuller, or create new, multi-layered textures.
Sound Design for Drums, Vocals and Guitars
VariVerb II offers more depth and more texture for your audio. The huge range of presets for drums, vocals and guitars in this plug-in are based on a variety of algorithms and can be used not just for making improvements, but as the starting point for complex sound design.
Precisely Calculated Reflection Pattern
Use VariVerb II to create reverb based on complex reflection pattern and various software models rather than on the basis of impulse responses. Create various effects with adjustable parameters such as room, plate, spring and non-linear reverb, all based on algorithmic calculations.

Vandal
Vandal is a virtual guitar & bass amplifier with superb effects that lets you easily simulate any kind of guitar effect in a realistic way.

Highlights
NEW! dynamicEQ now with Oversampling
(exclusively in Suite)
NEW! Increased compatibility with VST plug-ins
NEW! Melodyne essential now in version 5.2
NEW! New loudness visualization
NEW! Optimized multichannel workflow
NEW! Advanced plugin manager
NEW! New resampling engine
Mastering and restauration with iZotope-Plug-ins:
Ozone 9 Elements & RX 10 Elements
32 channel audio recording, editing and processing
VST engine & ARA2 support
Record at 64-bit/768 kHz
Numerous audio effects and plug-ins for sound design, mix & mastering
zplane élastiquePro v3 Timestretch
What is SOUND FORGE?

SOUND FORGE is a digital audio editing suite by MAGIX aimed at both professional and semi-professional users. It has been the audio editing standard software for artists, producers and sound mastering engineers for over 20 years. The SOUND FORGE family includes SOUND FORGE Audio Studio, Audio Cleaning Lab, as well as SOUND FORGE Pro and SOUND FORGE Pro Suite.
What is SOUND FORGE
Audio Studio?
What is SOUND FORGE Pro Suite?

What is SOUND FORGE
Cleaning Lab?
Are there free trial versions of
SOUND FORGE available?
Yes, free 30-day trial versions of SOUND FORGE family products are available. Just go to the free-download section and get started.
Is SOUND FORGE Audio Studio
a 32 bit software?
You need a 32- or 64-bit version of one of the following operating systems: Windows 11 | Windows 10. Further information on the system requirements can be found under technical specifications.