SOUND FORGE has been setting the standard for high-end digital audio processing for more than 20 years. The audio editing legend stands for innovation and quality so has become the tool of choice for many globally-successful producers including Grammy winner Ted Perlman. Originally developed in the USA, SOUND FORGE's unique technology is now being further developed by MAGIX, so combines an American pioneering spirit with precision German engineering.
Powerful editing tools, extremely fast processing and innovative workflows are what SOUND FORGE audio editors are all about. Experience a new level of audio editing with cutting-edge technology, ease of use, a powerful 64-bit architecture and crystal-clear audio quality.
SOUND FORGE Pro
The audio editing industry leader for over two decades
As the go-to application for a generation of artists, producers, editors, and archivists, SOUND FORGE Pro enables you to get the job done on its rock-solid platform. Record, edit, and enhance audio with the clarity of high-resolution. Edit precisely with innovative editing workflows and tools and deliver the perfect master for broadcast, CD, or streaming.
SOUND FORGE Audio Studio
The All-around Audio Editor
The brand-new SOUND FORGE Audio Studio 13 provides comprehensive tools and features for editing audio of all kinds. The ultimate virtual studio: This tool comes with everything you need to record, edit, restore and master songs and audio files with professional effects. Convert old vinyls and cassettes to digital, record high-quality podcasts, create and burn CDs, and produce soundtracks for videos and movies. Simple operation that offers professional results in a few clicks – SOUND FORGE Audio Studio.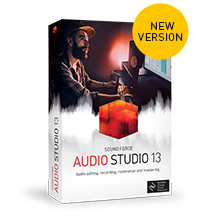 SOUND FORGE Audio Studio 13
Renowned for its intuitive operation. Legendary for exceptional audio editing.
SOUND FORGE Audio Cleaning Lab
Special tool for cleaning & restoration
Simple digitization, cleaning and restoration of audio – SOUND FORGE Audio Cleaning Lab offers a range of selected presets and practical 1-click solutions that are specially designed for this area of application. Together with a range of other functions, Audio Cleaning Lab is a digital "Swiss army knife" that should be a component of any PC. SOUND FORGE Audio Cleaning Lab replaces the MAGIX Audio Cleaning Lab range, and now offers 64-bit power and much more.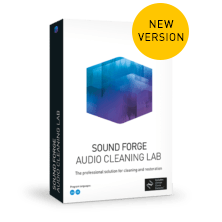 SOUND FORGE Audio Cleaning Lab
Easy-to-use operation thanks to presets, assistants & 1-click solutions.