Step up to cutting-edge technology, 64-bit powered productivity, and pristine high-resolution audio. SOUND FORGE continues to advance the art of digital audio production. Powerful editing tools, fast processing, and advanced workflows define the core of this award-wining application.
SOUND FORGE Pro
The audio editing industry leader for over two decades
As the go-to application for a generation of artists, producers, editors, and archivists, SOUND FORGE Pro enables you to get the job done on its rock-solid platform. Record, edit, and enhance audio with the clarity of high-resolution. Edit precisely with innovative editing workflows and tools and deliver the perfect master for broadcast, CD, or streaming.
SOUND FORGE Audio Studio
Simplified audio production
There's no better or easier way to work with music and sound than with SOUND FORGE Audio Studio. Produce high-resolution, 32-bit/384 kHz, audio and enhance it with over 30 professional filters and effects. Digitize, repair, and restore your favorite vinyl LPs and tapes to burn to CD or create MP3 files. Designed for ease of use, the user-friendly workflow makes audio production fast and fun.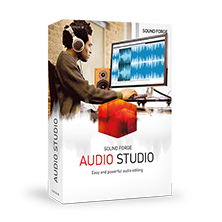 SOUND FORGE Audio Studio 12

Legendary for its ease of use, SOUND FORGE Audio Studio amps up audio editing.
SpectraLayers Pro
Visual spectral editing
SpectraLayers Pro transforms sound into a unique world of visual multidimensional audio data. The outstanding program design, high performance audio engine and seamless integration with other DAWs, makes SpectraLayers Pro one of the world's most revolutionary spectral editing platforms. Transpose, extract and optimize sounds in ways never imagined thanks to the unique layers concept for the frequency spectrum.
SpectraLayers Pro 5
Work your sound visually.

"SpectraLayers is one of the more exciting programs for audio to come out in a long time. I'm only beginning to realize the far reaching potential of the software, and there are many creative uses that I haven't even come up with yet. The ability to interact with audio on such a new and graphical interface opens up incredible potential for both restoration and sound design."
Tim Nielsen, Sound Designer, Skywalker Sound
"SOUND FORGE Audio Studio 12 is a super powerful audio editing and restoration tool. I love the visualization view that lets me see actual meters to represent the frequencies in the audio for quick eq decisions. Also, the audio restoration tools are some of the most effective and intuitive tools I've ever come across. The DeNoiser works great for cleaning up imperfect audio and removing background noise from vocal recordings in my videos. This has definitely become a staple in my overall editing process."
JK Swopes, SoundsAndGear

"I have tried several audio editors in the past, but I always return to SOUND FORGE because it's the easiest to use and completely fulfills all my requirements for recording voice over auditions and narrations."
Derek Partridge, Narrator, Voice-Over artist, TV presenter, former film & TV actor

"SpectraLayers provides a unique toolset for visualizing and manipulating sounds the way we actually perceive them. No other application on the market can match its potential for true creativity."
Johan Althoff, Lead Sound Designer, Starbreeze
I have been using SOUND FORGE Audio Studio 12 for few days and I'm truly enjoying it. It didn't take me long to learn how it works as it's very intuitive. And, I love the Edit Audio for Video option! This options now makes my YouTube videos' audio sound so much better, since I can edit and correct them in SOUND FORGE Audio Studio 12. My current video editor has very limited audio editing options and SOUND FORGE Audio Studio 12 is now a lifesaver. Thanks again."
Vatche's, RecordingStudio9.com

"For the past seventeen years I've used and still continue to use SOUND FORGE Pro as my No 1 Go To for all my Post Mix Editing including a 2014 Grammy Nominated Blues Album I Produced, Engineered and Mixed for Blues legend Bobby Rush!"
Brother Paul Brown, Grammy nominated Producer, Engineer and Keyboardist, Ocean Soul Studios
Tim Nielsen
JK Swopes
Derek Partridge
Johan Althoff
Vatche's
Brother Paul Brown
Join the Community
Join the conversation with other audio professionals and enthusiast. Share production tips and tricks with the SOUND FORGE and SpectraLayers Pro community.

Artists
Check out what our artists have to say.

Newsletter
Sign up and stay on top of all our special offers and news about SOUND FORGE and SpectraLayers Pro.

Magazine
Get the latest audio news and increase your production process with our informative articles and tutorials.