MAGIX: Edit music – quickly and easily.
If you want to edit or mix audio files, you need the right tools.
In the past, it was necessary to both own and be able to use a wide range of tools and analog devices. Mixing and editing music was an arduous task if you didn't have any musical talent or audio experience. Fortunately, the triumphant progress of computers and software have brought about a whirlwind of change. Music Maker was the first editing software that allowed anyone to experiment with musical modules and special features on their PC and produce great songs as a result. But the program also features solutions for basic tasks, such as mixing and editing music, that enable you to achieve the best quality results with ease of use. A few clicks is all it takes to shorten songs, optimize sound, add effects or export audio files in and into different formats directly from right within the program. Discover the complete solution for all your audio needs.
The Music Maker software for PC enables any user to edit or arrange audio files. The concept behind this software is both simple and ingenious at once, allowing users to bring their musical ideas to life without requiring any previous experience, such as reading music. The program interface was developed with this concept in mind. It combines ease of use with the necessary functional depth for complex music production and editing. This basic principle has made Music Maker well-known and popular in the field of music software. The program inspires users to make music with its numerous loops & sounds, virtual instruments, a MIDI editor and an option for adding audio signals with effects, converting files or arranging songs. The success of this editing software raises the bar for user standards and also gives our developers even more reason to want to broaden our users' musical horizons. That's why this music creator is now far more than just an option for effectively editing music and songs. In addition to easy handling, the software also offers an impressive array of plug-ins, sounds and editing options that are usually only found in professional products.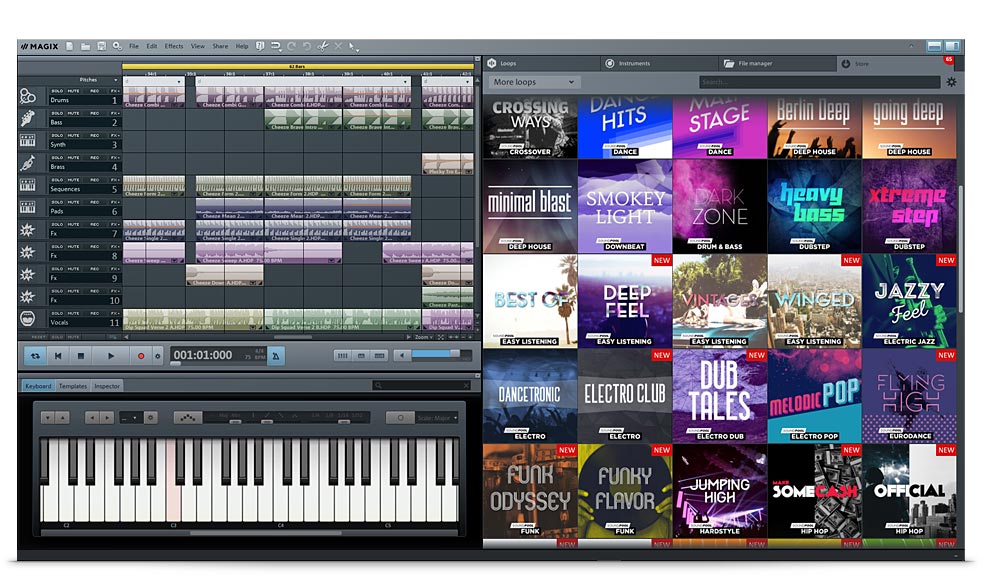 A music editor for everyone!
Music editing has undergone a fundamental change in the last 30 years. In the past, instruments and expensive devices set the tone. Most music today is produced, arranged and edited using a computer. Thanks to the ease of use, MAGIX allows any user to make their own music or edit existing songs without requiring any previous musical experience. Discover for yourself just how easy it is to create and edit great songs with Music Maker.
MUSIC MAKER 2024 FREE
MUSIC MAKER offers a modern, easy-going way of creating music. Now you can produce your own songs — without any experience or watching tutorials for hours. You don't need expensive equipment either. It's fun, intuitive and delivers amazing results in minutes.
Download for free