All new features in Movie Edit Pro
Brand new engine
Up to 8.6x faster!
A new dimension for performance. Work with a new foundation for smooth editing of high-resolution videos and faster processing of effects. The new, ultra-fast INFUSION Engine.
Increase the scale and variety of a project and have multiple tracks play simultaneously. That's when you'll really notice the power of the new INFUSION Engine. Zooms, camera pans, intros/outros, shot match and collages can now be processed up to 8.6x faster and played back smoother.
Movie Edit Pro includes the latest standards in editing workflow. 1-click cutting tools with real-time preview let you take action right away and offer a wide range of options for correction. Plus, you can now customize the timeline to suit your own editing workflow.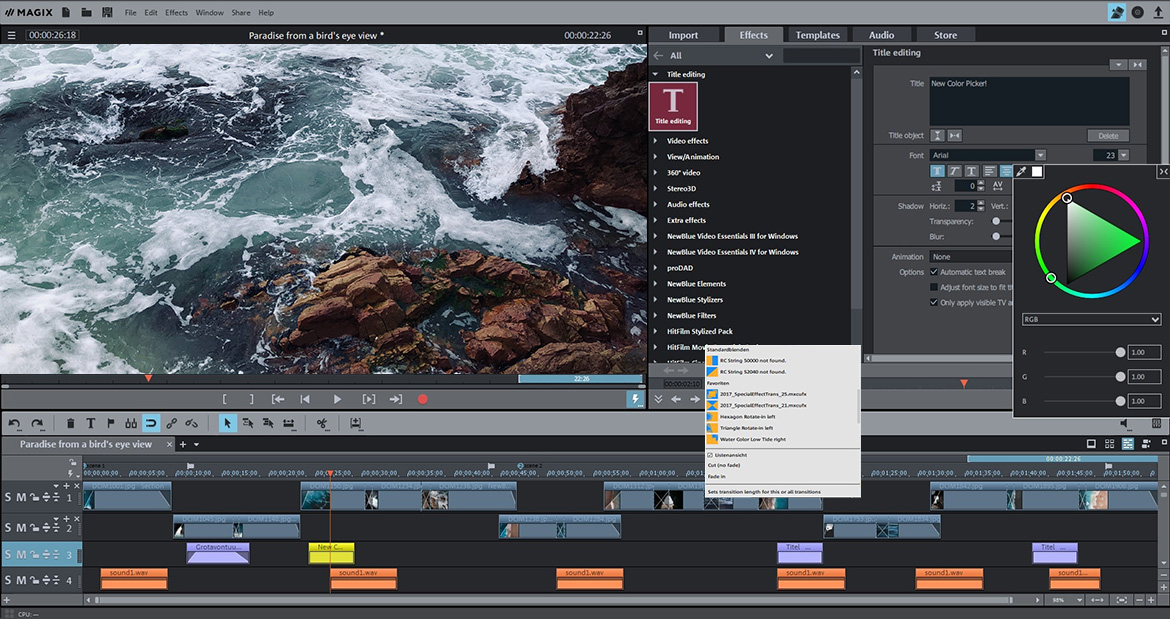 New since August 2019: Video editing with real-time preview (exclusively in Plus | Premium)
New since August 2019: Automatically find & close gaps (exclusively in Plus | Premium)
New since May 2018: Edit video and audio separately
New since May 2018: Move object contents
New since August 2019: Simplified project management
The new "Manage Projects" menu makes it easy to organize the videos in your project.
New since August 2018: Chapter export
Only need to touch up part of your movie? Save time and energy by exporting individual chapters as you edit them, instead of your entire movie.
New since August 2018: Flexible track handling
Experience the freedom of being able to rearrange, delete and completely reorder your tracks any way you want, whenever you want – even after the fact.
New since December 2019: Color picker for titles
New since December 2019: Optimized transition menu
Easy, 1-click selection of transitions directly in the timeline. Dynamic display of your favorite transitions as well as ones you've previously used means they can found quickly next time.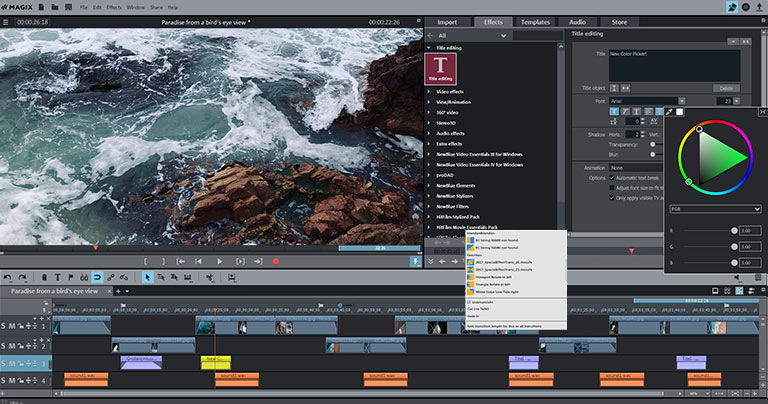 Color picker in title editor
Fast color matching for image and titles
Find the right title color for each and every scene. The color picker lets you easily select a desired color from an image and transfer it to the title. This can be done quickly using the pipette or more precisely with manual color settings. No matter the method, image and title are perfectly matched.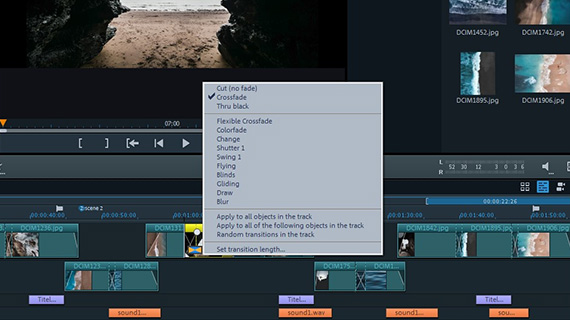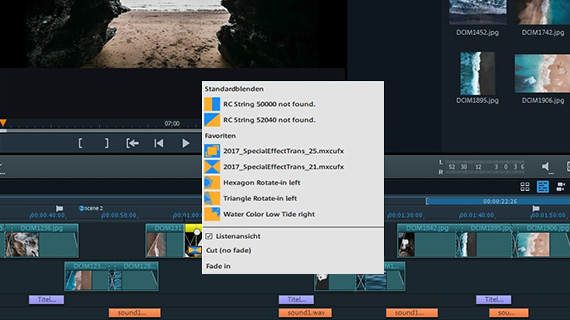 Optimized transition menu
1-click selection for transitions
Built-in transition icons enable you to find the transition you're looking for at a glance. Quick access for previously used transitions as well as your favorites is included. You can also try out the random transition selector, which includes a search filter for specific transition types and groups.
Split and trim
1-click editing with direct preview
This new tool is designed to save you lots of time. Viewing and cutting your video material can now all be done via the timeline. In the video monitor you will see a direct, real-time preview at all times. All you need to do is make cuts with a single click.
Latest effects
With a fantastic range of new effects, you can enhance your movies in no time at all. From intros and outros to travel route animations and dynamic titles – get creative and give each and every one of your videos a captivating look!
New travel route animations
with MAGIX Travel Maps
One of the most popular functions in Movie Edit Pro – now redesigned. Now featuring more details and hand-drawn animation, and can be used with any map of your choice. Add your favorite photos to individual stations and stops. 9 maps and a whole range of painstakingly designed vehicle types are available – ready for you to bring them to life.
Combining various image layers in exciting ways – a core focus in video editing – can now be easily done in a dedicated area using a wide range of templates. Create custom picture-in-picture effects, use cutting dies or define the precise moment for a title to appear.
Exclusively in Plus | Premium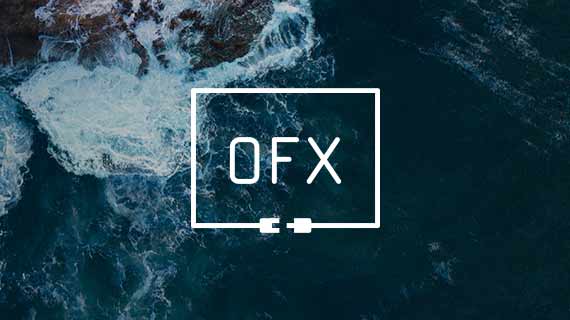 OFX effects with real-time playback
The intuitive OFX interface in Movie Edit Pro allows external effect plug-ins by proDAD, FXhome or other providers to be used. Data transfer between OFX effect and Movie Edit Pro is now faster than before. You'll experience smooth playback even in realtime and boosted processor power for detailed effects design as a result. Try it out for yourself!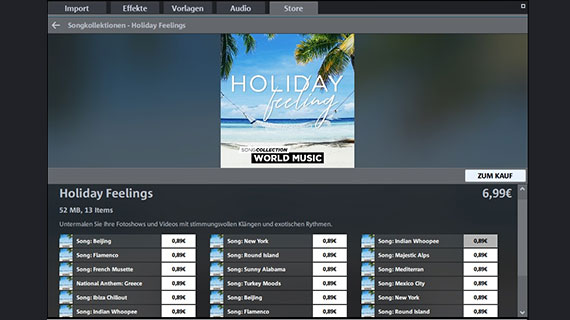 Purchase individual effects in the Store
Expand your effects collections with the effects you actually need. Effects, sound and packs can now be purchased individually in the Movie Edit Pro Store. These are available from €0.89. Browse the latest, modern effects and templates in the "Store".
15 dynamic title animations
Individually animated. Letter by letter. The new title templates bring dynamic and vivid elements to your videos. They are now adjustable in both size and style and can be combined with the new fonts in a variety of ways to perfectly suit your footage.
Exclusive new plug-ins in Movie Edit Pro Premium
NewBlue Titler Pro 6
(€259 value)
Design titles that fit your footage exactly. Over 200 titles produced to a high standard can be used as templates that you can modify any way you want. Subtle effects for intermittent scenes or a jaw-dropping 3D look for the start of the film. When it comes to titles, there's a whole range of possibilities.
NewBlue Elements 3 Ultimate
(€259 value)
The largest NewBlueFX pack yet contains 22 effect plug-ins with 250+ templates and fully equips you with virtually all industry-standard video editing effects. Create completely different split screens to show film material in parallel and shorten the length of the movie.
Get creative and add new backgrounds to your film using professional chroma key functions. Or, ensure an unforgettable film atmosphere by using specific shadow and fade effects.
Premium version plug-ins are included upon purchase of new software or extension of the Update Service, or when you upgrade. Program language for all plug-ins is English.
All new features at a glance
The new version is boosted by an ultra-fast foundation, the INFUSION Engine. Simplified video editing with real-time editing tools and tons of exciting options for design.
INFUSION Engine
Professional image stabilization
Exclusively in Plus | Premium: Video editing with real-time preview
Exclusively in Plus | Premium: Automatically remove gaps
Exclusively in Plus | Premium: Travel route animation with MAGIX Travel Maps
Exclusively in Plus | Premium: New intro/outro animations
Exclusively in Premium: NewBlue Titler Pro 6 & NewBlue Elements 3 Ultimate
MAGIX Movie Edit Pro
Easy & fast video editing
MAGIX Movie Edit Pro
Easy & fast video editing
900 effects, templates & transitions
Professional video stabilization
Fast INFUSION Engine
MAGIX Movie Edit Pro Plus
Easy & fast video editing with real-time preview
Upgrade: MAGIX Movie Edit Pro Plus
Easy & fast video editing with real-time preview
MAGIX Movie Edit Pro Plus
Easy & fast video editing with real-time preview
1,500 effects, templates & transitions
Professional video stabilization
Direct editing + travel routes
Fast INFUSION Engine
Multicam and 360° editing
€ 59,99
Regularly € 99,99
1,500 effects, templates & transitions
Professional video stabilization
Direct editing + travel routes
Fast INFUSION Engine
Multicam and 360° editing
Valid until July 28, 2020
Included as part of this offer:
NewBlue Filters 5 Recreate (€ 89 value)
proDAD ReSpeedr (€ 99 value)
MAGIX Movie Edit Pro Premium
Easy & fast video editing with real-time preview and premium effects
Movie Edit Pro Premium: Update Service / Upgrade
Easy & fast video editing with real-time preview and premium effects
MAGIX Movie Edit Pro Premium
Easy & fast video editing with real-time preview and premium effects
€ 79,99
Regularly € 129,00
1,500 effects, templates & transitions
Professional video stabilization
Direct editing + travel routes
Fast INFUSION Engine
Multicam and 360° editing
Premium effects
Valid until July 15, 2020
Included as part of this offer:
NewBlue Filters 5 Recreate (€ 89 value)
€ 69,99
Regularly € 129,00
1,500 effects, templates & transitions
Professional video stabilization
Direct editing + travel routes
Fast INFUSION Engine
Multicam and 360° editing
Premium effects
Valid until July 28, 2020
Included as part of this offer:
NewBlue Filters 5 Recreate (€ 89 value)
proDAD ReSpeedr (€ 99 value)