Reduce image size for the web and for sharing with friends and acquaintances
To quickly exchange images over the Internet, you usually have to reduce their size.
Files sizes continue to grow alongside the steadily increasing megapixel numbers of digital cameras. Internet connections are also becoming increasingly faster, but not at the same speed. In addition, you don't need images in A0 format to share your experiences from your last vacation with friends and acquaintances. This is precisely why you need software to reduce image sizes. If you reduce them with the right procedure, the loss of quality is usually marginal in relation to the reduction in the image size.
MAGIX Photo Manager Deluxe is just the right software if you want to quickly reduce the sizes of your photos. It offers a wide range of preset application scenarios: e.g. exchanging images in e-mail or copying to mobile devices. As a result, you don't need to consider specific parameters. With just two easy clicks, all the selected image sizes are reduced. It couldn't be any easier. If you want, the images are even sent directly to your email program and compressed as a Zip file. MAGIX Photo Manager Deluxe is the fastest and easiest way to exchange images to date.
In addition to the option for reducing image sizes, the Photo Manager is also powerful photo organizing software. It lets you keep an overview of your photo collection at all times. Thanks to its clever functions, such as filtering for specific people or categories, you can quickly find individual pictures from your database software. With the right photo organizing software, you no longer need to access folders to sort your files.
The program allows you to quickly optimize images. For example, you can remove red eyes, align the images and adjust the brightness and contrast. Photo filters are also integrated into the program that enable you to create special photo effects. Use it, for example, to convert your photos into a Lomography-style photo, a drawing or a thermal image. Once you have sorted and optimized your photos, you can also save them directly to CD, DVD or hard drive using the program. If you want, the program will even remind you to make backup copies at regular intervals. Thanks to MAGIX software's MX feature, you can also transfer your photos from the Photo Manager directly to other MAGIX programs. This provides you with even more sophisticated options for editing your photos with Xara Photo & Graphic Designer. You can also integrate them in your website with the Web Designer or add them to an impressive photo show with PhotoStory on DVD.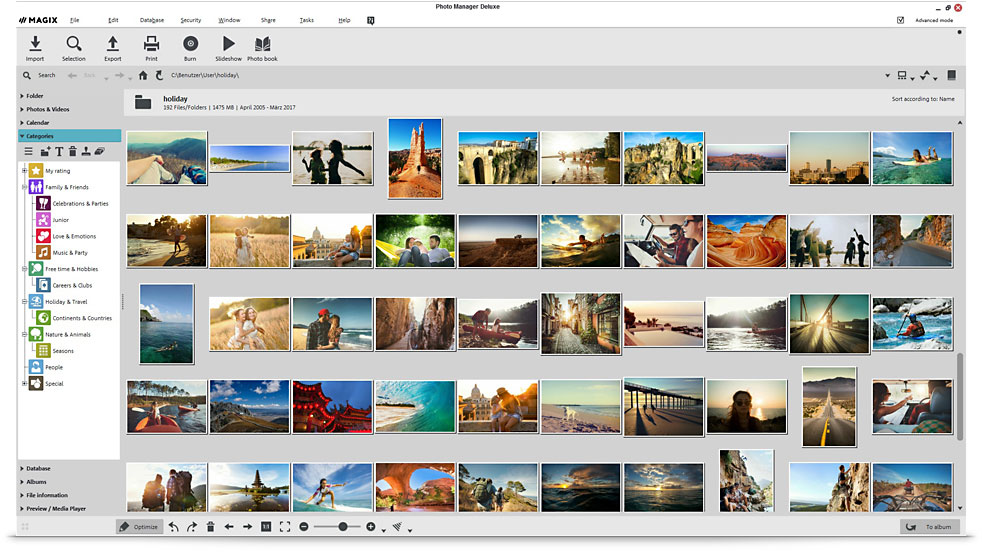 MAGIX Photo Manager Deluxe lets you reduce image size with ease
The MAGIX Photo Manager Deluxe allows you to reduce the sizes of your images in just a few steps and without requiring any previous experience. In addition, you can also resize as well as manage, organize, optimize and save your photos. This can all be done in just one intuitive program.