Broadcast Your Favorite Memories with MAGIX slideshow software
Slideshow software makes creating slideshows a snap. With digital cameras, we now have a ton of photos are lying around – scattered on CDs, hard drives and even in our email. The best way to keep track of these memories is to present these memories in a photo slideshow.
Looking at unedited photos, without music or fades on your PC or camera gets boring fairly quickly. Special software like Photostory easy by MAGIX helps users add the emotion and atmosphere back to their photos to keep their audience engaged.
One effect that should be present in every slideshow is the fade – placed between photos, this guarantees exciting transitions between photo moments. The number of included fades is impressive in MAGIX Photostory easy – from classic crossfades to 3D effects and picture-in-picture transitions. The Mediapool has everything you need to enrich your photo presentations.
Music should also be included in every slideshow – it doesn't matter whether it's a hit song from your summer vacation or if the user wants to get more creative to make your own music. It's all possible with the integrated Soundtrack Maker! Once the slideshow features text, music, fades, and effects, it just needs to be burned to CD, DVD, or Blu-ray for viewing with friends and family on TV.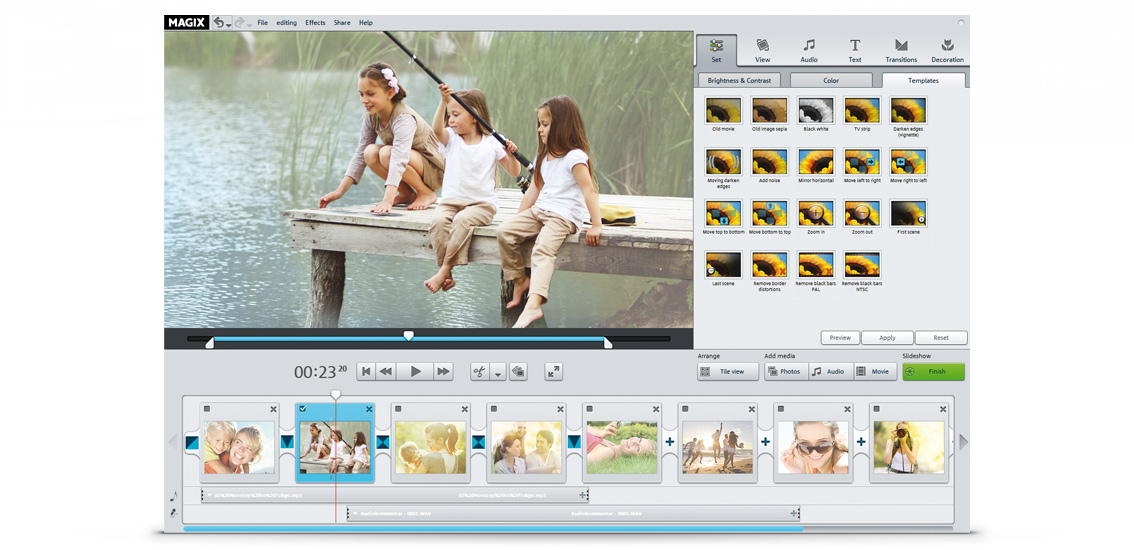 Slideshow software helps you add emotion to your photos
Experience the excitement of your favorite moments again and again by creating a photo slideshow. Trust the experience of this award-winning specialist program: MAGIX Photostory easy to take your memories to the next level.