The sound recorder for all music fans - Music Maker
Music Maker is the sound recorder for anyone who wants to record vocals or instruments and cut or edit music.
Thanks to the simple recording function, you can conveniently record vocals, speech, rap or individual instruments directly in the software. After recording, you can cut it to the right length with this music software for Windows, enhance audio tracks with effects,´add loops and sounds or optimize the recordings. Vocal Tune allows you, for example, to correct the pitch of incorrect notes - ideal for vocal recordings. Even beginners can get started right away and easily make music with professional sound. To download the test version for free click here.
Record music, combine loops, cut audio files, mix and even master songs with this sound recorder. Get started with your very first song: To begin drag samples and loops from various music genres, for example, Hip Hop or Dubstep, into the the program. The samples are automatically adjusted to the preset tempo - so that you don't have to guess the beat. Compliment the initial sound structures with recordings of your own melodies. You can record these with the virtual instruments or by using a MIDI keyboard. If you don't own any additional hardware, such as a MIDI keyboard, then you can come up with chords and melodies directly in the sound recorder with the integrated Piano Roll even without knowing how to read notes.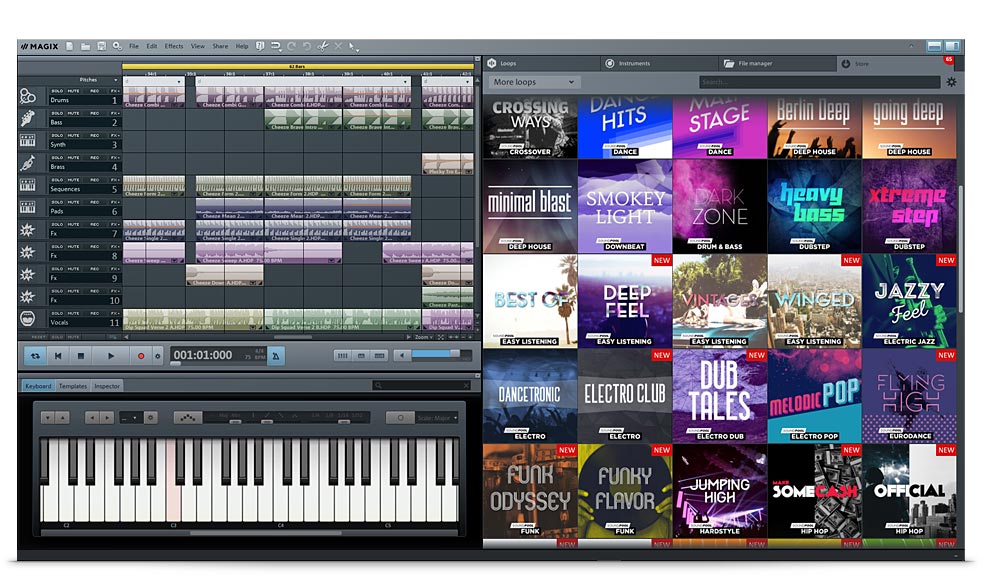 Sound Recorder: Full of ideas. Full of fun. Full of sound.
Simply use the pencil tool to enter the pitches and lengths in the MIDI Editor. You can then play the recording or the edited MIDI object using various virtual instruments. Not only can you record music, but also vocals with the sound recorder. For professional audio recordings, an audio interface with integrated mixer is recommended when connecting a microphone to your PC. After recording, you can then adjust the pitch, volume and sound in the software. The Vocal Tune tool assists you with pitch correction. If you perhaps botched a note while recording, instead of having to repeat the entire recording, you can simply correct individual notes. Once successfully completing the recording, cutting and mixing of a song, you can easily save your music as an MP3, WAV, OGG Vorbis or FLAC and upload it, for example, directly to SoundCloud. Test this recorder for sounds and other audio material by downloading it from the Free Download Page from MAGIX.
The instruments included in Music Maker can be programmed without knowing how to read notes with the MIDI Editor or conveniently recorded using a MIDI keyboard. Combining produced loops & sounds with your own recordings allows even beginner music producers to obtain first-class results. Start recording now and bring your ideas to life. Publish your songs to social media platforms directly from the software, save as WAV files or burn to a CD and share with family and friends or distribute at concerts.