XAVC S Support
Video Pro X. Superior editing software.
The particular highlight of MAGIX Video Pro X that makes it good video editing software is its compatibility with all standard formats, including DV, HDV, AVCHD (Progressive), XDCAM, NXCAM, DVCPRO, AVC-Intra and XAVC S.
Want to record videos in 4K Ultra HD? Then Video Pro X is the tool you need for perfect video editing! Due to the high popularity of Sony High-Definition camcorders, MAGIX Video Pro X offers full compatibility with the new Sony codecs, enabling Video Pro X users to create video projects in quality like they've never seen before. MAGIX Video Pro X video editing software offers support for importing the new format XAVC S. It's also possible import XAVC, the professional variant, and edit and export it in any other video format. Learn more about these formats and Video Pro X, the best XAVC converter in its class!
With XAVC, Sony 2012 presents a codec that is a special type of MPEG-4/Part 10 and can be seen as a response to Panasonic AVC-Ultra. This codec will be used by Sony in various types and profiles in the future. Designed as "a key to the 4K world for professionals and consumers", this format supports various sampling rates (4K/HD, 4:4:4/4:4:2/4:2:0 and 12/10/8-Bit) that cover a range of applications for end users and professional use. For instance, these include 4K productions, online streaming and image applications for the end user.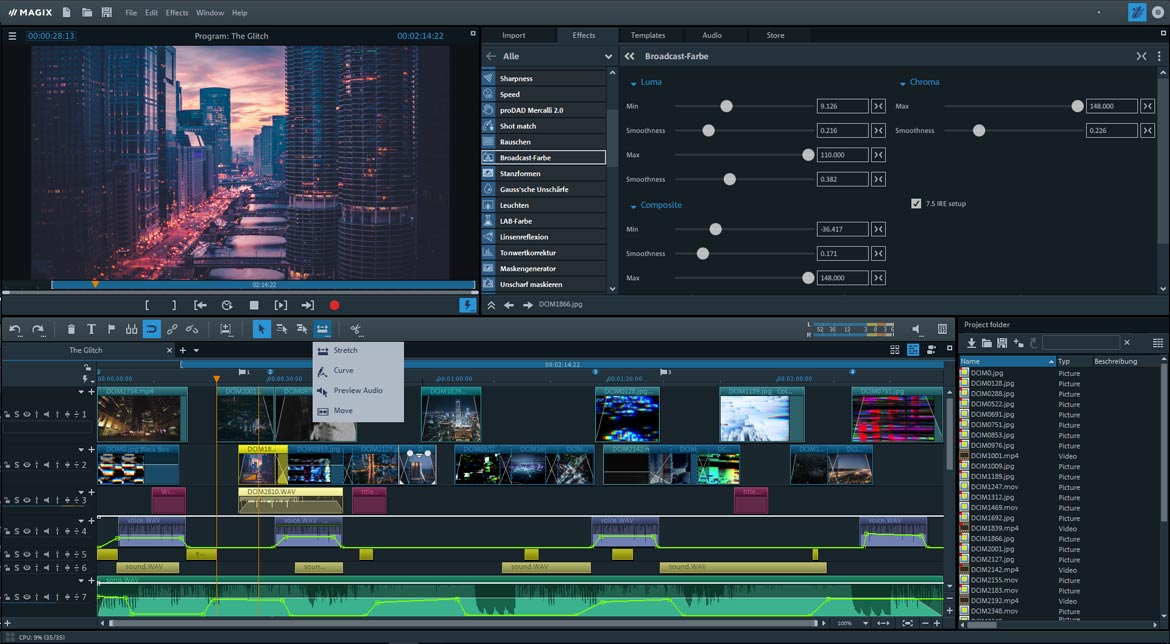 Extensive format support.
XAVC S and XAVC converter.
Introduced in April 2013, XAVC S is a format for 4K Ultra HD film recordings based on the professional XACV format. XAVC S is used more frequently for products in the consumer range. The codec supports the 3.840 x 2.160-pixel version of 4K only, also referred to as Quad Full HD, QFHD, Ultra HDTV or UHDTV. Support for HD films up to 50 Mbit/s ensures that even dynamic movements can be captured clearly and sharply. The .MP4 wrapper can be used for a higher compatibility with consumer workflows. Examples of products for XAVC S are the Sony FDR-AX 100 4 K Ultra HD consumer camcorder, the Sony AS100V action cam und die Sony a7-series. With Video Pro X you'll get the perfect editing software together with an XAVC S converter for creating professional 4K recordings.
Comprehensive support for various formats is just one of over 50 new features provided in Video Pro X for improved performance and detailed editing options. This results in perfect image and sound quality with easy-to-use controls! Discover the new features in this version, such as precise object tracking, 20 new keyframe configurable effect transitions, fast templates for action cam videos, an innovative codec from Mercalli-V4 to stabilize video and hardware-accelerated H.264 file decoding. The program has been redeveloped visually as well as technically, and Video Pro X now has a redesigned modern user interface that can be customized to any working situation.