Artist Interview: Sascha Laue & Rick Middelkoop

Around 4 years ago, Sascha Laue and Rick Middelkoop developed their first ideas for creating a musical around the theme of a dream world. They were excited and inspired by the idea that everything is possible in dreams, and this determined the title and laid the foundations for the musical "The Emperor of Dreams" (Original title: Herrscher der Träume). Sascha, an author by trade and the musical's script writer, composed and developed the storyline and the universe of the piece. Rick wrote the very diverse musical soundtrack, ranging from dreamy, quiet melodies to up-tempo hard rock, and used Music Maker for the entire production.
The production tells the tale of 13-year-old Ben, who is constantly teased by his classmates and misunderstood by his teachers and father. As a result, he tries to escape this reality and immerses himself in a dream world full of bizarre characters and fantasies. This escape world however brings with it new problems and dangers. Ben must confront these, turning his dream into a nightmare. Trapped between reality and fiction, he tries once again to escape this predicament. Here, Sascha then slips into the role of Edgar – the emperor of dreams Rick plays the role of Victor, who bitterly tries to overthrow Edgar from his throne.
We sat down with the producer duo and talked about the piece and its musical composition in Music Maker.
Musical – "Stage fright is a great source of energy when performing and gives you that push to perform well on stage."

How do you deal with nerves and excitement before premieres and performances? Have you got any tips that can help with stage fright?
Sascha: Well you can't really do anything about it, and you actually shouldn't. Stage fright is a great source of energy when performing and gives you that push to perform well on stage. With the excitement you get, you give more energy, are more present in the moment and are appear more authentic on stage.

How long did you need to get the musical The Emperor of Dreams off the ground, from the idea to its creation? How many staff were involved in total?
Sascha: We've been working on the piece for over three years in total, but the work doesn't end with the premiere. Even 3 months after the first performance, we're still working on changing and improving things. What's more, these 3 years are counting the pure work on the piece but the idea came a lot earlier. Rick and I alone worked on the musical's development process. When it then came to constructing stage sets, making costumes and props we needed a bit of help, of course. When we perform a show nowadays we're around 25 people on stage, backstage and above and below stage.

What was the most difficult hurdle that you had to overcome?
Sascha: Getting such a musical off the ground is a stony path and you can't really say which stone was bigger, whether it was finding sponsors, creating the set, the music or the organization et cetera. We went about solving any problems together and overall I think that this helped Rick as much as it helped me, since a problem shared is a problem halved (laughs).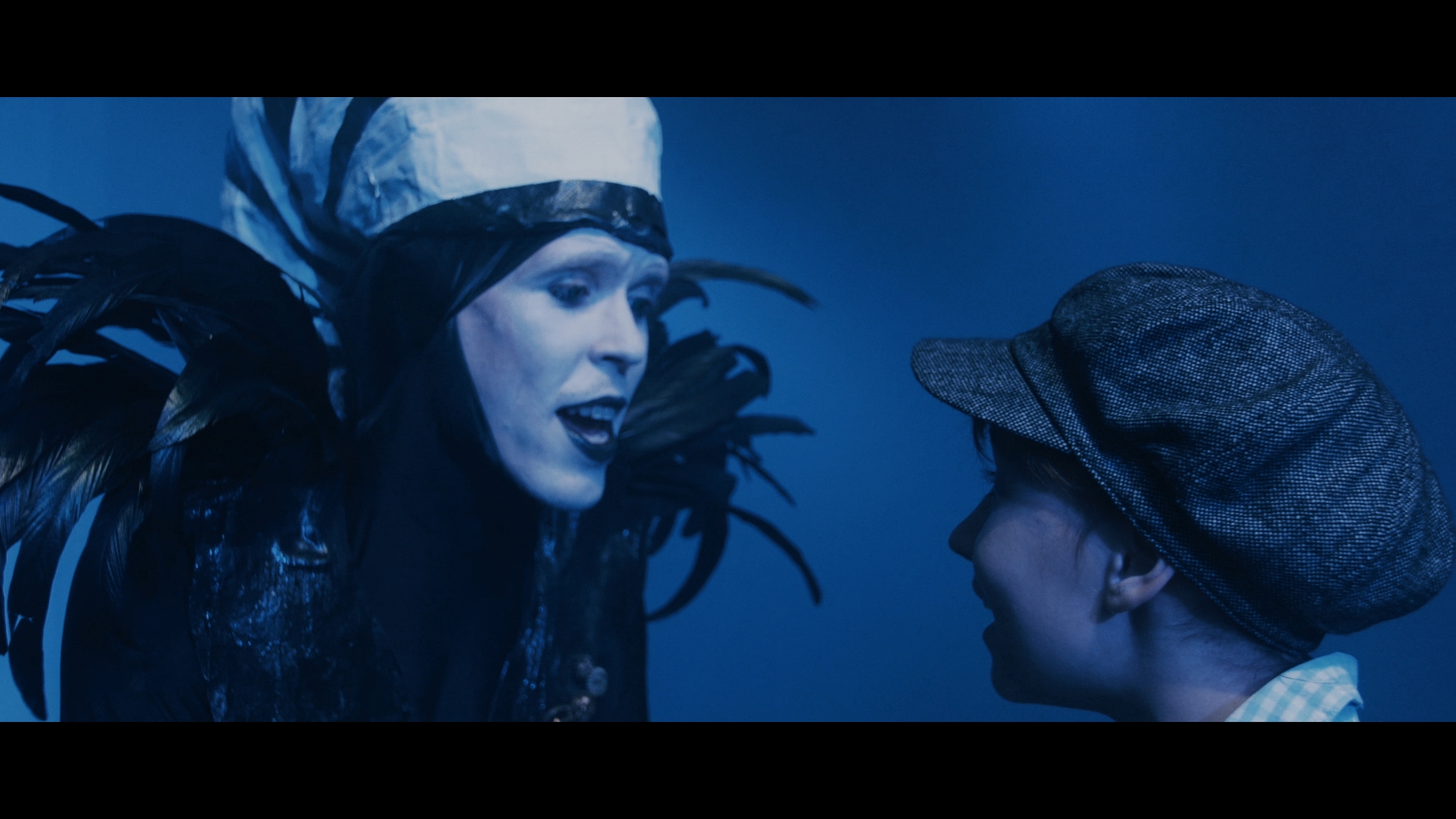 Sascha as Edgar and Paula Weber as Ben
Your trailers look so professionally designed. How did you for example design the costumes and props, and how did you develop the choreography? Did you advertise a casting beforehand?
Sascha: Firstly, thanks for the compliment on the trailer. We drew the costumes to start with and then we talked with a costume designer about what would and wouldn't be possible. Thank god there wasn't anything here that was impossible. Milena, our tailor, really did everything possible. The choreography came from me (Sascha), and yes, we had a casting and it was extremely interesting. Rick and I got involved in many castings as actors. It was exciting to then sit on the other side and judge. You realize how difficult it is to find out how what the actor's strong points are and whether it would work together in the space of just a few minutes. You also learn what you definitely should and shouldn't do at a casting.
Music Maker – "The program stands out by being easy to use and giving great results."
Why did you decide to use Music Maker and what do you especially like about it? Which feature helped the most to create the music?
Rick: It was actually my trusted sound engineer that suggested we use MAGIX products. The programs seemed intuitively usable to me, it stands out by being easy to use and giving great results, what more could you want? The diverse ways in which a Soundpools can be used and the many virtual instruments in the program had me completely convinced. Even the sound from the string and wind instruments sounded surprisingly natural. Many experts and actors asked me how expensive it was to organize a complete orchestra for the recordings. It was always a great pleasure to see the shock on their faces when I said that it has all been produced with MAGIX programs. Using the midi keyboard and recording real instruments were also unbelievably easy.
Long story short: Working with the program was just a lot of fun!

Did you prefer to work with virtual instruments i.e. samples or recordings of real instruments?
Rick: When I started my work, I still thought that I would have to play all the instruments myself. When I then found out just how good the sound from the samples and the virtual instruments was, I often happily decided to refer back to these. All in all, the deciding factor for me was the ability to play real and virtual instruments.
Music – "Sascha and I always have worked closely together in all technical aspects"

The different music pieces that you write need to convey different moods in order to support the dramatic composition of the story. Which one of you is the "musical brain" and how did you develop different ideas for the diverse scenes?
Rick: You're asking who's our musical brain? Well it's me, Rick Middelkoop, although I feel more like a composer than a musical brain, but thanks for the title (laughs). As Sascha and I always have worked closely together in all technical aspects, the many different musical atmospheres and highs were always created at the same time the text was written.
Which particular characteristics were especially important for you when choosing a singer?
Rick: It's not so easy for me to say exactly what we expect from our singers, because were actually looking for actors and not just singers. With most roles a fantastic singing voice is an absolute must, and then with others, acting or dancing strengths were more important to us, although in the end we only have actors who win over the audience in all areas.

In some parts, you have children as singers. How is working with children different than working with adults, is it maybe easier?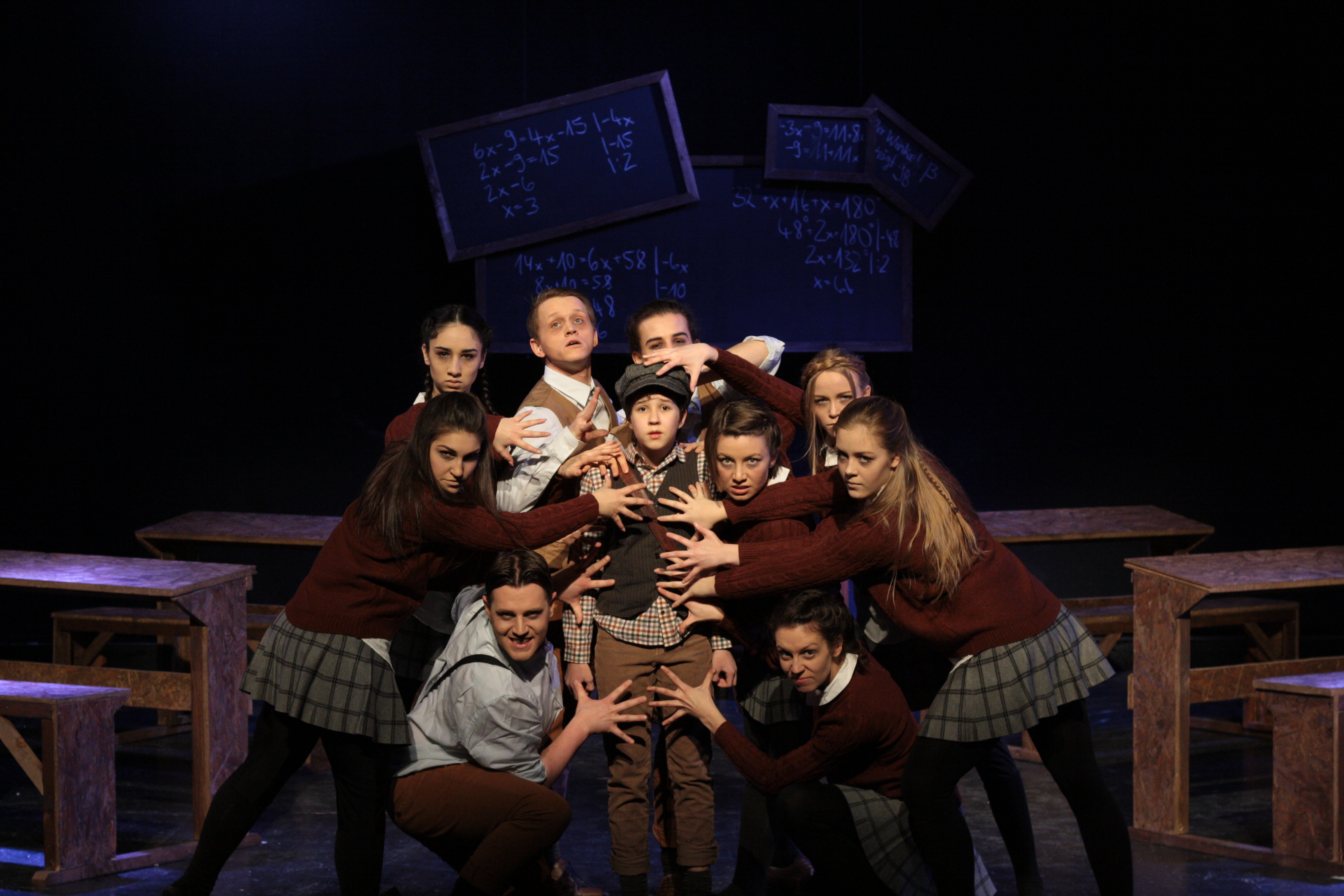 Rick: Working with children is basically no more or less difficult than with adults. With certain things, they are totally relaxed and go about the work in a completely relaxed and natural way, but in other areas you have to remind them about essential points, like "Make sure that you don't stand with your back to the audience", or "Please stand IN the spotlight and not next to it".
Having said that, we've definitely found a wonderful young performer in our main actress, 13-year-old Paula Weber, she never caused us any problems. Even though she's so young, she's already very professional and experienced, so I think you'll hear more from her in the future.
What are the next projects that you want to tackle?
Sascha: We're also thinking about future projects, of course. We've already collected and written down ideas, but nothing is official yet, so we can't say how it's going to continue, but there will be a next piece.