SOUND FORGE Artist Feature: Live Sets Chicago

Live Sets Chicago is the brainchild of Gus "Audio" and Bill "the Datman" in an effort to archive, contextualize, and promote DJ mixes in the Chicago electronic scene. The lists of artists they have promoted impresses spanning over two decades and numerous genres, boasting such names as Derrick Carter, Mark Farina, Sander Kleinenberg, John Acquaviva and Carl Cox. Naturally, their work attracted our attention and when we found out they are using our software, we jumped at the chance to sit down with them and learn more about their work.
What made you choose SOUND FORGE Pro Mac for your recordings? What set this software apart from others? Are there any particular functions, which you highly value or use regularly?
Gus: I've been using SOUND FORGE on the PC side since version 5.0, so I knew there wasn't going to be that much of a learning curve to use it.
The most important thing for us is that we've never had a problem while recording, saving, etc. on either version. It's been put to the test many nights with no problems.
On top of that, being able to record large, multi-channel audio files at 24- 96 resolutions for as long as you have the space on your hard drive is essential as we record 7 or 8 hours of audio at a time. The other big plus for me is the short save time when I'm done recording.
What sort of challenges difficulties have you faced in doing these mixes? Technical? And what lessons have you learned to become better DJs, recording technicians, etc.?
Bill: I think I can speak for the both of us when I say that being able to deal with different personalties while we're recording is important. You have to respect the venue, the people that work there and the artists wishes above whatever else might happen during the night. I think over the years Gus and I have built good relationships with the DJ's, venues and employees we've worked with and have gained their trust to let us come into their house and let us do what we do.
On the technical side, being ready to record no matter what situations might come up and trouble shoot problems that might arise while your recording is always a thought in my mind when I pack my bag for the night.
Can you tell us about some of your favorite moments during the history of Live Sets Chicago?
Gus: Well, I can think of a few from our over all history because most of what we post was recorded before we started the blog.
Separately, I was fortunate to have DJ John Acquaviva invite me to record his final set at Detroit's "Motor" nightclub closing party back in 2002. Bill and I have record John many time over the years and truthfully, he had a hand in making some of our recordings happen so I was more than happy to do this for him. That set and the story behind the night is posted on the blog.
The second one is was when was able to recorded Laurent Garnier during Smartbar Chicago's 30th Anniversary event back in 2013. Laurent wanted to get his set recorded so he could use some of the audio in a podcast on his radio show "It is what it is".
I've been a fan of his for years, but one thing or another has always kept me from seeing him. So being able to hear him for the first time then being able to record his set on top of it was pretty special. It was also the clubs talent buyer, Nate Manic's, last DJ set as an employee, so I was happy to be able to record it for him as well. Laurent's set and the story behind the night is posted on the blog.
Bill: Some of my personal highlights from over the years would be recording and mastering two mix CD projects with John Acquaviva. Working with the late Frankie Knuckles on a few promo projects, one of which is posted on the blog as well as being able to record "The Kings Of House" (David Morales, Louie Vega and Tony Humpries) during a tribute event celebrating the life of the late Frankie Knuckles at Smartbar Chicago back in 2015.
Gus: Jointly, I think being able to record the "Heroes of House" whole building event at Metro / Smartbar Chicago back in 2015 was pretty cool. The Datman recorded upstairs in Metro which featured Chicago natives DJ Diz and J-Dub opening up for DJ Sneak, Derrick Carter and Mark Farina playing back to back on six CD players and three mixers. While I was downstairs in Smartbar recording Gramaphone records owner Michael Serafini and Smartbar Resident Garret David who opened up for Phuture performing live and DJ Pierre DJ'ing to close out the night. That set and the story behind the night is posted on our blog.
Bill: I would have to say when we recorded Richie Hawtin back in 2001 where we setup two DAT recorders at the same time to record. One captured audio directly from the DJ mixer and the other captured the crowd noise from a mic that we had setup in the ceiling of the club. Then I went on to mix both files together in VEGAS and created a live mix from the night. That was the first time we tried to do something like this, so the learning experience was pretty cool.
Do you have any upcoming events and podcasts people should know about? Or any personal projects you'd like to plug?
Gus: I have a few posts from the early 90's Chicago rave scene in the works, but I'm not sure which one will get posted first. You'll just have to watch the blog to find out.
You've been involved in the techno scene in Chicago for some time now.
Gus: Actually, we've been involved with more then just the Techno scene. We've recorded a lot of different genres of Dance Music over the years. I've focused mainly on House and Techno posts on the blog so far, but I do have some other stuff in the works on the blog.
Bill: Yeah, I got my start in House music back in 1994 when I first went to a nightclub called RedDog here in Chicago. I also started my recording career there in 1996 after I befriended some resident DJ's who didn't have the means to record for themselves and were more then happy for me to be able to do it.
How exactly did Live Sets Chicago start?
Gus: I talked to Bill about starting Live Sets Chicago so we could have a place to post and share the stories behind these live recordings, many of which had never been released before, that we've archived over the years. I felt that we had held on to them long enough.
What made you feel the need to take on the role that Live Sets Chicago has become?
Gus: That has an two part answer. Back around 2006, I really got into various DJ mix websites online. After a while, I felt like some sites were only concerned with how many sets they could post up at once. In some instances, the quality of the files they posted were very poor. I thought we could do things a bit different with what we had recorded. I also didn't really see a site that was solely focused on Live Sets from Chicago so I thought we could start a site and do it the way we felt it should be done. And, for the most part, since we recored them, we can tell the stories behind them.
What have the artists said about your work?
Bill: I feel that over all, many of the artists that we've recorded see the value in what we do and appreciate it. We're basically archiving the night for them. We've had both artists and promoters contact us to see if we can come down and record the night for them and others that we've had long relationships with that it's almost a given that we come down to record.
Do you have to do a lot of post-production work after a show before a set can go online?
Gus: It depends on where the mix will be posted. If it's just getting added to our Mixcloud page, I make sure to include links to the artists and our social media sites and give a little story behind the mix in the "About the show" section. It's a little bit more involved if the mix will be getting posted on our blog. I begin by writing a little intro to the artist. If Bill or I recorded the set, I write our experiences or story from the night. Write a brief description of the mix and depending on how much material we have, include any photos, flyers or video that go along with the set. And include links to any info we see fit to go along with the artist and post and link to the artists that mixed them.
Can you tell us a little about your recording rig? Which software do you use? Do you "the Datman" still record with a DAT?
Bill: No more recording on DAT for me. My current setup starts with the most important piece, a Focusrite Fote USB Audio card hooked up to an HP Laptop running SOUND FORGE. I have also used Power products made by Shunyata Research, Black Mamba power cables and the Original Hydra power conditioner over the years in my rigs. I used a lot of that stuff back when DJ's were just playing vinyl, but since it went to laptop DJ'ing, I don't bring as much out as before. But now with more DJ's playing vinyl again, I bring some of that stuff back out from time to time depending on the setup for the night.
Gus: No, no more recording with DAT for me either. But I do still have a player. I've had people contacted me with tapes they want to donate so I still need to be able to transfer them. Recording-wise now I have an Macbook Pro loaded with SOUND FORGE, An M-Audio Fast Track Ultra sound card, WireWorld Oasis Audio Connectors, and a AudioQuest Carbon USB interconnect.
Can you explain how you get from the recording in the club to the recording you publish onine? What is your workflow like?
Gus: There is one thing that's in our work flow that we make sure happens even before we start recording. We always try and connect directly to the mixer and have the shortest signal length possible. As far as a mastering workflow, being that DJ's, for the most, play mastered songs, I really don't need to do that much to the file. I figure out how long I want the set to be and edit as needed.
I look for any clipped peaks and use the clipped peak tool as needed. I balance any differences between the left and right audio channels and the whole sets as needed. I check the EQ and add or remove, if needed. I then use Volume Maxximizer to bring up the levels. I check the levels and how the file sounds in-between every step to make sure I'm not over doing anything and adjust as needed. I fade in the beginning and fade out the end. I resample, dither and save the file as needed.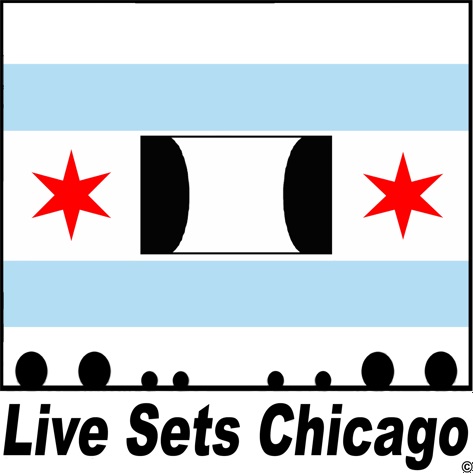 Thanks for taking the time to talk with us about your work!
Gus: Thank you!
Bill: Thanks!
Gus "Audio" and Bill "The Datman" of Live Sets Chicago are using SOUND FORGE Pro Mac to engineer the mixes/club nights/sets they upload to their Mixcloud, Soundcloud, and Blog.
Visit the SOUND FORGE Pro Mac website here to find out more information on SOUND FORGE products.