The smart mp3 converter for easy music conversion
MP3 converters compress music and other audio data in MP3 format. If a converter can create additional audio formats besides MP3, such as OGG or AAC, it is called an audio converter. MP3 converters or audio converters are available in a wide range of types – from simple online MP3 converters to comprehensive audio software with conversion features.
If all that's necessary is to convert a WAV to an MP3, an online converter is sufficient. In most cases, this conversion is free of charge and the quality is good. However, it is more often necessary to convert a batch of audio files, e.g. an audio CD. This can be very time-consuming with an online MP3 converter, because you first have to rip the CD with an extra tool and then upload and convert every WAV file individually. Furthermore, this task is rarely finished after the conversion. The title information will need to be edited, or the sound optimized, or the volume levels equalized. This requires powerful MP3 software.
We recommend SOUND FORGE Audio Cleaning Lab. It allows you to convert all your audio files to MP3 as well as other formats such as AAC, FLAC, and OGG both individually or in a batch export. SOUND FORGE Audio Cleaning Lab also helps you optimize sound. This program includes professional cleaning and mastering tools to remove noise and pops and improve the sound's clarity and punch. Add missing information about album, artist, song title, and genre in just a few clicks to keep all the tracks in your music collection clearly organized on your network or mobile device. SOUND FORGE Audio Cleaning Lab is much more than just an MP3 converter. You can also digitize your old vinyl records, CDs, and cassettes, enhance their audio, and convert them to MP3 as well as other formats.
SOUND FORGE Audio Cleaning Lab is your all-around, digital solution featuring cutting-edge workflows, innovative effect presets, as well as powerful cleaning and mastering tools from iZotope.
MP3 "packs" the audio data in a memory-saving, compressed format. In comparison to the uncompressed, standard audio format WAV, MP3 only uses about 1/10th of the storage space (depending on the degree of the compression). As a result of the compression, it's possible to store and play more music or audio on the storage medium. In addition to its compatibility with almost all music playback devices, MP3 is particularly appealing because of its high level of audio fidelity. This means that an MP3 file can be sonically indistinguishable from the original. The MP3 converter makes the music files much smaller without sacrificing the quality.
This way, there is plenty of space for albums, songs and other audio recordings on your PC, laptop, portable media player & smartphone.
Convert audio files to MP3s – step-by-step
Now, let's learn how to convert audio files to MP3 in a few steps using SOUND FORGE Audio Cleaning Lab. The first step is to download the program from the MAGIX website and install it on your PC. You can check it out as a free trial version here. Naturally, you will also need the audio files that you want to convert.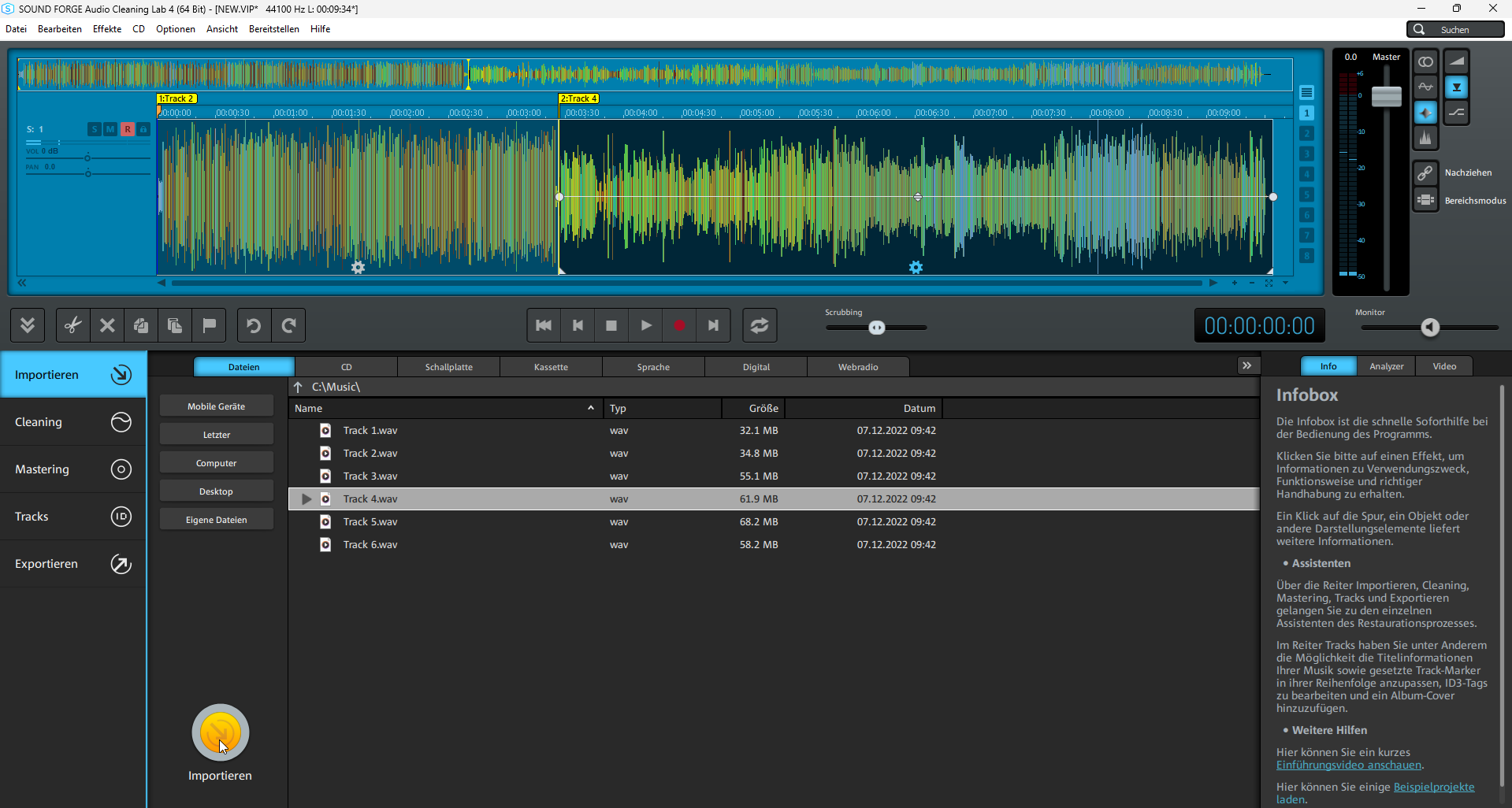 Select source
After starting the program, select the source from which you want to import audio files. This is usually a folder with audio files or an audio CD. SOUND FORGE Audio Cleaning Lab also allows you to directly record vinyls, cassettes, speech, as well as the included web radio options and convert them to MP3.
For example, let's say you have a folder on your hard drive with audio files that you want to convert to MP3.
Click "File" and navigate to the folder.
All the audio files will be displayed in the program window. You can select them and preview them using the play arrow to the left of the file.
To convert a file, start by clicking "Import".
To select a second file that should also be converted, click on the file to select it, and then click "Import" again. This will place the second file after the first one in the Project window. Once you've done this, you can compile as many files as you like for conversion in the following step. Audio CDs first have to be ripped, which takes a few seconds. They cannot be edited immediately like normal audio files. If you want to convert an audio CD, proceed as follows:
Insert the audio CD into the drive and click the "CD" button above the file list.
Now, all the CD tracks will be listed and can be imported like audio files.
If you need more track info, click the "gnudb" button.
This will open the gnudb online database to get the available information about artist, album, title etc. and add it to the file(s).
If no info can be found there, select "CD > ID3 Editor" from the menu..
Now, you can enter all information in the ID3 editor manually.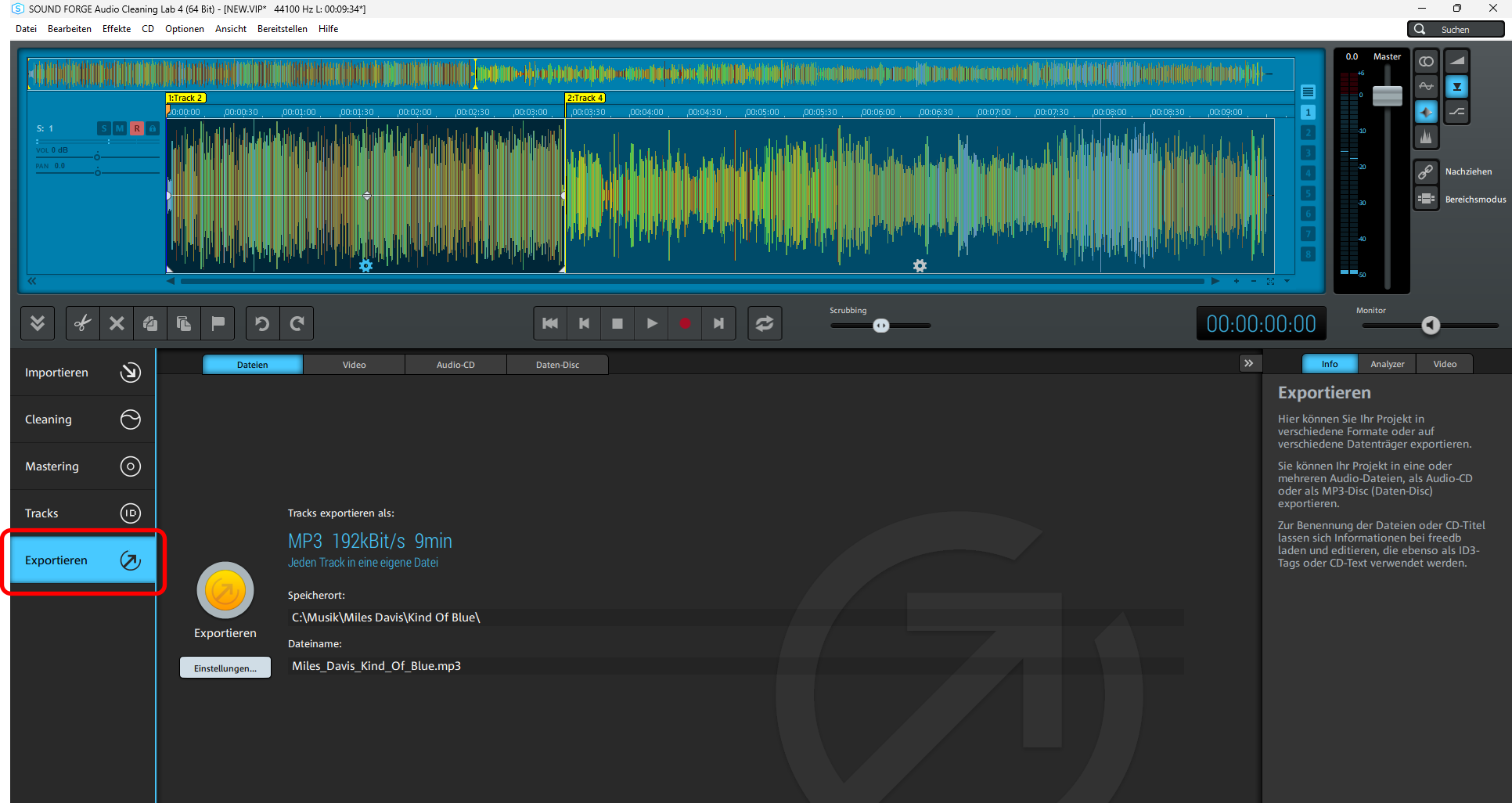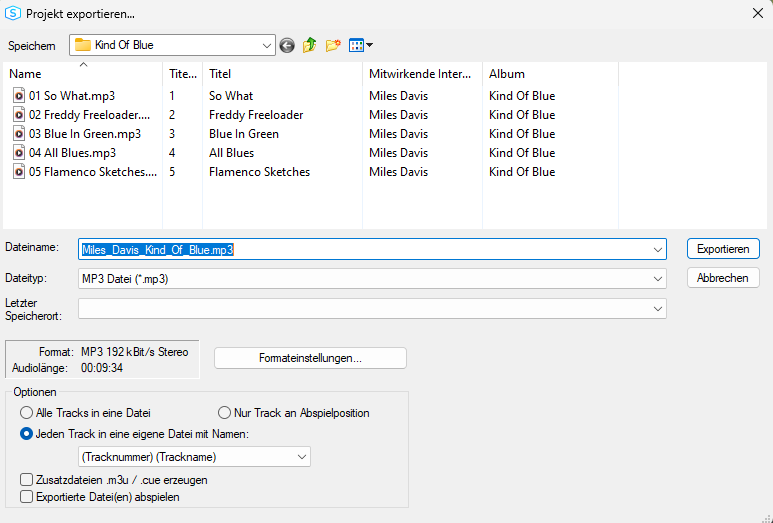 Converting songs
Second, convert the imported songs to MP3... Or to AAC, OGG, FLAC, WAV, and WMA.
On the left, switch to the "Export" view.
Click on "Settings". This opens the "Export project" dialog.
Choose the desired format under "File type".
Specify the target directory for the converted files, adjust the encoder settings if necessary (normally, this can be left with the default setting of MP3 at 192 kBit) and finally click "Export".
Complete. Now, all the imported songs can be converted to the desired format one after another.
Before converting MP3s: Cleaning and mastering
If you want to optimize the sound before converting a file to MP3 format, SOUND FORGE Audio Cleaning Lab provides a wide range of professional tools to edit your audio files. Each tool features a number of presets and a knob to adjust the intensity of the effect. The gear symbol opens the effect's user interface, where detailed settings can be made. This option is intended for more advanced users.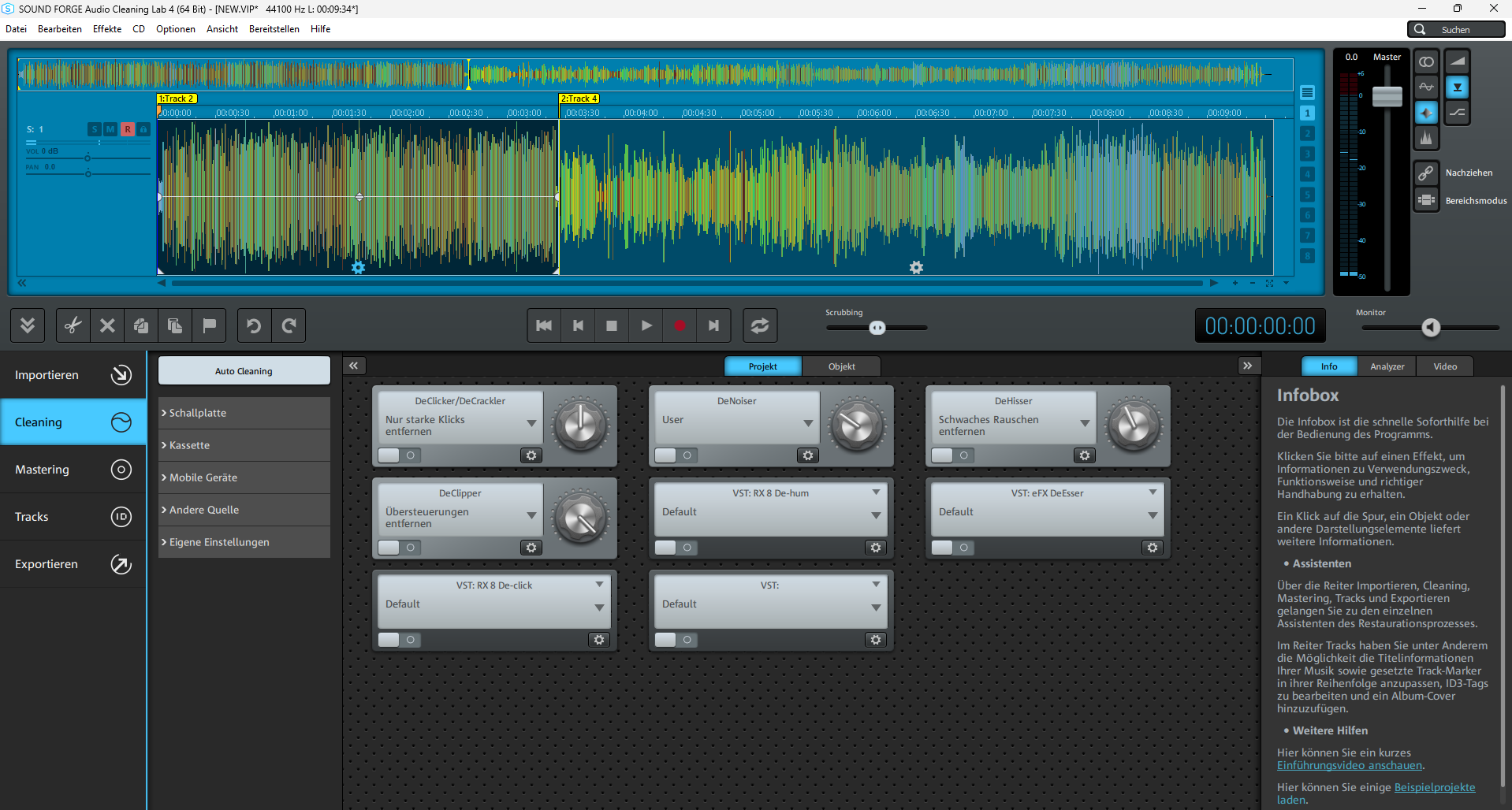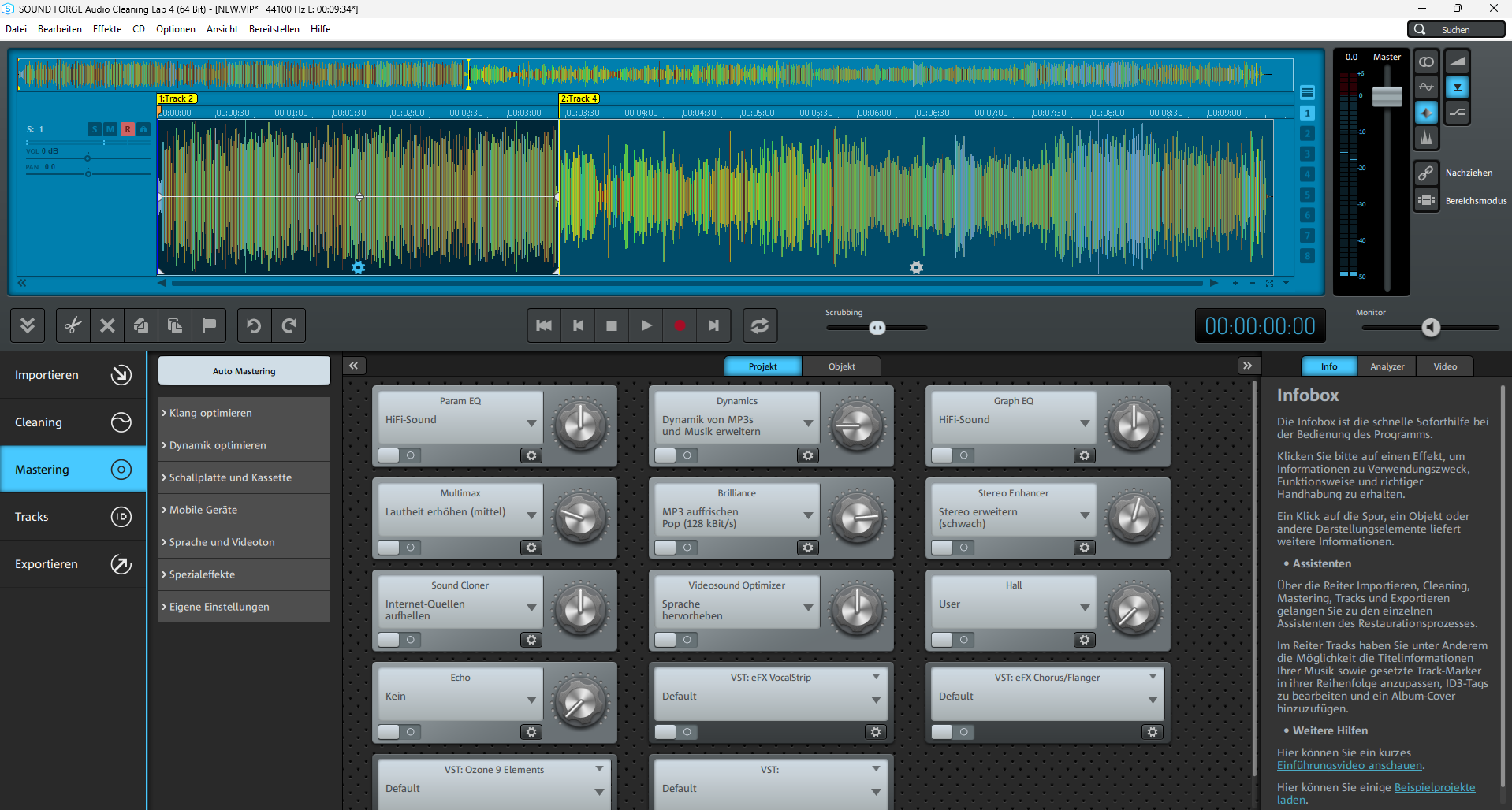 On the left, click on "Cleaning" to open the enhancement tools for eliminating noise. You can access the following special effects here:
DeClicker/DeCrackler: Use this to remove pops and crackling from old records, as well as clicking noise that typically occurs on damaged CDs.
DeClipper: The DeClipper removes overmodulation.
DeNoiser: A noise removal tool that allows you to select a noise sample, then filter it out of the recording. It is ideal for consistent noise or humming.
DeHisser: A specialized tool for removing noise like that found on cassette recordings.
VST: The VST slots can be used for various third-party VST plug-ins.
On the left, click "Mastering" for additional audio effects that you can use to enhance the sound, adjust the volume, or change the stereo panorama:
Param. EQ: You can access a parametric equalizer with four adjustable frequency bands here. It can be used to boost or cut the bass, lower mids, upper mids, and treble individually.
Multimax: A multiband compressor with three adjustable frequency bands. This can be used to increase punch and loudness without pumping noise and other artifacts typical of compressors.
Sound Cloner: This is an extremely powerful filter module that can be used, for example, to apply the sound characteristics of a specific song to other songs.
Echo: This can be used for your own recordings, for example.
Dynamics: A compressor, which can be used to suppress noise. It can also be applied as a limiter to prevent clipping.
Brilliance: The Billiance Enhancer creates artificial harmonics, but they blend naturally into the sound so that old recordings sound like new ones.
Video Sound Optimizer: A specialized tool for improving clarity of speech that was intended for video sound, but is also useful for voice recordings, for example.
Graph. EQ: A graphic equalizer with ten fixed frequency bands.
Stereo Enhancer: This allows you to edit the layout of the stereo panorama. Use it to make a recording sound "wider" or "magically" turn mono recordings into stereo recordings.
Reverb: Primarily useful as a room simulator to make a recording more natural and cohesive.
VST: There are several slots for third-party VST plug-ins like iZotope Ozone.
In general, you can apply all the effects to an entire project – that is, to all the songs in the Project window – or individually to each song or range within a song. To do this, click the gear symbol in the center of the waveform display and apply the desired effect for that section.
MP3 conversion using SOUND FORGE Audio Cleaning Lab
SOUND FORGE Audio Cleaning Lab enables you to perform all tasks concerning MP3 conversion easily and quickly. But it is capable of much more than that. Its most unique quality is that you don't need any prior knowledge to use its many professional tools. The easy-to-use interface as well as numerous presets and wizards ensure that you can get started with no training and become a true audio expert simply by trial and error.
SOUND FORGE Audio Cleaning Lab
The easiest way to clean & restore audio.
Spectral Cleaning: The spectral display provides a clear visualization of the various frequencies of an audio track.
Automatic cleaning: The auto cleaning function analyzes the audio material and recommends settings for optimizing it. Alle of these settings can also be modified manually.
Video Sound Optimizer
Program wizards & presets: Automatic cleaning and sound characteristics with a single click with over 360 presets.
Tips & tricks: The Infobox provides valuable tips and tricks for all functions and aspects of the program, helping you get the answers you need, when you need them.
Simple search: It is possible to find suitable templates, appropriate help texts as well as the right tools and effects with only one keyword using the search function.
Highlights:
modernEQ
Track controls
Preset search in the plug-in browser
Loudness Visualization
Improved audio engine and ARA2 support
SpectraLayers Elements 9
iZotope RX 10 Elements & iZotope Ozone 9 Elements
VST3 interface for seamless integration of external plug-ins
Professional tools for precision audio editing
Start download