MAGIX: Keep Everything Simple with an MP3 Converter
An MP3 converter is as important as the various types of files an audio recording can be stored as. Though they might seem irrelevant, the three letters at the end of a file name actually make a huge difference in your digital life. They signify that it is a certain type of file, and therefore designates which devices and programs will be able to use them. Audio files are some of the more confusing types of files, which is why MAGIX MP3 Deluxe comes with a built in mp3 converter. This function makes everything much simpler on your computer and portable music player.
In addition to MP3 Deluxe's other organizational features, functions that allow you to keep your music in the best order possible, the MP3 converter assures that all of your music is saved in the most versatile manner available. That way you can make your own music, import music files from music production software, or transfer them from any hard-drive. Each of your songs will then be of the best quality and have the greatest versatility. If you're a regular music creator, this will be a big help! MAGIX MP3 Deluxe's encompasses a range of functions that doesn't leave you with conventional functionality. The program was created to keep your music neatly ordered in every way imaginable. The speedy functions will eliminate repeated songs from your library, arrange your songs according to patterns of mood and sound effects, and gives you access to mufin music navigation technology. All of this will enhance your audio experience from upload to search to general listening and playback.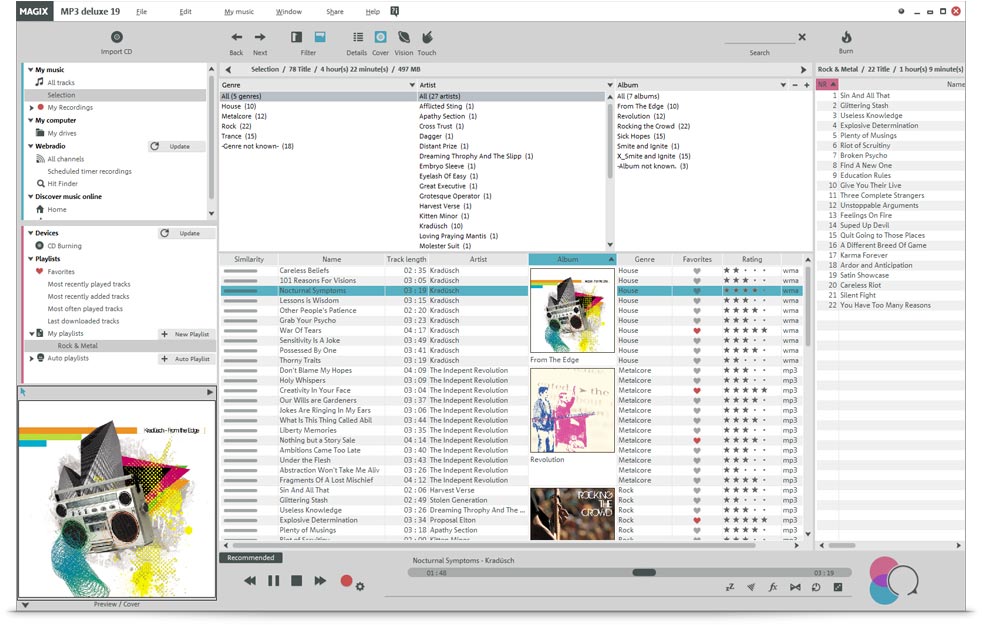 Not Your Average MP3 Converter
As another measure to keep your music collection fresh, the software instantly connects you to thousands of web radio stations to help you discover new genres and artists. You can pick your favorite stations or just sift through the over 6,000 available and pick up new favorites along the way. You'll quickly see that this program a great MP3 converter and so much more.