Beat Making Software for DJs – Easily Produce. Record. Perform.
With Music Maker Live Edition, MAGIX has developed and introduced the next generation in beat making software solution - it's a whole new game from here!
With MAGIX's brand new music production software, Music Maker Live, virtually anyone can produce their own beats and perform them live. The new program from MAGIX is the first beat making software that enables you not only to perform, but record your own songs, play virtual instruments and modify MP3s all in one easy-to-use and innovative software.
Conventional MP3 software or software that's purely beat making software can make it difficult to create music if you have no prior experience. On the other hand, when using classic "music software", it's hard to play songs live with the mixer and record your performance at the same time. The new Live Pad Mode in Music Maker Live is the creative core of this new kind of DJ software making all of this possible. The live pads can be easily operated using your keyboard and mouse, via a mobile app or with an external USB pad controller. With the pads, you can launch loops for bass, synthesizer, drums, percussion and melody instruments and they will all match each other in terms of tempo and rhythm when mixed. That's how intuitive the program is! Select a live set from one of the genres like EDM, Hip Hop, Trap or Metal and get the party started. This innovative program lets you mix a variety of songs in your own DJ performance which you won't find in any free audio programs or freeware.
Most DJs and studio producers want to be able to experiment with the acoustic characteristics of a song. With the effects that Music Maker Live includes, this isn't a problem. You can use echo effects, filter out high or low frequencies from MP3s or adjust the tempo using the time stretching algorithms. Using Live Pad Mode is of particular interest even for beginners - you don't even need to be able to read music or have a great sense of rhythm. This music mixing software includes a range of virtual pads with pre-programmed loops to help you mix without any previous experience. Just press the pads to activate or deactivate loops. They come in 7 different pitches, so you can remix songs directly with the mixer while the loops are playing and even modify them to create exciting effects. The drag & drop feature for Live Pads makes creating your own sets easy.
Experienced DJs can also use this new kind of DJ software from MAGIX to optimize long nights in the booth or even get the crowd going online. Record improv sessions at the press of a button and share them directly on SoundCloud. The built-in Vita Sampler splits up and combines sound components that can be then be controlled and played with a MIDI-compatible DJ controller. Other familiar audio effects are easily accessible in the clearly laid-out interface.
If you want to sample this brand new music creator first, download it for free via the Free Download page on the MAGIX website.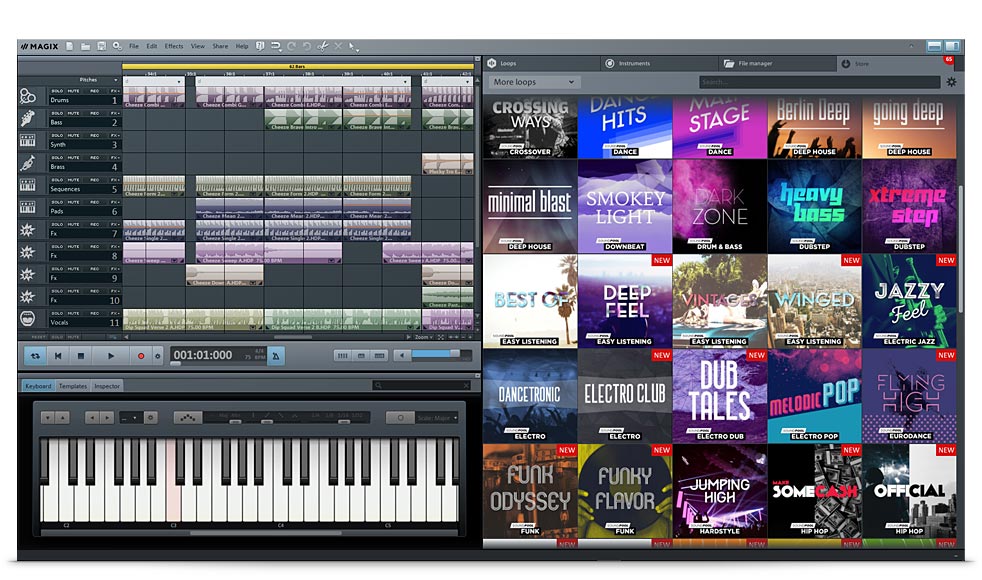 The next generation in beat making software
With Music Maker Live Edition, DJs, beat producers and even beginners can produce and perform their own songs in the studio or on the stage. The program includes a range of loops, sounds and studio-quality effects for mixing pre-produced Live Sets - it's what sets Music Maker Live apart from conventional freeware and beat making software. Its intuitive controls, seamless workflow and top sound quality makes it an ideal program for music production and mixing.