Have you heard? MUSIC MAKER FREE is the ideal Remix Maker
Remixes are a great way to turn your old favorites into new hits. A mix can be just a slight variation of the original or by mixing music from different songs, known as a mashup, or by creating something entirely new. Compared to free software which requires users to select which songs should be mixed together, the music mixer in Music Maker offers users assistance in creating remixes in the Editor and extensive Soundpools for creative innovation. Even users who have little to no experience in editing music can create chart topping remixes to get the party started!
Almost everyone has the know-how to create their own remixes - regardless of the musical genre or the level of experience. Simply install music editing software on your computer, also know as a Digital Audio Workstation (DAW), connect speakers or headphones and you're ready to get started. But with MAGIX Music Maker, the software includes the Remix Agent which, through its many features, helps you remix songs professionally and easily. You can load individual compositions into the program and their tempo will be automatically determined. You can then enhance the song with the included loops and sound effects or create your own loops based on the remix song created with the Loop Designer. The editing possibilities range from rhythmic changes, filters to reverb effects and the randomize feature that allows you to discover new effects. You also have access to the large soundpool with thousands of instrument parts in the music mixer, which allow you to creatively enhance or distort remixes. Even features to add sound to videos are included in the software, which allow you to combine audio tracks with your completed remix or your own song with a video.
The intuitive interface in the software, allows you to easily preview samples and loops before inserting it into an audio track. You can then determine whether it fits with all the other remix pieces. Moreover, the pitch for each sound building block can be adjusted and harmonically inserted into the existing song. This allows you to just slightly change the song in regards to its rhythm or with sound effects by adjusting the tempo and instrumentation to create an entirely new mix. It is also worth taking a look at the remix communities online, in which artists offer their own works as multitrack originals with a creative commons license to download for remixing. Songs created in this manner can then be published online worry-free without infringing on copyright and intellectual property rights of artists and music publishers.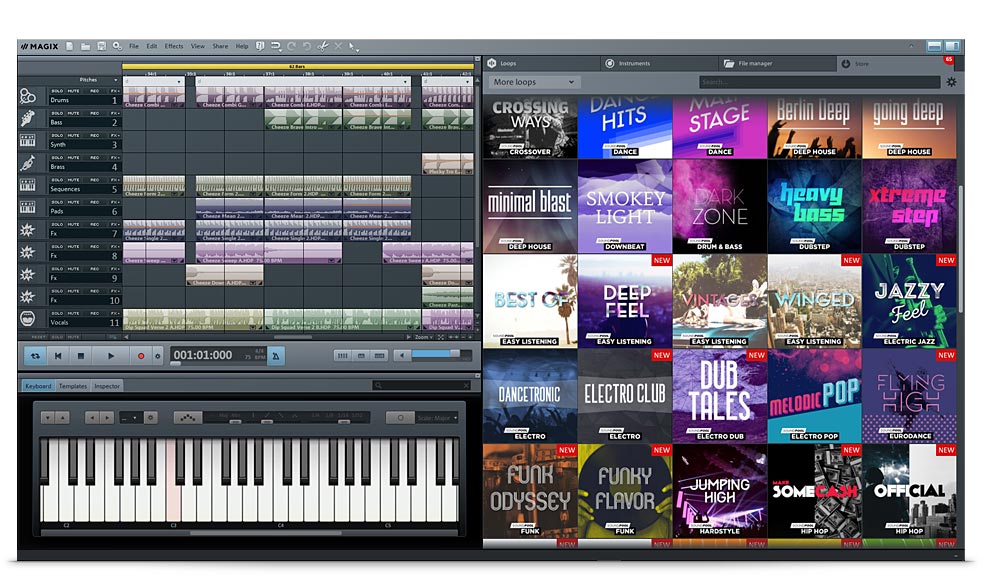 Create new hits from old songs with the music mixer
Music Maker along with the Remix Agent is the perfect program to create your own remixes. Simply drag existing songs into the program, determine the tempo and pitch and then add your own loops or sounds from the extensive sound library. Customize your remixes by adding great effects and punchy sound from the extensive library of soundpools. The results can then be exported or shared online for others to enjoy.
MUSIC MAKER 2024 FREE
MUSIC MAKER offers a modern, easy-going way of creating music. Now you can produce your own songs — without any experience or watching tutorials for hours. You don't need expensive equipment either. It's fun, intuitive and delivers amazing results in minutes.
Start download