A 360-degree video brings you right into the action: Virtual tours of cities or museums, panoramic views of concerts or other events, spectacular flights over mountains and seas - you can do all this by creating a 360-degree video. There are two types of panorama footage: Spherical panoramas (also called photo spheres) and cylindrical panoramas. Spherical panoramas, unlike cylindrical panoramas, allow you to see both the zenith and nadir. In other words, you can look up and down. Cylindrical panoramas only let you look horizontally.
Nowadays, 360-degree videos can be easily produced with numerous different camera types, including most modern smartphones. In contrast to a two-dimensional video, the 360-degree video shows more, namely the entire environment, partly in fascinating details. These are generated from an angle of 360 x 180 degrees, suggesting that the viewer is in the middle of a space and has a clear view of the surroundings. Here you will find the best tips and tricks to create a 360-degree video.
Applications and Possibilities of 360° Videos
It is possible to record and upload a 360-degree video to YouTube since 2015. This has given the technology an immense reach. You can also see panoramic views on Facebook with increasing frequency. The social network states that its users already create and upload more than one million 360-degree videos – and for good reasons. Whenever the viewer needs to immerse themselves directly in your video, 360-degree videos are the answer. These can be presentations of exhibition stands or virtual factory tours as well as private videos of beautiful beaches or the most popular sights in the world.
A frequent area of application is high-action roller coaster or vehicle rides, recordings of sporting events or rock concerts. The viewer navigates with the mouse or by swipe technique through the picture and can examine the surroundings in full detail. Above all, they get a special visual experience. This makes the 360° video technology particularly interesting for marketing purposes.
When creating a 360-degree video one must consider: The viewer sees everything – perhaps even the camera operator. Whether this is the case depends mainly on the camera perspective. When shooting 360-degree video, the cam can be mounted on your head, a vehicle, or a tripod with a fixed location. A 360-degree video recording then is possible with different techniques:
Omni-directional cameras that store images horizontally and vertically
Special housings into which several cameras can be integrated
Additional cameras for the smartphone
Photo apps for smartphone
Available Hardware and Software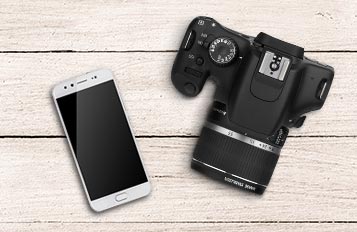 A special camera is the most professional and easiest way to create a 360-degree video. Cameras cost around $200 and up. The purchase is particularly worthwhile if you want to record a 360-degree video to advertise your services or for other reasons frequently publish professional recordings. Operation is very simple: Simply film, upload the recordings to your computer and then perform 360° video editing with a video editing program wie Movie Edit Pro.
A more complex and expensive method is to integrate several cameras into one housing when you record 360-degree video. Small action cams are best suited for this. Up to six or more of these can be inserted into the housing. This option is suitable if you already own action cams or if you team up with others and just invest in the case. Depending on the system, this costs around $400.
A 360-degree video can also be recorded with a smartphone. For this you need a clip-on camera, which costs between $140 and $240. Then upload the recordings and edit them. Special apps are an inexpensive option for beginners in 360-degree video recording. They have no costs, but lower image quality. To create a 360-degree video, hold your smartphone as still as possible and move in a circle. Visible transitions and distortions can be removed during subsequent 360° video editing process.
Tips and Tricks for Perfect 360° Recordings
Preparation is everything: With 360 degree video your viewers see everything. You should therefore make sure that the environment is perfect before filming. So remove disturbing objects from the field of view in advance and consider whether you want to be in the picture yourself. If not, move out of sight. You can control the camera remotely via an app, for example.
Also consider which story you would like to tell. Simply holding the cam in the picture and filming the scenery can look great. But you'll get an impressive effect if you integrate an action into the video: So you can integrate a side stage next to the main scenery. The panoramic view is perfect for drawing the viewer's attention to other exciting events or objects. So you can let someone walk through the picture or place certain objects away from the action.
If you are creating a 360-degree video, you should pay special attention to the camera work: Hectic and fast movements are even more problematic than in traditional filming – they can quickly cause dizziness for the viewer. Focus on the foreground and avoid filming into the horizon. An interesting object in the foreground creates even more excitement in the picture.
Recording and editing 360 degree video
You can create a video in 360 degrees with your camera or smartphone and then edit it with Movie Edit Pro. The software also offers the possibility to create a 360-degree panorama from photos.
To do this, simply drag the desired files into the program and then you have a number of options to do more with your video: Add effects to the recordings, or use filters to make them appear dramatic or smoother. The viewing angle and perspective can also be edited and the video can be animated afterwards.
Optimization and editing with the software already makes spectacular shots even more exciting – and draws even more attention from the viewer. Errors in perspective, distortions and image errors can also be corrected. This way the quality of the video can be significantly improved with Movie Edit Pro – and you will create the perfect 360 degree video.