Commercial Use of Music Maker Sounds and Loops

We often get people asking us whether songs created with Music Maker or Music Maker Jam can be published on the Internet or used commercially. In this article we'll answer some of the most frequent questions on this topic and discuss some important things for you to consider.
When does music qualify as "for commercial use" and what does that mean? Music is qualified as commercial from the very moment it generates revenue.

Can I publish the songs I've made with Music Maker loops and sounds online?
The rule is as follows: As long as your own songs – which contain loops or sounds from Music Maker/ Music Maker Jam – are not used commercially, you can upload them to Soundcloud, Youtube or other portals.
Just so there are no misunderstandings: MAGIX does not own the rights to your compositions. You own the copyright to these. Only the sounds and loops that you have used are protected by copyright.


Why do I have to pay to use songs I've created myself for commercial purposes?
It might seem difficult to understand why you need to pay extra to publish loop-based songs that you've put a lot of time, effort and passion into creating. Especially when the track's suitable for radio and you'd like to make it accessible to a wider audience and earn some money at the same time. If you want to sell your songs on CD or use your compositions as music for a film that's going to be distributed on DVD, you will need to get what's known as an Audio Pro license from MAGIX.
The reason for this is the sounds and loops included in Music Maker and Music Maker Jam. These are created by professional musicians and developed and recorded exclusively in the MAGIX studios. Copyright, which protects intellectual property, applies to these. Although the loops and sounds are the property of MAGIX, they may be used for commercial purposes upon the payment of license fees.Because we want to enable people to have as much enjoyment when making music as possible, when you buy software (or Styles for the Music Maker Jam app), you acquire user rights for non-commercial use only. Otherwise, we would have to charge a much higher price for these products and wouldn't be able to offer a free Music Maker version.
To put it simply: If you are using sounds or loops from Music Maker or Music Maker Jam for commercial purposes, you need permission from MAGIX to do so.To make this process as easy as possible, you can easily purchase Audio Pro licenses for commercial use online.
Note: Commercial use also refers to situations where you monetize videos with your songs on Youtube (for example), where money is generated through adverts. Acquiring an Audio Pro license is also necessary for this.


Where can I get a license for the sounds I've used?
The Audio Pro licenses for sounds used can be purchased on www.producerplanet.com.
There are a choice of three types of license: "Standard", "Advanced" and "Unlimited".
The license terms and conditions are bound in terms of the number of downloads, webpage views, number of transmissions on TV and radio, and reproductions of the song. You can select the type of license that's suitable for your needs depending on the amount of people to whom you make your songs accessible.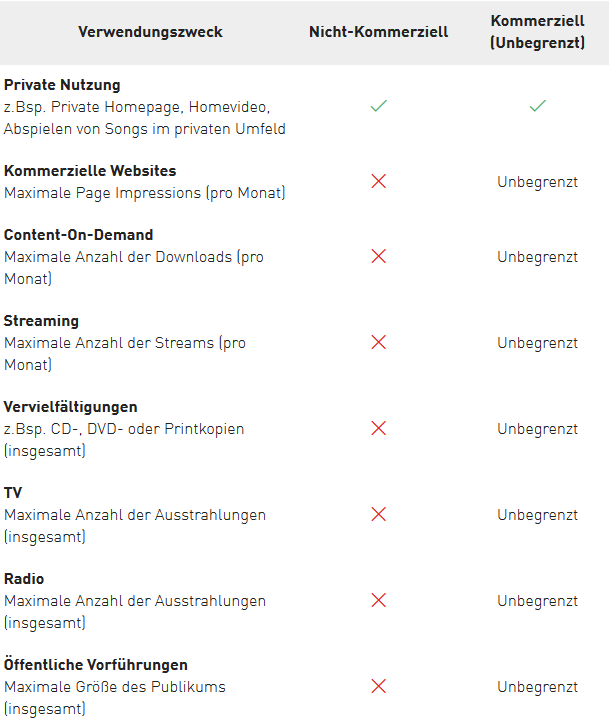 Precise details for the purposes of use can be found here.
What if my song doesn't contain MAGIX loops or sounds?
If you've created a song in Music Maker that doesn't consist of loops or sound samples and just contains audio tracks you've recorded yourself, you don't need a license. You can reproduce this music commercially. This is also the case if you have created your own loops using the MAGIX Music Maker Loop Designer.
When you create your own melodies without ready loops using instruments from Music Maker (e.g. Vita, String Ensemble, Rock Drums, Revolta …), commercial use is possible, since these are your own melodies.
By the way, the new MUSIC MAKER is now available as a free full version!
Diese Artikel könnten Sie auch interessieren